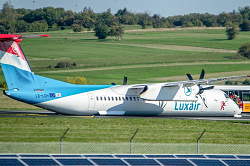 2015-09-30 Luxair Dash 8-400 severely damaged in belly landing at Saarbruecken, Germany
The aircraft was significantly damaged in a take-off accident at Saarbruecken Airport, Germany.
2016-11-29 German BFU issued the FINAL Investigation Report [LINK]
Conclusions :
The air accident was the result of an early retraction of the retractable landing gear during take-off, which was not prevented by the landing gear selector lever and the retracting control logic.
Contributory factors:
 Reduced concentration level
 A break in the callout process / task sequence on the part of the PNF
 Actuation of the landing gear lever to the UP Position too early
 Control logic design allows retraction of the landing gear with one wheel airborne
---
Flight LG 9562 from Saarbruecken to Luxemburg was forced to reject the take-off run from runway 09 at high speed.
According to local media reports, the pilots elected to make a gear-up landing after they received a fire warning indication from the cabin.
The Dash 8 slid to a stop on runway where it came to rest. There was no fire. All passengers and crewmembers were able to evacuate safely.
The airport was forced to close its only runway for hours causing many flight cancellations.
Damage for the aircraft is considerably high. The left propeller blades received damaged most likely because of a ground contact.
LUXAIR media statement -> LINK
Saarbruecken Airport is equipped with a single runway (in east/west direction) that is 1990 meters (6530 ft) in lengh. 
NOTE: the night before the accident, the runway anti-skid surface was renewed.
NOTAM:
EDDR C3500/15 RWY 09/27 CLSD. 30 SEP 10:16 2015 UNTIL 30 SEP 20:30 2015. CREATED: 30 SEP 10:17 2015
METAR:
EDDR 300850Z 07015KT CAVOK 12/04 Q1030 TEMPO 06015G25KT
The airline reported in a media conference, the pilot in command has a flying experience of more than 10000 flying hours, the aircraft completed 7131 hours until the accident. The co-pilot has about 3000 hours experience.
German accident investigation agency BFU has opened an investigation.
An official spokesman of Luxair reported the findings of an internal accident investigation on 2015-11-17. According to him, the accident can be attributed to the premature retraction of the undercarriage by the first officer whilst the aircraft was still on the ground. 
The first officer was suspended from flying duties, her was offered a different job in the company. The pilot in command as well as the cabin crew were cleared from any wrongdoing.
---
OCCURENCE DATASET
Date: 2015-09-30 Time: ~11:00
Location: EDDR SCN Saarbrucken
Country: Germany
Flight phase: TOF – Take-off, Rejected Take-off
Damage to a/c: substantial
Flight
Flight no.: LG 9562
From: EDDR/SCN: Saarbrucken To: ELLX/LUX Luxemburg
Type: Passenger
Operator: Luxair
Aircraft
Type: Bombardier DHC-8-400
Registration: LX-LGH
Age a/c: 2,9 years
Constr. No.: 4420
German BFU investigating authority published a preliminary report:  LINK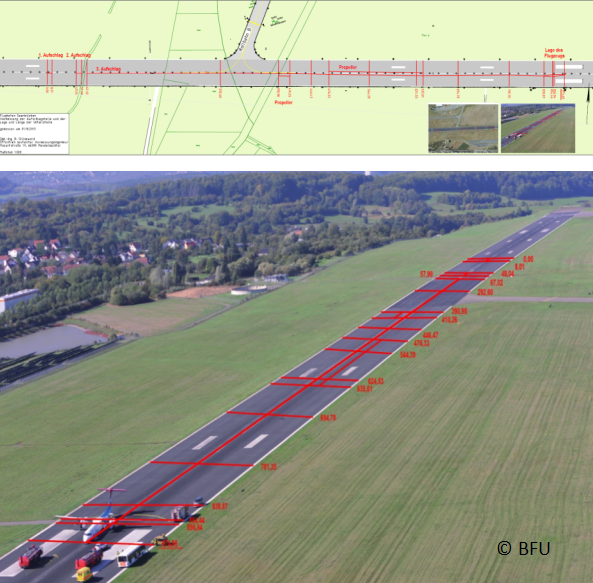 ---
Tweet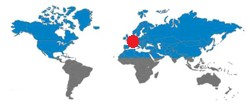 | | | | | |
| --- | --- | --- | --- | --- |
| | Crew | Pax | Other | Total |
| Occupants |  4 | 16 | 0 | 20 |
| Fatalities |  0 | 0 | 0 | 0 |
| Injuries |  0 | 0 |  0 | 0 |
JACDEC 25-year Statistics :
8th safety occurence for the operator
70th safety occurence of type (DHC-8-400)
3rd safety occurence at Saarbruecken Airport
2nd safety occurence for aircraft in question
-> in MAR 2015 the same aircraft experienced
electrical problems on a flight from LUX to MUC
Image & Information Sources
LX-LGH after the incident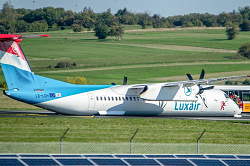 LX-LGH after the incident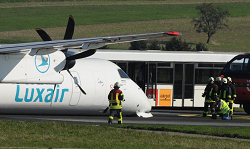 AP = Airport / AL = Airlines / Avn = Aviation / AW = Airways / C/N: Construction Number / DSP = Domestic Scheduled Passenger / DNP = Domestic Non-Scheduled Passenger / DSC = Domestic Scheduled Cargo / DNC= Domestic Non-Scheduled Cargo / GND = On the ground / parked, stored / FMN= Flying Mission, Air Work / FRY = Ferry-, Positioning Flight / IMC = Intrument Meteorological (flying) Conditions / ISP = International Scheduled Passenger / ISC=International Scheduled Cargo / INP = International Non-Scheduled Passenger / INC =International Non-Scheduled Cargo/ OPS = Flight Operation(s) / NRV = Non-revenue, Private Flight / TRN =Training Flight /  TST = Test & Certification Flight / VMC = Visual Meteorological (flying) Conditions