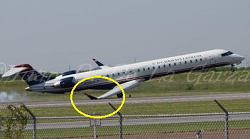 2015-09-29 Mesa Airlines CRJ-900 wingtip hit runway at McAllen, TX
On landing the right wingtip hit the runway at McAllen Airport. All on board remained unhurt.
Following a visual approach to runway 31, the aircraft was only moments away from touchdown on runway 31 at McAllen International Airport, TX.
At that stage, the aircraft became unstabilized and a bank angle to the right developed until the right wingtip touched the ground.
The pilots were able to contol the plane and made a safe landing roll-out.
No one inside the aircraft was injured.
According tzo Mesa airlines media statement, the aircraft was removed from service after the incident to allow inspections.
METAR: KMFE
291653Z VRB04KT 10SM CLR 31/22 A2987 RMK AO2 SLP113 T0311021 Miami Airport weather consisted of cloudy skies with occasional rainfall, but good visibility.
---
OCCURENCE DATASET
Date: 2015-09-29 Time: 11:45
Location: KMFE MFE McAllen Miller Intl
Country: USA
Flight phase: LDG – Flare, Landing Roll, Aborted Landing after Touchdown
Damage to a/c: minor
Flight
Flight no.: AA 5786
From: KDFW/DFW: Dallas-Ft Worth To: KMFE/MFE: McAllen Miller Intl
Type: Passenger
Operator: Mesa Airlines
Leased from: American Airlines
Aircraft
Type: Canadair CRJ-900
Registration: N248LR
Age a/c: 3,9 years
Constr. No.: 15274
Tweet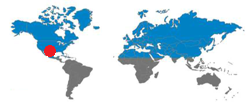 | | | | | |
| --- | --- | --- | --- | --- |
| | Crew | Pax | Other | Total |
| Occupants | | 90 | 0 | |
| Fatalities |  0 | 0 | 0 | 0 |
| Injuries |  0 | 0 |  0 | 0 |
JACDEC 25-year Statistics :
17th safety occurence for the operator
21st safety occurence of type (CRJ-900)
2nd safety occurence at McAllen Airport, TX, USA
1st safety occurence for aircraft in question
Image & Information Sources
AA 5786 wing scrape

AA 5786 wing scrape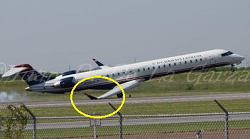 AP = Airport / AL = Airlines / Avn = Aviation / AW = Airways / C/N: Construction Number / DSP = Domestic Scheduled Passenger / DNP = Domestic Non-Scheduled Passenger / DSC = Domestic Scheduled Cargo / DNC= Domestic Non-Scheduled Cargo / GND = On the ground / parked, stored / FMN= Flying Mission, Air Work / FRY = Ferry-, Positioning Flight / IMC = Intrument Meteorological (flying) Conditions / ISP = International Scheduled Passenger / ISC=International Scheduled Cargo / INP = International Non-Scheduled Passenger / INC =International Non-Scheduled Cargo/ OPS = Flight Operation(s) / NRV = Non-revenue, Private Flight / TRN =Training Flight /  TST = Test & Certification Flight / VMC = Visual Meteorological (flying) Conditions