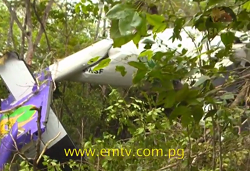 2014-09-20 Hevilift DHC-6 Twin Otter crashed near Port Moresby – UPDATE
The Twin Otter regional aircraft was found crashed about 7 km northwest of its destination asirport, leaving at least three people dead among them both pilots.
The aircraft came down in wooded terrain near the Goldie River Army Barracks.
At the time there were other pilot reports about low clouds and rainy conditions but generally acceptable flying conditions. The aircraft was on a charter flight.
The PNG Accident Investigation Committee has begun an investigation.
Preliminary Accident Report (PNG – AIC):
A DHC-6 Twin Otter aircraft was returning from Woitape, Central Province, to Jacksons
Airport, Port Moresby on the morning of 20 September 2014 on a charter flight under the
instrument flight rules (IFR). The weather at Woitape was reported to have been fine, but at
Port Moresby the weather was poor, with low cloud and rain. Witnesses reported that the
summit of Mt Lawes (1,700 ft above mean sea level (AMSL)) was in cloud all morning on
the day of the accident.
When the aircraft was 67 km from Port Moresby, air traffic control gave the Pilot in
Command a clearance to descend maintaining visual separation from terrain and to track to a
left base position for runway 14 right (14R) at Jacksons Airport. This clearance was accepted
by the Pilot in Command, and was repeated by air traffic control several times –
acknowledged each time by the Pilot in Command – as the aircraft approached Port Moresby.
When the aircraft was within 17.5 km (9.5 nautical miles) of the airport, the Pilot in
Command contacted the control tower and said that they were "running into a bit of cloud"
and that they "might as well pick up the ILS [instrument landing system] if it's OK". The
flight crew could not have conducted an ILS approach from that position, although they could
have discontinued their visual approach and requested a climb and radar vectors from air
traffic control to position the aircraft for an ILS approach.
The tower controller did not respond to the Pilot in Command's mention of the ILS, and
instead repeated the previous clearance, namely that the aircraft should make a visual
approach for a left base position for runway 14 right. The Pilot in Command read-back that
clearance. Shortly afterwards, the aircraft impacted terrain near the summit of Mt Lawes.
---
Final Accident Report (PNG – AIC):
3.2 Causes [Contributing factors]
a) The flight crew continued the descent in instrument meteorological conditions without confirming their position.
b) The flight crew's assessment of their position was incorrect and they had lost situational awareness
c) The flight crew deprived themselves of the "Caution" and "Warning" alerts that would have sounded about 20 sec and about 10 sec respectively before the collision, by not deactivating the EGPWS Terrain Inhibit prior to departure from Woitape.
OCCURENCE DATASET
Date: 2014-09-20 Time: 09:45
Location: Goldie River Barracks area
Country: Papua New Guinea
Flight phase: ENR – Cruise, Descent, Holding
Damage to a/c: hull loss
Flight
Flight no.:
From: AYWT/WTP: Woitape Airport To: AYPY/POM: Port Moresby
Type: Passenger
Operator: Hevilift (PNG)
Aircraft
Type: DHC-6 Twin Otter
Registration: P2-KSF
Age a/c: 37,5 years
Constr. No.: 528
Tweet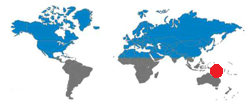 | | | | | |
| --- | --- | --- | --- | --- |
| | Crew | Pax | Other | Total |
| Occupants | 2 | 7 | 0 | 9 |
| Fatalities | 2 | 2 | 0 | 4 |
| Injuries | – | 5 | – | 5 |
JACDEC 20-year Statistics :
1st safety occurence for the operator
177th safety occurence of type
15th safety occurence at PNG
Order an Airline Safety Report
Download Investigation Report
Image & Information Sources
AP = Airport / AL = Airlines / Avn = Aviation / AW = Airways / C/N: Construction Number / DSP = Domestic Scheduled Passenger / DNP = Domestic Non-Scheduled Passenger / DSC = Domestic Scheduled Cargo / DNC= Domestic Non-Scheduled Cargo / GND = On the ground / parked, stored / FMN= Flying Mission, Air Work / FRY = Ferry-, Positioning Flight / IMC = Intrument Meteorological (flying) Conditions / ISP = International Scheduled Passenger / ISC=International Scheduled Cargo / INP = International Non-Scheduled Passenger / INC =International Non-Scheduled Cargo/ OPS = Flight Operation(s) / NRV = Non-revenue, Private Flight / TRN =Training Flight /  TST = Test & Certification Flight / VMC = Visual Meteorological (flying) Conditions