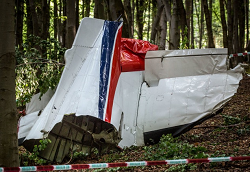 2015-08-20 Two LET-410 aircraft crashed after mid-air collision in Slovakia
Both aircraft collided in mid-air during a joint parachuting lift operation from Dubnica Airfield. Seven people in both aircraft did not survive.
Both Let-410 aircraft took off from Dubnica shortly after 0900L on a joint parachute jump flight. 
According to eyewitness acoounts and local media reports, the collision occured at an altitude of about 1500 meters (4900 ft.). After the collision, control was lost on both aircraft and they fell into in an uninhabited area, above Cerveny Karmen town. One aircraft came down in a forest and caught fire.
All together seven people were found dead. Three in one and four in the other aircraft.
31 skyjumpers are known to have survived, some of them with injuries. Many of them parachuted away from the fallen planes to escape death.
According to preliminary information both aircraft were carrying 19 skydivers each. Two pilots on board each plane and a total of three skydivers are reported dead.
The parachuters were about to practice for a new Slovak skydiving record jump.
The investigation report is available HERE.
Cause of accident
 The main cause of the accident was that the commander of aircraft OM-ODQ had not paid full attention to the steering of the aircraft and had not mastered the flying technique.
The immediate cause of the accident was the collision of the aircraft.
Inflight images (from accident acft on accident flight)
© Slovak Aviation and Miritime Investigation Authority
Wreckage images
© Slovak Aviation and Miritime Investigation Authority
OCCURENCE DATASET
Date: 2015-08-20 Time: 09:21
Location: Vrsatec area
Country: Slovakia
Flight phase: MNV – Aerobatics, Intentional Low Flying
Damage to a/c: hull loss
Flight
Flight no.:
From: LZDB/-: Dubnica Glider Aerodrome To: LZDB/-: Dubnica Glider Aerodrome
Type: Non Revenue
Operator: Dubnica Air
Aircraft 1
Type: Let 410 Turbolet
Registration: OM-ODQ
Age a/c: 31.2 years
Constr. No.: 841320
Aircraft 2
Type: Let 410 Turbolet
Registration: OM-SAB
Age a/c: 40.2 years
Constr. No.: 750405
Constr. No.: 841320
Tweet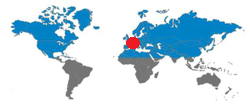 Aircraft 1 (OM-ODQ)
| | | | | |
| --- | --- | --- | --- | --- |
| | Crew | Pax | Other | Total |
| Occupants | 2 | 17 | 0 | 19 |
| Fatalities | 2 | 2 | 0 | 4 |
| Injuries | X | X | 0 | X |
Aircraft 2 (OM-SAB)
| | | | | |
| --- | --- | --- | --- | --- |
| | Crew | Pax | Other | Total |
| Occupants |  2 | 17 | 0 | 19 |
| Fatalities |  2 | 1 | 0 | 3 |
| Injuries |  X | X | 0 | X |
JACDEC Accident Statistics :
1st hull loss for the operator
112th and 113th hull loss of type (LET-410)
worst air accident for the country in 36 years
1st fatal mid-air collision after crash of GOL 737 in 2006 in Brazil
Image & Information Sources
AP = Airport / AL = Airlines / Avn = Aviation / AW = Airways / C/N: Construction Number / DSP = Domestic Scheduled Passenger / DNP = Domestic Non-Scheduled Passenger / DSC = Domestic Scheduled Cargo / DNC= Domestic Non-Scheduled Cargo / GND = On the ground / parked, stored / FMN= Flying Mission, Air Work / FRY = Ferry-, Positioning Flight / IMC = Intrument Meteorological (flying) Conditions / ISP = International Scheduled Passenger / ISC=International Scheduled Cargo / INP = International Non-Scheduled Passenger / INC =International Non-Scheduled Cargo/ OPS = Flight Operation(s) / NRV = Non-revenue, Private Flight / TRN =Training Flight /  TST = Test & Certification Flight / VMC = Visual Meteorological (flying) Conditions 
AP = Airport / AL = Airlines / Avn = Aviation / AW = Airways / C/N: Construction Number / DSP = Domestic Scheduled Passenger / DNP = Domestic Non-Scheduled Passenger / DSC = Domestic Scheduled Cargo / DNC= Domestic Non-Scheduled Cargo / GND = On the ground / parked, stored / FMN= Flying Mission, Air Work / FRY = Ferry-, Positioning Flight / IMC = Intrument Meteorological (flying) Conditions / ISP = International Scheduled Passenger / ISC=International Scheduled Cargo / INP = International Non-Scheduled Passenger / INC =International Non-Scheduled Cargo/ OPS = Flight Operation(s) / NRV = Non-revenue, Private Flight / TRN =Training Flight /  TST = Test & Certification Flight / VMC = Visual Meteorological (flying) Conditions