2015-06-17 Delta Boeing 747-400 badly damaged by hail over China
Whilst flying en-route the aircraft encountered intense hailstrike causing substantial damage.
Towards the end of a 12,5 hour trans-pacific flight, the Boeing 747 was flying enroute over northeastern China at flight level 360 (36000 ft), when it encountered severe weather along its air route (A588).
Besides severe turbulences, the aircraft flew through an area of hail. Hailstones impacted all foreward facing surfaces of the Boeing 747, resulting in structural damage to the radome.
Also the wing leading edges, the empennage and other fuselage areas sustained impact damage.
Flight 159 continued on its intended airway and made a safe landing at its destination.
The were no reports of any injured persons on board. The 747 took intense damage and is likely to remained grounded for repairs for a longer time.
According to a passenger, the pilots explained in their cabin announcement that they requested deviation around the adverse weather ahead but did not get permission by chinese air-traffic control to do so.
Unconfirmed rumors indicate the aircraft inquestion may be permanently grounded because of its age in relation to the amount of damage.
---
OCCURENCE DATASET
Date: 2015-06-17 Time: 15:30
Location: over northern China
Country: China
Flight phase: ENR – Cruise, Descent, Holding
Damage to a/c: substantial
Flight
Flight no.: DL 159
From: KDTW/DTW: Detroit-Metro International Airport To: RKSI/ICN: Seoul Incheon Intl Airport
Type: Passenger
Operator: Delta Air Lines
Aircraft
Type: Boeing 747-400
Registration: N644US
Age a/c: 26,2 years
Constr. No.: 23819
Tweet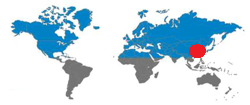 | | | | | |
| --- | --- | --- | --- | --- |
| | Crew | Pax | Other | Total |
| Occupants | | | | |
| Fatalities | 0 | 0 | 0 | 0 |
| Injuries | 0 | 0 | 0 | 0 |
JACDEC 20-year Statistics :
124th safety occurence for the operator
200th safety occurence of type (B747-400)
49th hail occurence
1st safety occurence for aircraft in question
Image & Information Sources
AP = Airport / AL = Airlines / Avn = Aviation / AW = Airways / C/N: Construction Number / DSP = Domestic Scheduled Passenger / DNP = Domestic Non-Scheduled Passenger / DSC = Domestic Scheduled Cargo / DNC= Domestic Non-Scheduled Cargo / GND = On the ground / parked, stored / FMN= Flying Mission, Air Work / FRY = Ferry-, Positioning Flight / IMC = Intrument Meteorological (flying) Conditions / ISP = International Scheduled Passenger / ISC=International Scheduled Cargo / INP = International Non-Scheduled Passenger / INC =International Non-Scheduled Cargo/ OPS = Flight Operation(s) / NRV = Non-revenue, Private Flight / TRN =Training Flight /  TST = Test & Certification Flight / VMC = Visual Meteorological (flying) Conditions