2015-06-16 Delta and Southwest aircraft runway incursion at Chicago-Midway
Both aircraft were involved in a ground incursion at Chicago-Midway Airport.
The Delta Air Lines Boeing 717 received clearace for line-up on runway 04R(right) while the Southwest Boeing 737 was also lined-up for take-off on the intersecting runway 31C(center). Both aircraft were instructed to hold on the runway awaiting take-off clearance.
After another aircraft has landed on runway 04L(left), the tower controller gave take-off clearance to the Southwest 737 (callsign "Southwest 3828").  At this time both pilots read back the clearance resulting in a garbled transmission making it impossible to identify the Delta 717 pilot (callsign "Delta 1328") acknowledging the take-off clearance. 
Only the words "eight two eight", at the end of the transmission were clearly readable.
Both aircraft began their take-off runs. Some seconds later tower controller realized the conflict situation and yelled "Stop, Stop, Stop!" (check LiveATC recording in right column).
Both aircraft came to a stop well ahead of the runway intersection.
Nobody was hurt in the incursion. Both flights reached their destinations with delay.
The incident is under investigation by FAA / NTSB.
OCCURENCE DATASET
Date: 2015-06-16 Time: 19:40
Location: KMDW MDW Chicago Midway
Country: USA
Flight phase: TOF – Take-off, Rejected Take-off
Damage to a/c: none
Flight 1
Flight no.: DL 1328
From: KMDW/MDW: Chicago Midway To: KATL/ATL: Atlanta-Hartsfield Intl Airport
Type: Passenger
Operator: Delta Air Lines
Flight 2
Flight no.: WN 3828
From: KMDW/MDW: Chicago Midway To: KTUL/TUL: Tulsa Intl
Type: Passenger
Operator: Southwest Airlines
Aircraft 1
Type: Boeing 717
Registration: N939AT
Age a/c: 9,2 years
Constr. No.: 55099
Aircraft 2
Type: Boeing 737-700
Registration: N223WN
Age a/c: 9,6 years
Constr. No.: 34292
Tweet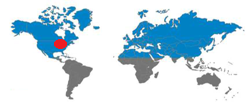 | | | | | |
| --- | --- | --- | --- | --- |
| | Crew | Pax | Other | Total |
| Occupants | | | | |
| Fatalities | 0 | 0 | 0 | 0 |
| Injuries | 0 | 0 | 0 | 0 |
JACDEC 20-year Statistics :
9th safety occurence at airport
2nd runway incursion occurence at the airport within 5 years
Image & Information Sources
AP = Airport / AL = Airlines / Avn = Aviation / AW = Airways / C/N: Construction Number / DSP = Domestic Scheduled Passenger / DNP = Domestic Non-Scheduled Passenger / DSC = Domestic Scheduled Cargo / DNC= Domestic Non-Scheduled Cargo / GND = On the ground / parked, stored / FMN= Flying Mission, Air Work / FRY = Ferry-, Positioning Flight / IMC = Intrument Meteorological (flying) Conditions / ISP = International Scheduled Passenger / ISC=International Scheduled Cargo / INP = International Non-Scheduled Passenger / INC =International Non-Scheduled Cargo/ OPS = Flight Operation(s) / NRV = Non-revenue, Private Flight / TRN =Training Flight /  TST = Test & Certification Flight / VMC = Visual Meteorological (flying) Conditions