2015-06-16 SCAT Boeing 737 burned to destruction at Aktau
The empty 737 was destroyed by fire during parking at Aktau Airport.
The 737 arrived at Aktau on a scheduled domestic flight from Astana.
Whilst standing at Gate 202 with the airbridge attached, a fire suddenly erupted in the foreward fuselage section which quickly spreads.
Before fire fighting equipment arrived at the scene, flames and heat burned through the aircraft skin making the 737 a total loss.
At the time the aircraft was being prepared for the next flight to Mineralnye Vody. Only two employees of the airline were inside the aircraft, one of them received minor burn injuries. The
According to local media reports, thew fire is believed to have started in one of the oxygene bottles carried in the right foreward cabin to supply oxygene to the passengers in case of an emergency.
The fire was extinguished at 20:29 local time.
OCCURENCE DATASET
Date: 2015-06-16 Time: 19:00
Location: UATE SCO Aktau Shevchenko
Country: Kazakhstan
Google Maps: Google Maps
Flight phase: STD – Standing with Engine(s) not Operating
Damage to a/c: hull loss
Flight
Flight no.: DV 831
From: UATE/SCO: Aktau Shevchenko To: URMM/MRV: Mineralnye Vody Airport
Type: Passenger
Operator: SCAT Airlines
Leased from: Small Planet Airlines
Aircraft
Type: Boeing 737-300
Registration: LY-FLB
Age a/c: 24,9 years
Constr. No.: 24667
JACDEC Database Service: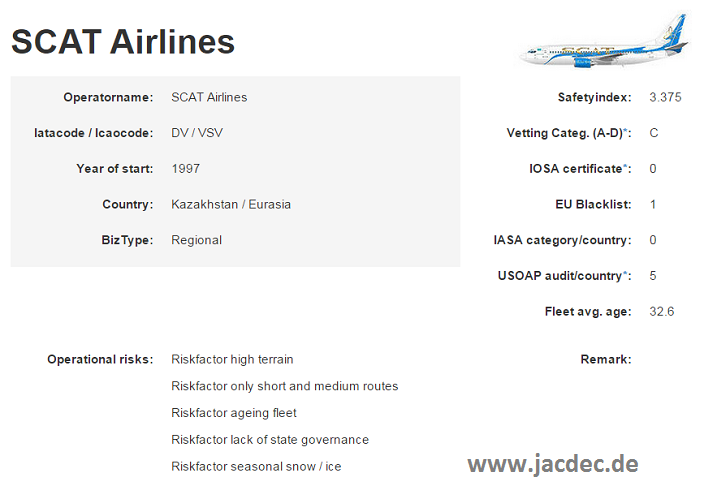 Tweet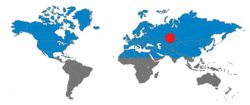 | | | | | |
| --- | --- | --- | --- | --- |
| | Crew | Pax | Other | Total |
| Occupants | | | | 0 |
| Fatalities | 0 | 0 | 0 | 0 |
| Injuries | 0 | 0 | 1 | 1 |
JACDEC 20-year Statistics :
6th safety occurence for the operator
166th safety occurence of type (B737-300)
1stsafety occurence at airport
1st safety occurence for aircraft in question
Image & Information Sources
AP = Airport / AL = Airlines / Avn = Aviation / AW = Airways / C/N: Construction Number / DSP = Domestic Scheduled Passenger / DNP = Domestic Non-Scheduled Passenger / DSC = Domestic Scheduled Cargo / DNC= Domestic Non-Scheduled Cargo / GND = On the ground / parked, stored / FMN= Flying Mission, Air Work / FRY = Ferry-, Positioning Flight / IMC = Intrument Meteorological (flying) Conditions / ISP = International Scheduled Passenger / ISC=International Scheduled Cargo / INP = International Non-Scheduled Passenger / INC =International Non-Scheduled Cargo/ OPS = Flight Operation(s) / NRV = Non-revenue, Private Flight / TRN =Training Flight /  TST = Test & Certification Flight / VMC = Visual Meteorological (flying) Conditions