2015-06-02 Aeronaves TSM Metroliner II crashed near Querétaro, Mexico
Very shortly after take-off on a test flight, the aircraft lost height and impacted ground next to the busy highway no 57, about 10 km west of Querétaro Airport.
The aircraft was totally destroyed by impact and post-impact fire.
There were no survivors among the 5 people on board. According to local media reports and the ministry of transport (SCT) the aircraft was on a post-maintenance checkflight with two pilots and three technicians on board.
The Metroliner was about 9 minutes in the air then the crash took place.
Local weather was good at the time.
An investigation was launched my mexican DGAC. [SCT Media Statement, PDF]
Unofficial reports indicate the plane earlier landed at Queretaro with technical problems. After repairs in the hangars of DHL it took off for a test flight but minutes later the pilots radioed control problems and announced their intention to attempt an emergency landing on the highway.
---
OCCURENCE DATASET
Date: 2015-06-02 Time: 14:35
Location: MMQT QRO Queretaro area
Country: Mexico
Google Maps: (GOOGLE EARTH)
Flight phase: ICL – Airborne – 1.000 ft AGL
Damage to a/c: hull loss
Flight
Flight no.:
From: MMQT/QRO: Queretaro To: –
Type: Non Revenue
Operator: Aeronaves TSM
Aircraft
Type: Swearingen Metroliner II
Registration: XA-UKP
Age a/c: 34,9 years
Constr. No.: 376
Tweet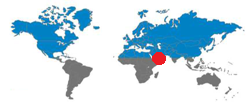 | | | | | |
| --- | --- | --- | --- | --- |
| | Crew | Pax | Other | Total |
| Occupants |  2 | 3 | 0 | 5 |
| Fatalities | 2 | 3 | 0 | 5 |
| Injuries | 0 | 0 | 0 | 0 |
JACDEC 20-year Statistics :
2nd hull loss and 4th safety occurence for the operator
131st safety occurence of type (Metroliner)
1st safety occurence at airport
1st safety occurence for aircraft in question
Image & Information Sources
AP = Airport / AL = Airlines / Avn = Aviation / AW = Airways / C/N: Construction Number / DSP = Domestic Scheduled Passenger / DNP = Domestic Non-Scheduled Passenger / DSC = Domestic Scheduled Cargo / DNC= Domestic Non-Scheduled Cargo / GND = On the ground / parked, stored / FMN= Flying Mission, Air Work / FRY = Ferry-, Positioning Flight / IMC = Intrument Meteorological (flying) Conditions / ISP = International Scheduled Passenger / ISC=International Scheduled Cargo / INP = International Non-Scheduled Passenger / INC =International Non-Scheduled Cargo/ OPS = Flight Operation(s) / NRV = Non-revenue, Private Flight / TRN =Training Flight /  TST = Test & Certification Flight / VMC = Visual Meteorological (flying) Conditions