2015-06-02 Garuda Boeing 737-800 overran runway at Ujung Padang
The 737 overran the end of the runway by a few meters while landing in rain.
Garuda flight GA 618 from Jakarta-Intl AP (WIII) was number two to land on runway 13 (lengh 2500 m) behind a Lion Air Boeing 737-800 (LNI 739).
At the time, local weather consisted of intense rainfall at Ujung Padang Airport (Makassar) leaving many patches on the runway.
After touchdown the pilots were unable to stop the aircraft within the runway lengh. The 737 travelled across the asphalt overrun area until its nose and left maingear were buried in soft ground.
All passengers and crewmembers remained unhurt. As no emergency slides were deployed, the passengers left the aircraft via small ladders leaned on the R1 and R2 doors until the airport sent an airstair vehicle to the spot.
Damage to the aircraft appears to be light, if any.
Ujung Padang´s runway 13/31 remained closed for hours until the 737 was removed.
Weather Report:
WAAA 020730Z VRB07KT 0800 +TSRA FEW017CB BKN018 25/25 Q1010 TEMPO TL0800 VRB08G20KT 800 TSRA FEW017CB BKN019
WAAA 020700Z 06010G20KT 350V110 0500 +TSRA FEW017CB BKN018 24/24 Q1009 TEMPO TL0800 10010G20KT 500 TSRA FEW017CB BKN019
OCCURENCE DATASET
Date: 2015-06-02 Time: 14:34
Location: WAAA UPG Ujung Pandang Makassar
Country: Indonesia
Flight phase: LDG – Flare, Landing Roll, Aborted Landing after Touchdown
Damage to a/c: minor
Flight
Flight no.: GA 618
From: WIII/CGK: Jakarta Soekarno Hatta  To: WAAA/UPG: Ujung Pandang Makassar
Type: Passenger
Operator: Garuda Indonesia
Aircraft
Type: Boeing 737-800
Registration: PK-GFA
Age a/c: 2,8 years
Constr. No.: 38722
Tweet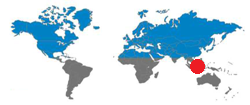 | | | | | |
| --- | --- | --- | --- | --- |
| | Crew | Pax | Other | Total |
| Occupants |  8 | 144 | 0 | 152 |
| Fatalities | 0 | 0 | 0 | 0 |
| Injuries | 0 | 0 | 0 | 0 |
JACDEC 20-year Statistics :
41st safety occurence for the operator
298th safety occurence of type (B737-800)
12th safety occurence at airport (6th overrun)
1st safety occurence for aircraft in question
Image & Information Sources
AP = Airport / AL = Airlines / Avn = Aviation / AW = Airways / C/N: Construction Number / DSP = Domestic Scheduled Passenger / DNP = Domestic Non-Scheduled Passenger / DSC = Domestic Scheduled Cargo / DNC= Domestic Non-Scheduled Cargo / GND = On the ground / parked, stored / FMN= Flying Mission, Air Work / FRY = Ferry-, Positioning Flight / IMC = Intrument Meteorological (flying) Conditions / ISP = International Scheduled Passenger / ISC=International Scheduled Cargo / INP = International Non-Scheduled Passenger / INC =International Non-Scheduled Cargo/ OPS = Flight Operation(s) / NRV = Non-revenue, Private Flight / TRN =Training Flight /  TST = Test & Certification Flight / VMC = Visual Meteorological (flying) Conditions