2015-04-13 United Airlines Boeing 737-900 ended on grass at Houston, TX
On landing runway 08R at Houston G. Bush Intl Airport, the 737 ran off paved surface when the pilots attempted to turn into a high speed taxiway. The aircraft came to a stop with all undercarriage on soft ground.
The passengers deplaned via mobile airstairs. There were no reports about any injuries on board.
At the time of the event, local weather consisted of thunderstorm activity and heavy downpour.
METAR KAIH:
SPECI KIAH 131027Z 05008KT 7SM -RA FEW005 SCT020 SCT050 OVC130 23/22 A2979 RMK AO2 TSB03E27 PRESFR TS MOV N P0025
---
OCCURENCE DATASET
Date: 2015-04-15 Time: 05:31
Location: KIAH IAH Houston Intercontinental Airport
Country: USA
Flight phase: LDG – Flare, Landing Roll, Aborted Landing after Touchdown
Damage to a/c: minor
Flight
Flight no.: UA 1545
From: KLAS/LAS: Las Vegas-Mc Carran Intl To: KIAH/IAH: Houston Intercontinental Airport
Type: Passenger
Operator: United Airlines
Aircraft
Type: Boeing 737-900
Registration: N37471
Age a/c: 2,0 years
Constr. No.: 37012
Tweet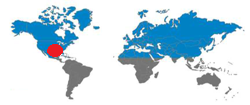 | | | | | |
| --- | --- | --- | --- | --- |
| | Crew | Pax | Other | Total |
| Occupants | 6 | 167 | 0 | 173 |
| Fatalities | 0 | 0 | 0 | 0 |
| Injuries | 0 | 0 | 0 | 0 |
JACDEC 20-year Statistics :
104th safety occurence for the operator
21st safety occurence of type (B737-900)
5th safety occurence at airport
1st safety occurence for aircraft in question
United Airlines
Image & Information Sources
AP = Airport / AL = Airlines / Avn = Aviation / AW = Airways / C/N: Construction Number / DSP = Domestic Scheduled Passenger / DNP = Domestic Non-Scheduled Passenger / DSC = Domestic Scheduled Cargo / DNC= Domestic Non-Scheduled Cargo / GND = On the ground / parked, stored / FMN= Flying Mission, Air Work / FRY = Ferry-, Positioning Flight / IMC = Intrument Meteorological (flying) Conditions / ISP = International Scheduled Passenger / ISC=International Scheduled Cargo / INP = International Non-Scheduled Passenger / INC =International Non-Scheduled Cargo/ OPS = Flight Operation(s) / NRV = Non-revenue, Private Flight / TRN =Training Flight /  TST = Test & Certification Flight / VMC = Visual Meteorological (flying) Conditions