2015-04-13 Jet Airways Boeing 737-800 gear collapse on landing Khajuraho
The Boeing 737 experiened a partial collapse of its left maingear on landing rollout runway 19 at Khajuraho.
The left engine came into runway contact before stopping.
The aircraft came to a halt on the runway but received substantial damage. All passengers were evacuated via emergency slides.
The airport was forced to close for traffic for at least 24 hours.
Unconfirmed eyewitness reports indicate there might have been a tire blewout on landing run just before the left gear gave way.
Hydraulic leak suspected.
---
OCCURENCE DATASET
Date: 2015-04-13 Time: 13:16
Location: VAKJ HJR Khajuraho
Country: India
Flight phase: LDG – Flare, Landing Roll, Aborted Landing after Touchdown
Damage to a/c: substantial
Flight
Flight no.: 9W 2423
From: VIBN/VNS: Varanasi To: VAKJ/HJR: Khajuraho
Type: Passenger
Operator: Jet Airways
Aircraft
Type: Boeing 737-800
Registration: VT-JGA
Age a/c: 12,5 years
Constr. No.: 30410
Tweet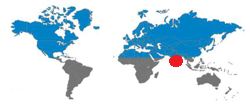 | | | | | |
| --- | --- | --- | --- | --- |
| | Crew | Pax | Other | Total |
| Occupants | 8 | 59 | 0 | 67 |
| Fatalities | 0 | 0 | 0 | 0 |
| Injuries | 0 | 0 | 0 | 0 |
JACDEC 20-year Statistics :
18th safety occurence for the operator
291th safety occurence of type (B737-800)
1st safety occurence at airport
1st safety occurence for aircraft in question
Jet Airways
Image & Information Sources
AP = Airport / AL = Airlines / Avn = Aviation / AW = Airways / C/N: Construction Number / DSP = Domestic Scheduled Passenger / DNP = Domestic Non-Scheduled Passenger / DSC = Domestic Scheduled Cargo / DNC= Domestic Non-Scheduled Cargo / GND = On the ground / parked, stored / FMN= Flying Mission, Air Work / FRY = Ferry-, Positioning Flight / IMC = Intrument Meteorological (flying) Conditions / ISP = International Scheduled Passenger / ISC=International Scheduled Cargo / INP = International Non-Scheduled Passenger / INC =International Non-Scheduled Cargo/ OPS = Flight Operation(s) / NRV = Non-revenue, Private Flight / TRN =Training Flight /  TST = Test & Certification Flight / VMC = Visual Meteorological (flying) Conditions