2015-03-18 Amaszonas CRJ-200 off runway on take-off at Tarija, Bolivia
During take-off run from runway 31 at Tarija-Carapari Cap. Av.Oriel Lea Plaza Airport, the aircraft began to veer to the right. The pilots were unable to correct the deviation until the Canadair ran over soft ground. The take-off was aborted but the aircraft continued to roll over soft, sandy ground until it came to a stop with its nose against the edge of a earth mound, about 25 meters to the side of the runway.
It is understood that there were no injuries to passengers or crewmembers.
At the time there were no adverse weather conditions in the area.
Tarija Airports has a single runway which is 3050 meters long and 45 m wide.
There is no parallel taxiway and no broadened ends to allow u-turns.
---
OCCURENCE DATASET
Date: 2015-03-18 Time:
Location: SLTJ TJA Tarija
Country: Bolivia
Flight phase: TOF – Take-off, Rejected Take-off
Damage to a/c: minor / none
Flight
Flight no.:
From: SLTJ/TJA: Tarija To: SLVR/VVI: Santa Cruz-Viru Viru Intl Airport
Type: Passenger
Operator: Linea Aerea Amaszonas
Aircraft
Type: Canadair CRJ-200
Registration: CP-2742
Age a/c: 17.5 years
Constr. No.: 7195372
Tweet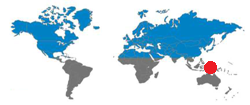 | | | | | |
| --- | --- | --- | --- | --- |
| | Crew | Pax | Other | Total |
| Occupants | | | 0 | |
| Fatalities | 0 | 0 | 0 | 0 |
| Injuries | 0 | 0 | 0 | 0 |
JACDEC 20-year Statistics :
4th safety occurence for the operator
143th safety occurence of type (Canadair CRJ)
1st safety occurence at airport
1st safety occurence for aircraft in question
LA Amaszonas
Image & Information Sources
AP = Airport / AL = Airlines / Avn = Aviation / AW = Airways / C/N: Construction Number / DSP = Domestic Scheduled Passenger / DNP = Domestic Non-Scheduled Passenger / DSC = Domestic Scheduled Cargo / DNC= Domestic Non-Scheduled Cargo / GND = On the ground / parked, stored / FMN= Flying Mission, Air Work / FRY = Ferry-, Positioning Flight / IMC = Intrument Meteorological (flying) Conditions / ISP = International Scheduled Passenger / ISC=International Scheduled Cargo / INP = International Non-Scheduled Passenger / INC =International Non-Scheduled Cargo/ OPS = Flight Operation(s) / NRV = Non-revenue, Private Flight / TRN =Training Flight /  TST = Test & Certification Flight / VMC = Visual Meteorological (flying) Conditions