2015-03-04 Turkish Airlines Airbus A330 runway excursion at Kathmandu, Nepal
The Airbus A330 was damaged beyond repair in a runway excursion incident on landing at Kathmandu Airport in very low visibility.
On 2015-11-17 the Nepalese Aircraft Accident Investigation Commission published its final report.
Excerpt taken from the AAIC Final Report:
3.2 Causal Factor
The probable cause of this accident is the decision of the flight crew to continue approach and landing below the minima with inadequate visual reference and not to perform a missed approach in accordance to the published approach procedure.
3.2.1 Contributory Factors
Other contributing factors of the accident are probable fixation of the flight crew to land at Kathmandu, and the deterioration of weather conditions that resulted in fog over the airport reducing the visibility below the required minima.
Download the full report here:  http://www.tourism.gov.np/uploaded//TURKISH-AIRLINE-Final-Report-finalcopy.pdf[/vc_message]
On landing runway 02 at Kathmandu Tribhuvan International Airport in fog, the aircraft departed paved surface to the left until it came to rest with its nosegear collapsed and both engines damaged.
After coming to a standstill on soft ground, all passengers evacuated via slides in which four people received minor injuries. 
At the time runway visibility was significantly hampered by early morning fog, clearing up soon after the landing.
Earlier, the A330 has entered holding pattern over SIMARA beacon at 21000 ft. because of reduced visibility at the airport. After about 30 minutes the pilots elected to attempt an approach but a landing was abandoned about 1 mile short of the airport because of isufficient visibility.
The flight then circled for a second landing attempt. The pilotsagain selcted the (curved) RNAV approach but ran off the side of the runway after it travelled a ground distance of about 1500 meters.

Some media reports suggests TK 726 touched down to the left of the centreline allowing the left maingear tires to ran over unpaved ground.
METAR:
SA 03/03/2015 23:50-> METAR VNKT 032350Z 00000KT 0500 FG VV/// 08/07 Q1013 NOSIG=
NOTE:
Tribhuvan Airport field elevation is 4318 ft. above sea lavel. Runway 02 is equipped with a VOR-DME approach. (no ILS available)
The minimum descent altitude (MDA) is 5780 ft. (1465 ft. above ground level).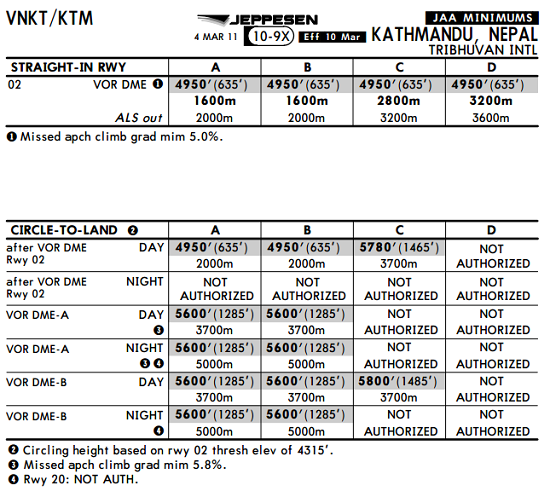 Tribhuvan Airport remained closed for all international flights until March 7th 1800L. Only local flights with light aircraft are allowed to land on runway 20 and take-off from runway 02 via taxiway "3".
On March 5th an indian C-130 Hercules military transport aircraft flew in heavy equipment to remove the disabled A330 out of its position. 
OCCURENCE DATASET
Date: 2015-03-04 Time: 07:50
Location: VNKT KTM Kathmandu
Country: Nepal
Flight phase: LDG – Flare, Landing Roll, Aborted Landing after Touchdown
Damage to a/c: substantial
Flight
Flight no.: THY 726
From: LTBA/IST: Istanbul Ataturk To: VNKT/KTM: Kathmandu
Type: Passenger
Operator: THY Turkish Airlines
Leased from: Unknown
Aircraft
Type: Airbus A330-300
Registration: TC-JOC
Age a/c: 0,85 years
Constr. No.: 1522
RNAV Approach chart for runway 02 at Kathmandu
Map (provided by JEPPESON SANDERSON)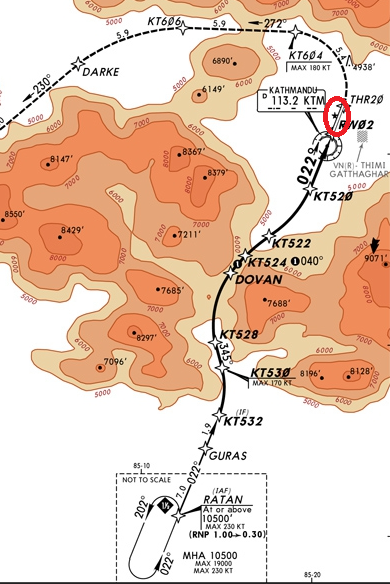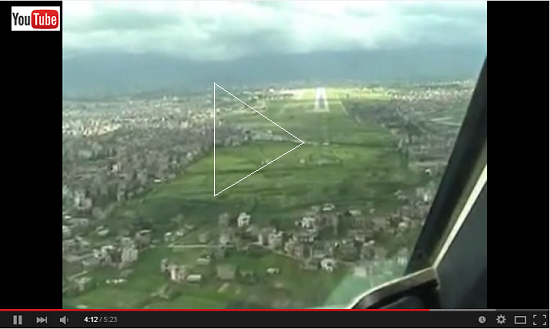 Tweet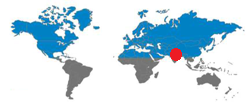 Nepal AAIC Final Investigation Report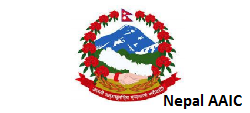 Download via www.tourism.gov.np [PDF Document)
| | | | | |
| --- | --- | --- | --- | --- |
| | Crew | Pax | Other | Total |
| Occupants | 11 | 224 | 0 | 235 |
| Fatalities | 0 | 0 | 0 | 0 |
| Injuries | 0 | 4 | 0 | 0 |
JACDEC 20-year Statistics :
43th safety occurence for the operator
157th safety occurence of type (A330)
11nd safety occurence at airport
1st safety occurence for aircraft in question
Turkish Airlines
Image & Information Sources
AP = Airport / AL = Airlines / Avn = Aviation / AW = Airways / C/N: Construction Number / DSP = Domestic Scheduled Passenger / DNP = Domestic Non-Scheduled Passenger / DSC = Domestic Scheduled Cargo / DNC= Domestic Non-Scheduled Cargo / GND = On the ground / parked, stored / FMN= Flying Mission, Air Work / FRY = Ferry-, Positioning Flight / IMC = Intrument Meteorological (flying) Conditions / ISP = International Scheduled Passenger / ISC=International Scheduled Cargo / INP = International Non-Scheduled Passenger / INC =International Non-Scheduled Cargo/ OPS = Flight Operation(s) / NRV = Non-revenue, Private Flight / TRN =Training Flight /  TST = Test & Certification Flight / VMC = Visual Meteorological (flying) Conditions