2015-03-04 Deraya Air Taxi BAe ATP landing accident at Wamena,Papua, Indonesia
On landing runway 33, the aircraft suffered a runway excursion coming to a stop badly damaged condition.
The cargo flight was on approach to runway 33 when the airport weather quickly detoriated. There was intense rainfall and strong winds when the ATP struggled aligning the aircraft properly with the runway centreline, according to eyewittness accounts.
A heavy touchdown was made and the aircraft began to skid to the right. The left maingear collapsed allowing the left propellers to strike the ground.  Its nosegear appeared to have collapsed as well and the pilots lost directional control.
The ATP came to rest halfway off the runway close to taxiway "Delta" about halfway down the runway. Both crewmembers, the only persons on board, escaped uninjured.
The aircraft ws flying a cargo of food supplies to Wamena.
Runway 33/15 at Wamena is 1825 meters in lengh but was lenghened  recently to about 2200 meters. Airport elevation is 5100 feet above sea level.
---
OCCURENCE DATASET
Date: 2015-03-04 Time: 15:15
Location: WAJW WMX Wamena
Country: Indonesia
Google Maps: (LINK)
Flight phase: LDG – Flare, Landing Roll, Aborted Landing after Touchdown
Damage to a/c: substantial
Flight
Flight no.:
From: WAJJ/DJJ: Jayapura Sentani Intl Airport To: WAJW/WMX: Wamena
Type: Cargo
Operator: Deraya Air Taxi
Aircraft
Type: BAe ATP
Registration: PK-DGB
Age a/c: 24.4055 years
Constr. No.: 2029
 List of accidents & incidents at or near Wamena Airport in recent years
DATE
OERATOR
TYPE
REG
PHASE
FATAL
REMARK
#1
2015-03-04
Deraya Air Taxi
ATP
PK-DGB
LDG
0
bad weather, off runway 33
#2
2014-08-30
Jayawijaya Dirg.
B732
PK-JRB
TXI
0
multi tire bursts
#3
2013-05-31
Deraya Air Taxi
ATP
PK-DGI
LDG
0
off runway 15, lost gear
#4
2013-05-20
Trigana Air Service
B733
PK-YRZ
LDG
0
overran runway 33
#5
2013-05-08
Nusantara Air Chart.
B146
PK-JKC
STD
0
destroyed by fire , 1 injured
#6
2010-01-28
Manunggal Airlines
AN26
4L-IFE
LDG
0
overran runway 15
#7
2009-06-29
Aviastar Mandiri
DHC6
PK-BRO
APR
3
hit terrain on descent
#8
2009-04-09
Aviastar Mandiri
B146
PK-BRD
APR
6
flew into terrain on approach to runway 15
#9
2008-03-06
Manunggal Airlines
C160
PK-VTQ
LDG
0
caught fire on landing runway 15
#10
2002-04-21
Enimex
AN72
ES-NOP
LDG
0
damaged beyond repair in hard landing runway 15
© JACDEC Database Services
Tweet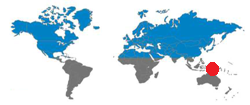 | | | | | |
| --- | --- | --- | --- | --- |
| | Crew | Pax | Other | Total |
| Occupants | 2 | 0 | 0 | 2 |
| Fatalities | 0 | 0 | 0 | 0 |
| Injuries | 0 | 0 | 0 | 0 |
JACDEC 20-year Statistics :
2nd safety occurence for the operator
19th safety occurence of type (ATP)
9th safety occurence at airport
1st safety occurence for aircraft in question
Deraya Air Taxi
Image & Information Sources
AP = Airport / AL = Airlines / Avn = Aviation / AW = Airways / C/N: Construction Number / DSP = Domestic Scheduled Passenger / DNP = Domestic Non-Scheduled Passenger / DSC = Domestic Scheduled Cargo / DNC= Domestic Non-Scheduled Cargo / GND = On the ground / parked, stored / FMN= Flying Mission, Air Work / FRY = Ferry-, Positioning Flight / IMC = Intrument Meteorological (flying) Conditions / ISP = International Scheduled Passenger / ISC=International Scheduled Cargo / INP = International Non-Scheduled Passenger / INC =International Non-Scheduled Cargo/ OPS = Flight Operation(s) / NRV = Non-revenue, Private Flight / TRN =Training Flight /  TST = Test & Certification Flight / VMC = Visual Meteorological (flying) Conditions