2015-02-10 US Airways (AA) Embraer E-190 nosegear-up landing at Houston-IAH, TX, USA
The aircraft was damaged during an emergency landing without its nosegear on runway 27 at Houston G.Bush Intercontinental Airport. Earlier on approach the pilots received indication about a malfuncton in the nosegear extension mechanism preventing the gear to lock in the "down" position.
After about 45 minutes of unsuccesful attempts to lower it, the decision was made to land on the maingears only.
There were no reported injuries among passengers or crewmembers.
Damage to the aircraft is substantial. An investigation is underway.
OCCURENCE DATASET
Date: 2015-02-09 Time: 22:07
Location: KIAH IAH Houston Intercontinental Airport
Country: USA
Flight phase: LDG – Flare, Landing Roll, Aborted Landing after Touchdown
Damage to a/c: substantial
Flight
Flight no.: US 1825
From: KPHL/PHL: Philadelphia To: KIAH/IAH: Houston Intercontinental Airport
Type: Passenger
Operator: US Airways
Aircraft
Type: Embraer E-190
Registration: N953UW
Age a/c: 7,2 years
Constr. No.: 19000133
Tweet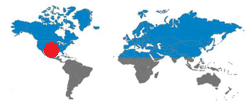 | | | | | |
| --- | --- | --- | --- | --- |
| | Crew | Pax | Other | Total |
| Occupants | 4 | 53 | 0 | 57 |
| Fatalities | 0 | 0 | 0 | 0 |
| Injuries | 0 | 0 | 0 | 0 |
JACDEC 20-year Statistics :
40th safety occurence for the operator
27th safety occurence of type (E-190)
20nd safety occurence at airport
1st safety occurence for aircraft in question
US Airways
Image & Information Sources
AP = Airport / AL = Airlines / Avn = Aviation / AW = Airways / C/N: Construction Number / DSP = Domestic Scheduled Passenger / DNP = Domestic Non-Scheduled Passenger / DSC = Domestic Scheduled Cargo / DNC= Domestic Non-Scheduled Cargo / GND = On the ground / parked, stored / FMN= Flying Mission, Air Work / FRY = Ferry-, Positioning Flight / IMC = Intrument Meteorological (flying) Conditions / ISP = International Scheduled Passenger / ISC=International Scheduled Cargo / INP = International Non-Scheduled Passenger / INC =International Non-Scheduled Cargo/ OPS = Flight Operation(s) / NRV = Non-revenue, Private Flight / TRN =Training Flight /  TST = Test & Certification Flight / VMC = Visual Meteorological (flying) Conditions