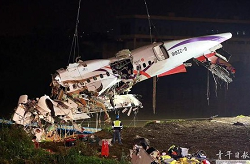 2015-02-04 Transasia ATR-72 crashed into Keelung River Taipei, Taiwan
Transasia Flight GE 235 crashed into a river about 3 minutes after take-off from Taipei-Songshan Airport killing 43 persons.
UPDATE 2016-06-30:

| | | |
| --- | --- | --- |
| | FINAL investigation report out | LINK |
| | Download Final investigation report (in english) | LINK (pdf) |
---
The ATR-72 departed from runway 10 at Songshan Airport for a scheduled domestic flight to Kinmen, via the MUCHA 2H departure route.
About 80 seconds after take-off clearance an aural warning singal can be heared over the ATC recording. (see LiveATCnet mp3 file to the right)
About 145 seconds after take-offf clearance, the pilots were heared over the radio, saying "Mayday, Mayday. Engine flameout."
Tower controller instructed them to change frequency to the departure controller, however there was no more acknowledgement or reply from GE 235.
The aircraft turned right then left again entering a gradual descent until about 3 minutes after take-off when control was apparently lost.
After barely clearing some multistorey houses about 2 miles east of the airport, the left wing drop sharply hitting a cab on Huandong Boulevard until it fell into the nearby Keelung River.
Crash sequence of Transasia Flight GE 235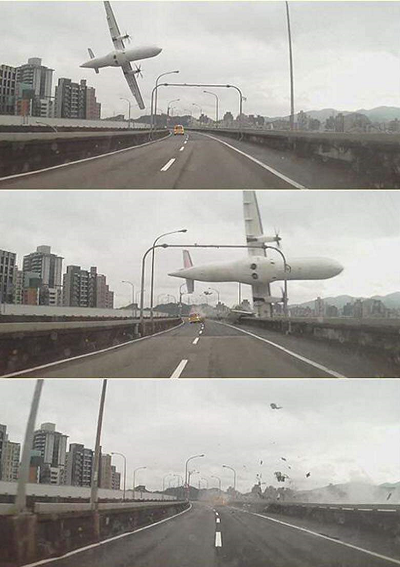 © Aviation Safety Council of Taiwan
The aircraft came to rest inverted and halfway submerged in the waters. The river has a depth of only 2-3 meters but there is fear that many passengers have drowned. The cabin quickly took water and many passengers were unable to evacuate after getting unconscious by impact forces.
According an airline statement,  43 occupants have been killed in the accident, 15 are known to have survived.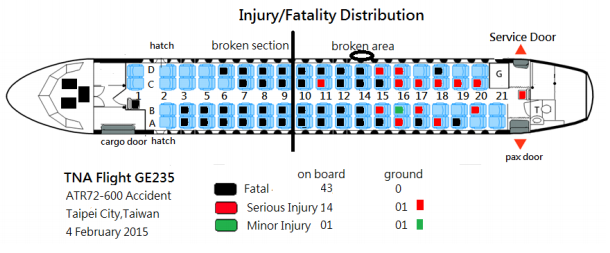 © Aviation Safety Council of Taiwan
Both flight recording devices (FDR + CVR) have been located and recovered.
The cab driver fortunately received only minimal injuries.
At the time of the accident, Taipei weather was overcast but there was no precipitation and the winds were calm.
METAR Sunghan Airport:  
METAR RCSS 040230Z 10008KT 9999 FEW013 BKN028 BKN040 16/13  Q1024 NOSIG RMK A3025=
METAR RCSS 040300Z 10010KT 9999 FEW015 BKN028 BKN040 16/13 Q1024 NOSIG RMK A3025=
An urgent inspection of all other ATR-72s in Transasia´s fleet found no defects.
Taiwans Safety Council reported that both engines (PW 127M) produced little or no power at the moment of impact. Initial analysis of the CVR showed that despite a failure indication on engine #2, the pilots shut down the other engine #1 causing a total loss of foreward thrust.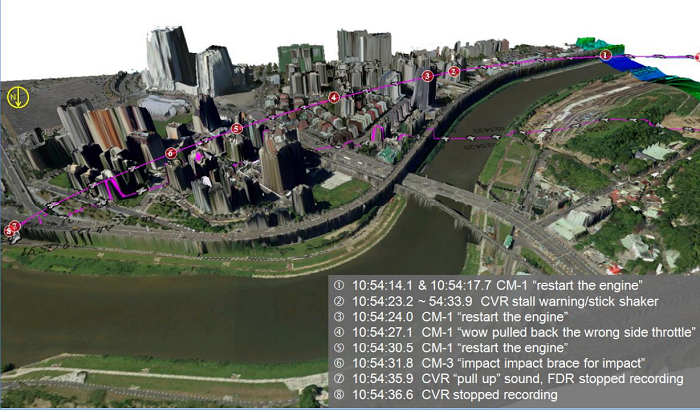 © Aviation Safety Council of Taiwan
Transasia announced that all of their ATR pilots have to undergo special skill tests dealing with abnormal flying conditions and engine failures.
On Feb 10th Transasia conduct an ad-hoc re-examination of their pilots. It is noteworthy to tell that 29 out of 49 failed or missed the test and were suspended from active duty.
---
Timeline of Voice Recordings  
according to taiwanese Aviation safety Council (ASC) press release
10:51:13  Flight GE235 is cleared for take-off
10:52:38.3  Main alarm goes off in cockpit for engine No. 2
10:52:43.0  Pilots mention easing power (pulling back the throttle) for engine No. 1
10:53:00  Pilots discuss procedure for handling engine flameout
10:53:06.4  Pilots again mention pullback of throttle for engine No. 1 and confirm flameout of engine No. 2
10:53:12.6  to 10:53:18.8 a.m. Alarm for loss of speed goes off for first time in cockpit
10:53:19.6  Pilots mention engine No. 1 propeller is auto-feathering and power to that engine has been cut off. Alarm for loss of speed goes off again two seconds later
10:53:34.9 Pilots issue first mayday and notify tower of engine flameout
10:54:09.2  Pilots repeatedly call for re-ignition of engine No. 1
10:54:34.4  Main alarm goes off for second time in cockpit Unknown noise recorded 0.4 seconds later
10:54:36.6  Cockpit voice recorder stops
---
ACCIDENT HISTORY of TRANSASIA AIRWAYS (GE, TNA)
 Source: JACDEC-Database
DATE
TYPE
REG
Location
ACCIDENT FACTORS
Fatal

Crew

Tech.

Weather

Other

2015-02-04
ATR-72
B-22816
Taipei Songshan , Taiwan
♦
♦
43
2014-07-23
ATR-72
B-22810
Magong Airport area, Taiwan
♦
♦
48
2003-03-22
Airbus A321
B-22603
Tainan Airport, Taiwan
♦
0
2002-12-21
ATR-72
B-22708
off Phengu Islandsm Taiwan Strait
♦
♦
2
1995-01-30
ATR-72
B-22717
Kuei Shan Hsiang, Linkou, Taiwan
♦
♦
4
OCCURENCE DATASET
Date: 2015-02-04 Time: 10:45
Location: Keelung River, Sungshan Airport area
Country: Taiwan
Google Maps: (LINK)
Flight phase: ICL – Airborne – 1.000 ft AGL
Damage to a/c: hull loss
Flight
Flight no.: GE 235
From: RCSS/TSA: Taipei Songshan To: RCBS/KNH: Kinmen ShangYi
Type: Passenger
Operator: Transasia Airways
Aircraft
Type: ATR-72
Registration: B-22816
Age a/c: 0,8 years
Constr. No.: 1141
Tweet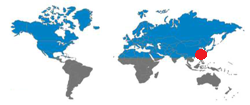 | | | | | |
| --- | --- | --- | --- | --- |
| | Crew | Pax | Other | Total |
| Occupants | 5 | 53 | 0 | 58 |
| Fatalities | | | 0 | 43 |
| Survivors | | |  0 | 15 |
Preliminary numbers
JACDEC 20-year Statistics :
5th hull loss occurence for the operator (66 fatalities)
8th safety occurence for the operator
26th hull loss occurence of type (ATR-72)
27nd safety occurence at Taipei
1st safety occurence for aircraft in question
Transasia Airways
LiveATCnet MP3 audio file

Accident flight ATC recording
(take-off clearance begins at 21:00 minutes)
Image & Information Sources

©
AP = Airport / AL = Airlines / Avn = Aviation / AW = Airways / C/N: Construction Number / DSP = Domestic Scheduled Passenger / DNP = Domestic Non-Scheduled Passenger / DSC = Domestic Scheduled Cargo / DNC= Domestic Non-Scheduled Cargo / GND = On the ground / parked, stored / FMN= Flying Mission, Air Work / FRY = Ferry-, Positioning Flight / IMC = Intrument Meteorological (flying) Conditions / ISP = International Scheduled Passenger / ISC=International Scheduled Cargo / INP = International Non-Scheduled Passenger / INC =International Non-Scheduled Cargo/ OPS = Flight Operation(s) / NRV = Non-revenue, Private Flight / TRN =Training Flight /  TST = Test & Certification Flight / VMC = Visual Meteorological (flying) Conditions