2014-01-04 Skyward Intl Fokker 50 made belly landing at Nairobi, Kenya
The aircraft made a safe belly landing at Nairobi-Jomo Kenyatta Intl Airport, leaving all on board unhurt.
According to local meadia the pilots were unable to lower one main undercarriage on approach. After holding south of the airfield for a considerable time to assess the situation, the pilots elected to made a all gear-up landing at Jomo Kenyatta Airport.
In clear skies and unlimited visibility, the Fokker 50 approached runway 06. The underbelly contacted the runway within the touchdown zone and skidded to a safe halt on the runway. The wings maintained in level position resutling in no damage to wingtips of propellers.
All six persons on board remained unhurt in the event.
Firefighters foamed the fuselage and the aircraft was shut down for all traffic until the aircraft was removed.
Post accident examination showed the aircraft was hit by (at least) two large birds. Local media reported the bird collided with the Fokker soon after getting airborne at Wajir. One of them became wedged in one of the maingears causing the extension mechanism to jam.
---
OCCURENCE DATASET
Date: 2015-01-04 Time: 12:10
Location: HKJK NBO Nairobi Intl
Country: Kenya
Flight phase: LDG – Flare, Landing Roll, Aborted Landing after Touchdown
Damage to a/c: substantial
Flight
Flight no.:
From: HKWJ/WJR: Wajir To: HKJK/NBO: Nairobi Intl
Type: Unknown
Operator: Skyward International
Aircraft
Type: Fokker 50
Registration: 5Y-SIB
Age a/c: 25,2 years
Constr. No.: 20167
Tweet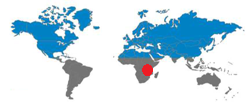 | | | | | |
| --- | --- | --- | --- | --- |
| | Crew | Pax | Other | Total |
| Occupants | 6 | 0 | 0 | 6 |
| Fatalities | 0 | 0 | 0 | 0 |
| Injuries | 0 | 0 | 0 | 0 |
JACDEC 20-year Statistics :
3rd safety occurence for the operator
44th safety occurence of type (Fokker 50)
8th safety occurence at airport
1st safety occurence for aircraft in question
Air Services Guyana
Image & Information Sources
AP = Airport / AL = Airlines / Avn = Aviation / AW = Airways / C/N: Construction Number / DSP = Domestic Scheduled Passenger / DNP = Domestic Non-Scheduled Passenger / DSC = Domestic Scheduled Cargo / DNC= Domestic Non-Scheduled Cargo / GND = On the ground / parked, stored / FMN= Flying Mission, Air Work / FRY = Ferry-, Positioning Flight / IMC = Intrument Meteorological (flying) Conditions / ISP = International Scheduled Passenger / ISC=International Scheduled Cargo / INP = International Non-Scheduled Passenger / INC =International Non-Scheduled Cargo/ OPS = Flight Operation(s) / NRV = Non-revenue, Private Flight / TRN =Training Flight /  TST = Test & Certification Flight / VMC = Visual Meteorological (flying) Conditions