2014-10-29 Skyway Enterprises Shorts 360 impacted sea after take-off from Sint Maarten
About a minute after take-off in darkness from runway 28 at Princess Juliana intl Airport in Sint Maarten, the SH-360 twin engine propeller driven aircraft lost height and impacted water about three miles off shore.
Rescue units in ships and boats only rescued one the co-pilot who was not alive any more. The other pilot is still unaccounted for.
At the time of the accident local weather was bad with intense rain and thunderstorm activity.
According to local media reports, the aircraft in question had been involved in a previous landing incident at Sint Maarten some days before the accident. According to the Daily Herald, the pilots eventually lost directional control on landing and narrowly missed a kerosin depot before control was regained.
OCCURENCE DATASET
Date: 2014-10-29 Time: 18:45
Location: TNCM SXM St Maarten Princess Juliana area
Country: Netherl-Antilles
Flight phase: ICL – Airborne – 1.000 ft AGL
Damage to a/c: hull loss
Flight
Flight no.: 7101
From: TNCM/SXM: St Maarten Princess Juliana To: TJSJ/SJU: San Juan Luis Munoz Marin
Type: Cargo
Operator: Skyway Enterprise
Leased from: Fedex
Aircraft
Type: Shorts 360
Registration: N367MQ
Age a/c: 30.6029 years
Constr. No.: SH3640
Tweet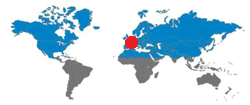 | | | | | |
| --- | --- | --- | --- | --- |
| | Crew | Pax | Other | Total |
| Occupants | 2 | 0 | 0 | 2 |
| Fatalities | 1 | 0 | 0 | 1 |
| Injuries | M | 0 | 0 |  M |
JACDEC 20-year Statistics :
5th safety occurence for the operator (4th hull loss)

19th safety occurence of type (SH360)

1st safety occurence at airport

1st safety occurence for aircraft in question
JACDEC Airline Safety Report
Sykway Enterprises
Image & Information Sources
AP = Airport / AL = Airlines / Avn = Aviation / AW = Airways / C/N: Construction Number / DSP = Domestic Scheduled Passenger / DNP = Domestic Non-Scheduled Passenger / DSC = Domestic Scheduled Cargo / DNC= Domestic Non-Scheduled Cargo / GND = On the ground / parked, stored / FMN= Flying Mission, Air Work / FRY = Ferry-, Positioning Flight / IMC = Intrument Meteorological (flying) Conditions / ISP = International Scheduled Passenger / ISC=International Scheduled Cargo / INP = International Non-Scheduled Passenger / INC =International Non-Scheduled Cargo/ OPS = Flight Operation(s) / NRV = Non-revenue, Private Flight / TRN =Training Flight /  TST = Test & Certification Flight / VMC = Visual Meteorological (flying) Conditions