2014-10-12 ACSA BAe Jetstream 31 destroyed in landing accident at Punta Cana
On landing runway 08 in darkness and normal weather conditions, the aircraft ran off the left side of the runway. The aircraft collided with bushes and trees ans apparently lost parts of its untercarriage until it came to a stop where it caught fire and burned to destruction.
All on board were able to evacuate in time with only three persons taken to hospital for minor injuries.
OCCURENCE DATASET
Date: 2014-10-12 Time: 20:45
Location: MDPC PUJ Punta Cana
Country: Dominican Republic
Flight phase: LDG – Flare, Landing Roll, Aborted Landing after Touchdown
Damage to a/c: hull loss
Flight
Flight no.:
From: TJSJ/SJU: San Juan Luis Munoz Marin To: MDPC/PUJ: Punta Cana
Type: Passenger
Operator: ACSA Air Century
Aircraft
Type: BAe Jetstream 31 / 32
Registration: HI-816
Age a/c: 28,7 years
Constr. No.: 694
Tweet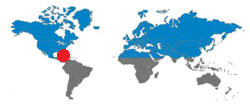 | | | | | |
| --- | --- | --- | --- | --- |
| | Crew | Pax | Other | Total |
| Occupants | – | – |  0 | 18 |
| Fatalities | 0 | 0 | 0 | 0 |
| Injuries | – | – | 0 | 3 |
JACDEC 20-year Statistics :
1st safety occurence for the operator
46th safety occurence of type
6th safety occurence at airport
1st safety occurence for aircraft in question
ACSA Air Century
Image & Information Sources
AP = Airport / AL = Airlines / Avn = Aviation / AW = Airways / C/N: Construction Number / DSP = Domestic Scheduled Passenger / DNP = Domestic Non-Scheduled Passenger / DSC = Domestic Scheduled Cargo / DNC= Domestic Non-Scheduled Cargo / GND = On the ground / parked, stored / FMN= Flying Mission, Air Work / FRY = Ferry-, Positioning Flight / IMC = Intrument Meteorological (flying) Conditions / ISP = International Scheduled Passenger / ISC=International Scheduled Cargo / INP = International Non-Scheduled Passenger / INC =International Non-Scheduled Cargo/ OPS = Flight Operation(s) / NRV = Non-revenue, Private Flight / TRN =Training Flight /  TST = Test & Certification Flight / VMC = Visual Meteorological (flying) Conditions