2014-10-07 Air Canada Airbus A330 temporary runway excursion at Montreal
The Airbus A330 expereicned directional control problems on landing and temporarily departed the paved runway surface on landing.
After an apparent normal touchdown on runway 24R at E. Trudeau International Airport, Montreal, Canada, the aircraft eventually veered off to the left side until its left maingear tyres ran over soft ground for about 150 meters.
The pilots managed to steer back onto the runway where the aircraft came to a safe stop.
No one inside the aircraft was harmed. It is reported the aircraft lost one wheel on the left maingear before it came to rest on the runway. A number of runway edge lights also took damage.
The aircraft was able to taxi off the runway and proceeded to its parking stand under own power.
Local weather at the time consisted of calm winds but in light rain and minor thunderstorm activity.
CYUL 071630Z 24006KT 2SM -TSRA FEW010 BKN025CB OVC050 17/12 A2987 RMK SF1CB5SC2 E-S 8 SLP114 DENSITY ALT 400FT=
Canadian Transportation Safety Board officials launched an investigation into the occurence.
---
OCCURENCE DATASET
Date: 2014-10-07 Time: 12:35:00
Location: CYUL YUL Montreal E. Trudeau Intl Airport (Dorval)
Country: Canada
Flight phase: LDG – Flare, Landing Roll, Aborted Landing after Touchdown
Damage to a/c: minor
Flight
Flight no.: AC 875
From: EDDF/FRA: Frankfurt To: CYUL/YUL: Montreal Trudeau Intl Airport
Type: Passenger
Operator: Air Canada
Aircraft
Type: Airbus A330-300
Registration: C-GFAF
Age a/c: 15,3 years
Constr. No.: 277
Tweet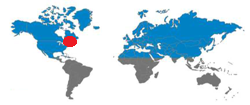 | | | | | |
| --- | --- | --- | --- | --- |
| | Crew | Pax | Other | Total |
| Occupants | – | – |  0 | – |
| Fatalities | 0 | 0 | 0 | 0 |
| Injuries | 0 | 0 | 0 | 0 |
JACDEC 20-year Statistics :
37th safety occurence for the operator
139th safety occurence of type (A330)
14th safety occurence at airport
6th safety occurence for aircraft in question (5 minor events)
Air Canada
Image & Information Sources

C-GFAF, © C. Wolf | JACDEC.de
AP = Airport / AL = Airlines / Avn = Aviation / AW = Airways / C/N: Construction Number / DSP = Domestic Scheduled Passenger / DNP = Domestic Non-Scheduled Passenger / DSC = Domestic Scheduled Cargo / DNC= Domestic Non-Scheduled Cargo / GND = On the ground / parked, stored / FMN= Flying Mission, Air Work / FRY = Ferry-, Positioning Flight / IMC = Intrument Meteorological (flying) Conditions / ISP = International Scheduled Passenger / ISC=International Scheduled Cargo / INP = International Non-Scheduled Passenger / INC =International Non-Scheduled Cargo/ OPS = Flight Operation(s) / NRV = Non-revenue, Private Flight / TRN =Training Flight /  TST = Test & Certification Flight / VMC = Visual Meteorological (flying) Conditions