2014-09-27 Air Labrador DHC-6 Twin Otter damaged on landing at La Tabatiere
The aircraft made a rough landing on the gravel runway at La Tabatiere in which its nosewheel broke.
Flying debris eventually hit the right propeller and from there smashed against the left cockpit section causing a large hole in the fuselade just aft of the copilot´s window (red ovals in photos).
Despite drifting off to the right side of the runway, the landing run was safely completed an no one on board was injured in the event.
---
OCCURENCE DATASET
Date: 2014-09-27 Time: 14:30:00
Location: CTU5 ZLT La Tabatière, Quebec
Country: Canada
Flight phase: LDG – Flare, Landing Roll, Aborted Landing after Touchdown
Damage to a/c: substantial
Flight
Flight no.:
From: CYBX/YBX: Lourdes Le Blanc Sablon To: CTU5/ZLT: La Tabatière
Type: Passenger
Operator: Air Labrador
Aircraft
Type: DHC-6 Twin Otter
Registration: C-GKSN
Age a/c: 38,3 years
Constr. No.: 493
Tweet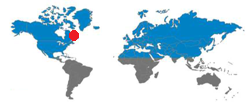 | | | | | |
| --- | --- | --- | --- | --- |
| | Crew | Pax | Other | Total |
| Occupants | 2 | 17 | 19 | – |
| Fatalities | 0 | 0 | 0 | 0 |
| Injuries | 0 | 0 | 0 | 0 |
JACDEC 20-year Statistics :
3rd safety occurence for the operator
178th safety occurence of type
1st safety occurence at airport
1st safety occurence for aircraft in question
Air Labrador
Image & Information Sources
AP = Airport / AL = Airlines / Avn = Aviation / AW = Airways / C/N: Construction Number / DSP = Domestic Scheduled Passenger / DNP = Domestic Non-Scheduled Passenger / DSC = Domestic Scheduled Cargo / DNC= Domestic Non-Scheduled Cargo / GND = On the ground / parked, stored / FMN= Flying Mission, Air Work / FRY = Ferry-, Positioning Flight / IMC = Intrument Meteorological (flying) Conditions / ISP = International Scheduled Passenger / ISC=International Scheduled Cargo / INP = International Non-Scheduled Passenger / INC =International Non-Scheduled Cargo/ OPS = Flight Operation(s) / NRV = Non-revenue, Private Flight / TRN =Training Flight /  TST = Test & Certification Flight / VMC = Visual Meteorological (flying) Conditions