2014-08-30 Ukrainian Antonov AN-12 crashed south of Tamanrasset
The four engined cargo aircraft crashed against hillside in darkness, a few minutes after take-off from Tamanrasset. All 7 on board were killed
Less than 5 minutes after take-off from Tamanrasset Airport, radio contact to the Antonov An-12 cargo aircraft was lost.
The wreckage was found the next morning about 15 Km south of Tamanrasset-Aguenar Hadj Bey Airport in mountainous terrain close to the Tagrembait Resort.
There were no survivors among the seven crewmembers.
It was night at the time of the accident but local weather was cloudlesss and the winds were calm.
METAR DAAT: 30Z 04005KT CAVOK 25/05 Q1017
The aircraft was carrying oil drilling equipment from Prestwick, Scotland to Malabo, Ecuatorial Guinea.
---
OCCURENCE DATASET
Date: 2014-08-30 Time: 02:45
Location: 25 km S of Tamanrasset
Country: Algeria
Flight phase: ENR2 – Climb above 1000 ft. AGL to Cruise; Climb from end of ICL to intended cruise level
Damage to a/c: hull loss
Flight
Flight no.: UKL 4061
From: DAAT/TMR: Tamanrasset To: FGSL/SSG: Malabo
Type: Cargo
Operator: Ukraine Air Alliance
Aircraft
Type: Antonov An-12
Registration: UR-DWF
Age a/c: 46,2 years
Constr. No.: 8345802
20 Year Quick Safety Analysis: Antonov An-12 

Number of Hull Losses = 85
Number of Fatalities = 335
Average age at accident = 36,16 years
Hull Loss Flight Phases: Approach = 11 cases (12,9%), Descent = 9 (10,6 %), En-Route = 7 (8,2 %), Climb above 1000 ft. = 8 (9,4 %), Inicial Climb = 8 (9,4%), Landing = 28 (32,9 %), Standing = 3 (3,5 %), Take-off = 5 (5,9 %), Taxi = 2 (2,3 %), Unknown = 4 (4,7 %)
Tweet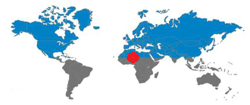 | | | | | |
| --- | --- | --- | --- | --- |
| | Crew | Pax | Other | Total |
| Occupants | 7 | 0 |  0 | 7 |
| Fatalities | 7 | 0 | 0 | 7 |
| Injuries | 0 | 0 | 0 | 0 |
JACDEC 20-year Statistics :
2nd safety occurence for the operator
106th safety occurence of type
1st safety occurence for aircraft in question
Ukraine Air Alliance
Image & Information Sources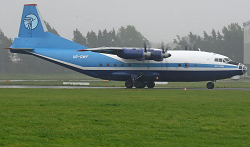 © T. Mulkerrins | flickr
(photo taken on Aug 29th at Shannon during take-off to Prestwick)
AP = Airport / AL = Airlines / Avn = Aviation / AW = Airways / C/N: Construction Number / DSP = Domestic Scheduled Passenger / DNP = Domestic Non-Scheduled Passenger / DSC = Domestic Scheduled Cargo / DNC= Domestic Non-Scheduled Cargo / GND = On the ground / parked, stored / FMN= Flying Mission, Air Work / FRY = Ferry-, Positioning Flight / IMC = Intrument Meteorological (flying) Conditions / ISP = International Scheduled Passenger / ISC=International Scheduled Cargo / INP = International Non-Scheduled Passenger / INC =International Non-Scheduled Cargo/ OPS = Flight Operation(s) / NRV = Non-revenue, Private Flight / TRN =Training Flight /  TST = Test & Certification Flight / VMC = Visual Meteorological (flying) Conditions