2014-08-10 Sepahan Airlines AN-140 crash near Tehran
The regional aircraft crashed only a mile from the runway at Tehran Merhabad Airport.
Shortly after take-off from runway 29L at Tehran Merhabad Intl Airport, the aircraft entered a steep turn to the right and immediately began to loose height.
The pilots lost control and crashed in the residential Azadi District, about 1,5 km northwest of the airport where it disintegrated on impact. The aircraft clipped power lines and impacted on a public road where its tail broke off from the rest of the fuselage. The wreckage was set ablaze by exploding fueltanks.
Nine persons are known to have survived the accident although exact casualty numbers vary. No person on the ground was killed.
According to sources from Tehran ATC the pilots reported unspecified problems soon after take-off.
The aircraft was on a charter flight. Sepahan Airlines is affiliated with HESA, the AN-140 production company.
---
OCCURENCE DATASET
Date: 2014-08-10 Time: 09:18:00
Location: OIII THR Tehran Mehrabad Intl area
Country: Iran
Flight phase: ENR2 – Climb above 1000 ft. AGL to Cruise; Climb from end of ICL to intended cruise level
Damage to a/c: hull loss
Flight
Flight no.: 5914
From: OIII/THR: Tehran Mehrabad Intl To: OIMT/: Tabas
Type: Passenger
Operator: Sepahan Airlines
Aircraft
Type: Antonov An-140
Registration: EP-GPA
Age a/c: 6,1 years
Constr. No.: 36525305018
Tweet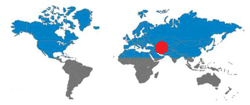 | | | | | |
| --- | --- | --- | --- | --- |
| | Crew | Pax | Other | Total |
| Occupants | 6 | 42 | 0 | 48 |
| Fatalities | – | – | 0 | 39 |
| Survivors | – | – | 0 | 9 |
JACDEC 20-year Statistics :
6th safety occurence for the airline
4th hull loss of type
13th safety occurence at airport
Sepahan Airlines
Image & Information Sources
AP = Airport / AL = Airlines / Avn = Aviation / AW = Airways / C/N: Construction Number / DSP = Domestic Scheduled Passenger / DNP = Domestic Non-Scheduled Passenger / DSC = Domestic Scheduled Cargo / DNC= Domestic Non-Scheduled Cargo / GND = On the ground / parked, stored / FMN= Flying Mission, Air Work / FRY = Ferry-, Positioning Flight / IMC = Intrument Meteorological (flying) Conditions / ISP = International Scheduled Passenger / ISC=International Scheduled Cargo / INP = International Non-Scheduled Passenger / INC =International Non-Scheduled Cargo/ OPS = Flight Operation(s) / NRV = Non-revenue, Private Flight / TRN =Training Flight /  TST = Test & Certification Flight / VMC = Visual Meteorological (flying) Conditions