2014-08-05 Saudia Boeing 747-400 off the taxiway during line-up at Manila
The 747 taxied off the right side of the runway during line-up on runway 24 at Ninoy Aqino Intl Airport, Manila.
The 747 was cleared for line-up on runway 24 via the parallell taxiway "C1". During the turn the right outer maingear rolled off the paved surface and became bogged in soft ground. Nobody on board was injured and there is little damage to the 747 if any.
Authorities were forced to deplane passengers and bus them back to Terminal 1.
The incident occurred in darkness after a heavy downpour, affecting at least eleven other flights that were scheduled to depart or arrive at the busiest gateway in the country due to the blocked runway.
Local aviation authorities have opened an investigation.
---
OCCURENCE DATASET
Date: 2014-08-05 Time: ~19:00
Location: RPLL MNL Manila
Country: Philippines
Flight phase: TXI – Taxi, Power Back
Damage to a/c: minor
Flight
Flight no.: SV 871
From: RPLL/MNL: Manila To: OERK/RUH: Riyadh King Khaled
Type: Passenger
Operator: Saudi Arabian Airlines
Aircraft
Type: Boeing 747-400
Registration: HZ-AIX
Age a/c: 15,8 years
Constr. No.: 28341
Tweet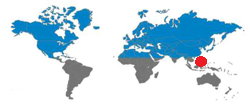 | | | | | |
| --- | --- | --- | --- | --- |
| | Crew | Pax | Other | Total |
| Occupants | – | 298 |  0 | – |
| Fatalities | 0 | 0 | 0 | 0 |
| Injuries | 0 | 0 | 0 | 0 |
JACDEC 20-year Statistics :
23rd safety occurence for the airline
19th safety occurence at airport
2nd safety occurence for aircraft in question
Saudia - Saudi Arabian AL
Image & Information Sources
AP = Airport / AL = Airlines / Avn = Aviation / AW = Airways / C/N: Construction Number / DSP = Domestic Scheduled Passenger / DNP = Domestic Non-Scheduled Passenger / DSC = Domestic Scheduled Cargo / DNC= Domestic Non-Scheduled Cargo / GND = On the ground / parked, stored / FMN= Flying Mission, Air Work / FRY = Ferry-, Positioning Flight / IMC = Intrument Meteorological (flying) Conditions / ISP = International Scheduled Passenger / ISC=International Scheduled Cargo / INP = International Non-Scheduled Passenger / INC =International Non-Scheduled Cargo/ OPS = Flight Operation(s) / NRV = Non-revenue, Private Flight / TRN =Training Flight /  TST = Test & Certification Flight / VMC = Visual Meteorological (flying) Conditions