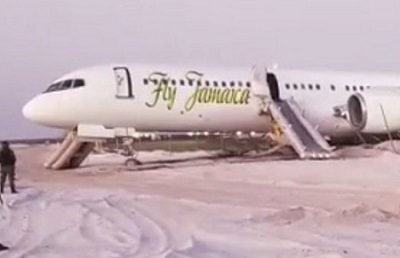 2018-11-09 Fly Jamaica B757-200 overrun runway at Georgetown
The Boeing 757 went beyond the end of the runway coming to a halt on soft ground. There were no reports about serious injuries. The aircraft sustained severe damage.
UPDATE 2018-11-09
At about 02:52L Fly Jamaica flight OJ256 took off from Cheddi Jagan Intl Airport (SYCJ), Guyana heading for Toronto, Canada carrying 118 passengers and eight crewmembers.
About eleven minutes after take-off while heading north to waypoint "ORANI", the pilots leveled off at 20,000 ft. According to local media, they reported a hydraulic issue and expressed their intention to return to Georgetown Airport. The aircraft stopped the descend at 3,000 ft. entering a holding pattern to the west of the airport. After holding for 12 minutes, the pilots continued the approach to runway 06.
On landing, the aircraft overran the end of the runway, skidding sideways ending up entangled in the airport perimeter fence on sandy surface only 10 meters from a steep embankment.
The right main gear apparently gave way and collapsed resulting in the right engine to strike the ground and to break-off its pylon.
After coming to a standstill, the aircraft was evacuated via the L2, L3 + R1, R3 chutes. All on board got out safe. There were no reports of any casualties nor any hospitalized occupants. However, on Nov. 18 – 9 days after the accident – a 86 year old Canadian woman died while still being treated in hospital.
Previously, the pilots reported an unspecified technical problem after take-off and elected to return to Georgetown.
METAR: Georgetown Cheddi Jagan Intl Airport (SYCJ):
| | | |
| --- | --- | --- |
| | 09/11/2018 02:00-> | METAR SYCJ 090600Z VRB02KT CAVOK 23/22 Q1010 NOSIG= |
| | 09/11/2018 03:00-> | METAR SYCJ 090700Z VRB02KT CAVOK 23/22 Q1010 NOSIG= |
The standard runway length of runwy 06/24 (until 2017 it was designated as 07/25) is 2270 meters (7,447 ft) in length. Since 2015, the end of runway 06 at Cheddi Jagan gets extended by some 400 meters to allow heavier aircraft operations. The works are carried out by a chinese contractor firm.


© GuyanaChronicle
---
IMAGES & VIDEO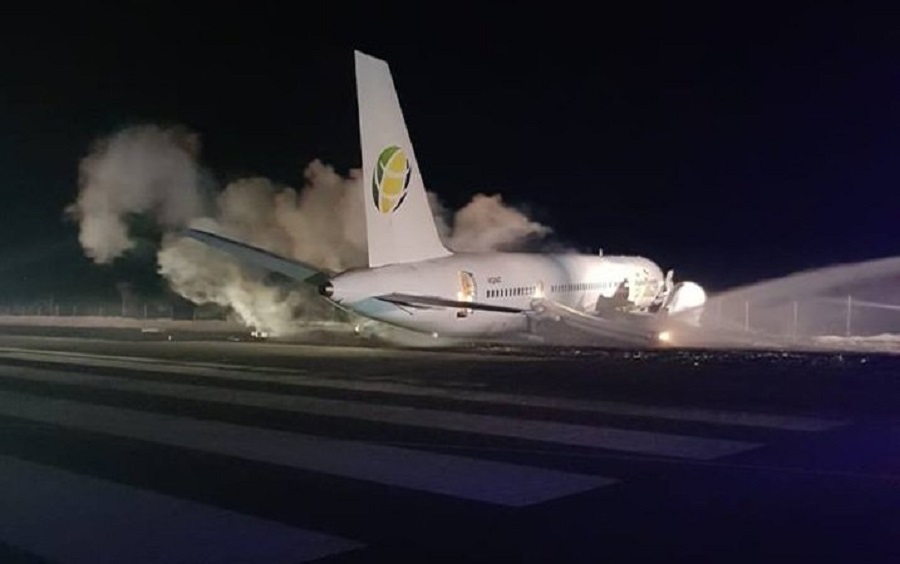 © Newsroom.gy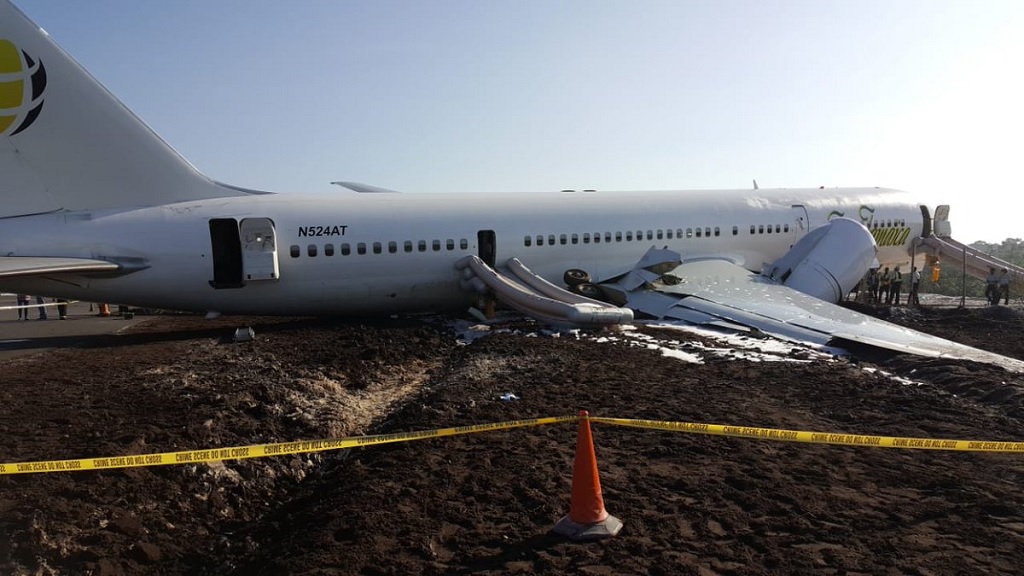 © AbkaFItzHZanley | Twitter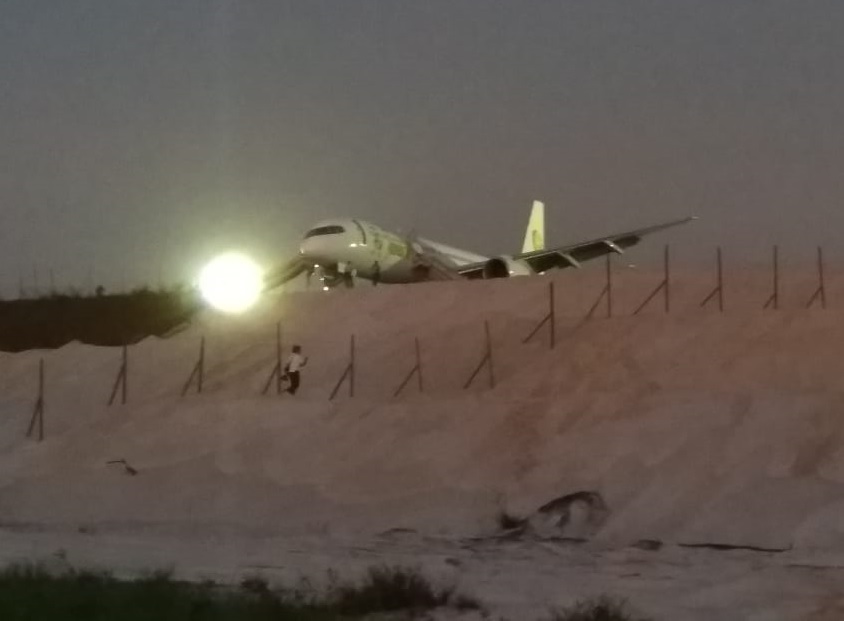 © RG.ru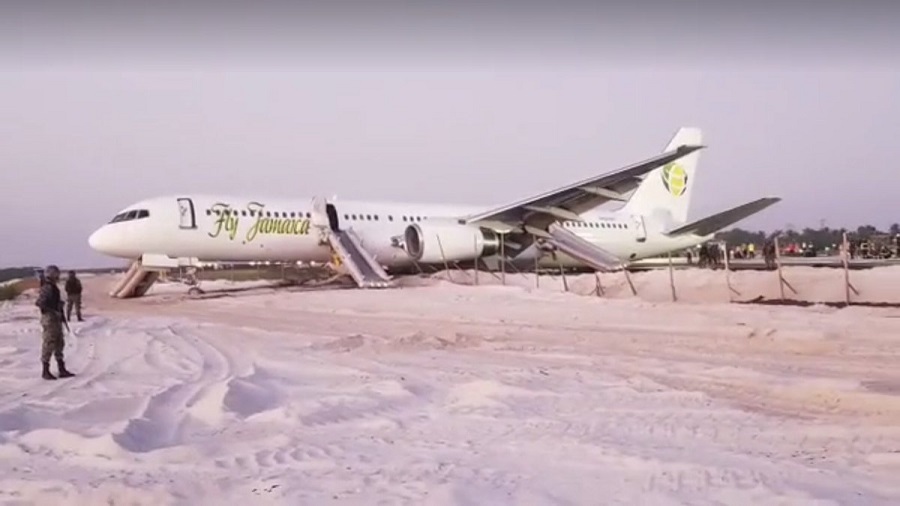 © G. Moseley | Facebook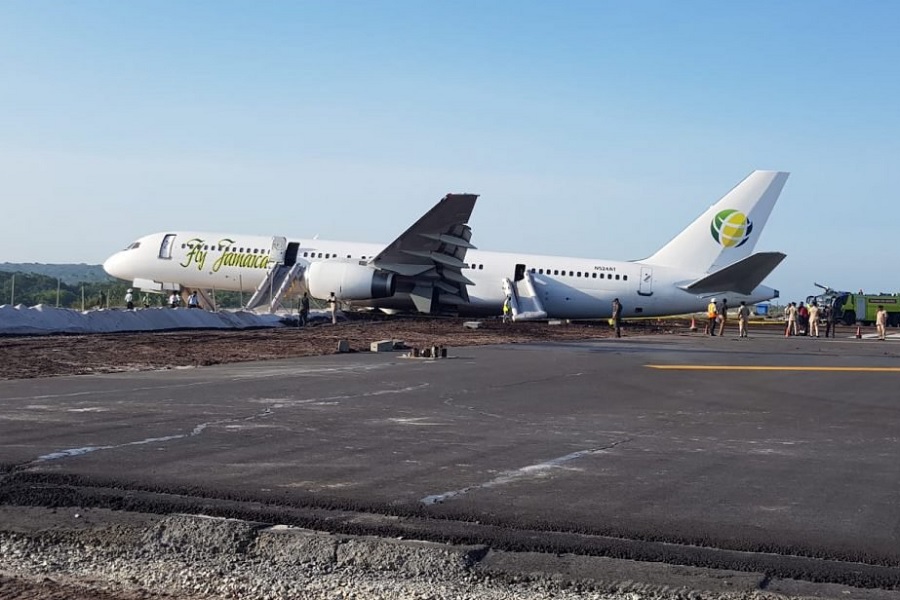 © Stabroeknews
---
---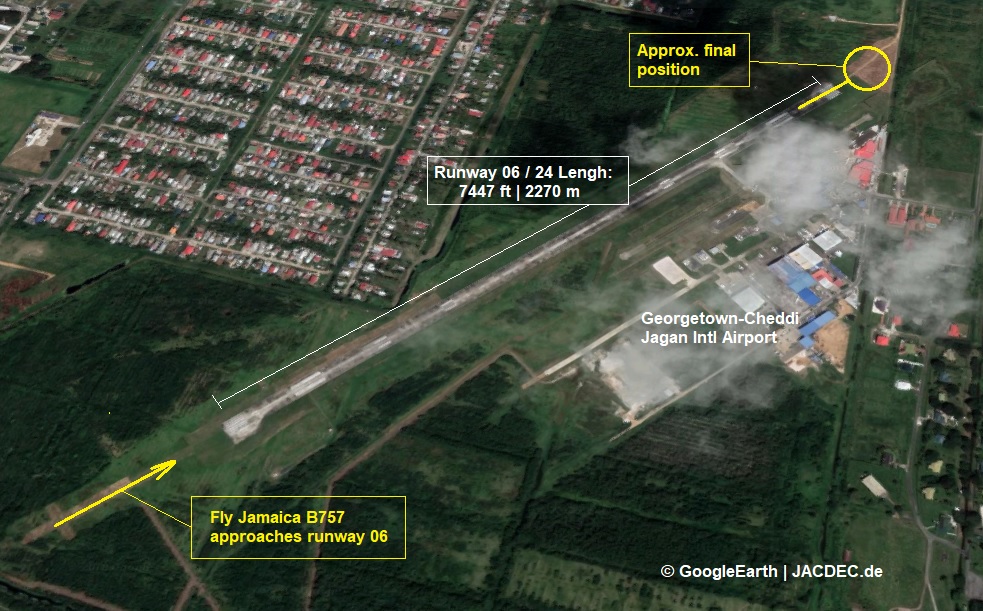 © JACDEC.de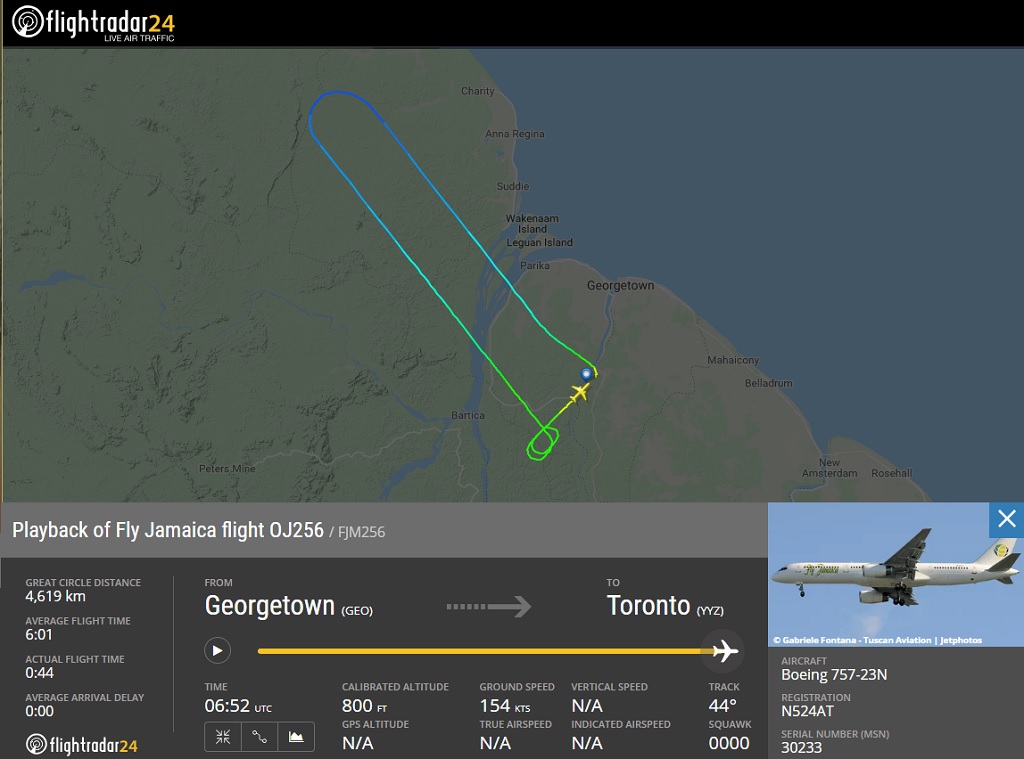 © Flightradar24.com
Tweet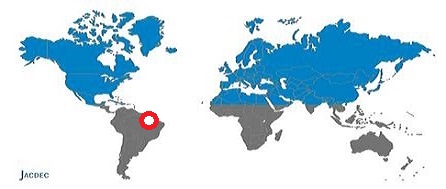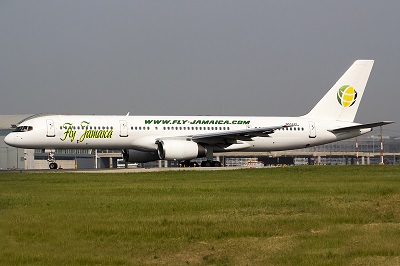 © L Boettcher | Planespotters.net
Aircraft
Type: Boeing 757-200
Registration: N524AT
Age a/c: 19.1 years
Constr. No.: 30233
Previous owners: ATA Airlines 1999 – 2005, VIM Avia 2005 – 2008, Aurela 2008 – 2010, Fly Jamaica since 2012
| | | | | |
| --- | --- | --- | --- | --- |
| | Crew | Pax | Other | Total |
| Occupants | 8 | 120 | 0 | 128 |
| Fatalities | 0 | 1 | 0 | 1 |
| Injuries | | | 0 | 6 |
OCCURENCE DATASET
Date: 2018-11-09 Time: 02:52
Location: SYCJ GEO Georgetown-Cheddi Jagan Timehri Intl
Country: Guyana
Flight phase: LDG – Flare, Landing Roll, Aborted Landing after Touchdown
Damage to a/c: substantial
Flight
Flight no.: OJ 256
From: SYCJ /GEO : Georgeown-Cheddi Jagan Timehri Intl To: CYYZ /YYZ : Toronto Lester B. Pearson Intl Airport
Type: Passenger
Operator: Fly Jamaica Airways
JACDEC 25-year Statistics :
2nd safety occurence for the operator
241th safety occurence of type (B757)
6th safety occurence at SYCJ airport
2nd safety occurence for aircraft in question
– 2010-09-14 Aurela LY-LTU galley fire
Image & Information Sources
Copyright - Terms of Usage
All written and shown content on JACDEC.de is provided in the most accurate way. All information may be subject to changes because JACDEC.de cannot always ensure a full support of information updates to each news story.
No publication (or part of) provided by at JACDEC.de may be reproduced or transmitted in any form or by any means or by any information retrieval system without written permission from JACDEC. The below information includes unofficial information and should be treated as this. Editors cannot be held responsible for any errors or omissions caused by any information source mentioned herein. The nature of the following information should be regarded as preliminary.
Furthermore, the author cannot be held accountable for correctness, completeness or quality of the information provided herein. Liability claims regarding damage caused by the use of any information provided, including any kind of information which is incomplete or incorrect, will therefore be rejected.
For further terms and conditions, check our legal disclaimer section:
AP = Airport / AL = Airlines / Avn = Aviation / AW = Airways / C/N: Construction Number / DSP = Domestic Scheduled Passenger / DNP = Domestic Non-Scheduled Passenger / DSC = Domestic Scheduled Cargo / DNC= Domestic Non-Scheduled Cargo / GND = On the ground / parked, stored / FMN= Flying Mission, Air Work / FRY = Ferry-, Positioning Flight / IMC = Intrument Meteorological (flying) Conditions / ISP = International Scheduled Passenger / ISC=International Scheduled Cargo / INP = International Non-Scheduled Passenger / INC =International Non-Scheduled Cargo/ OPS = Flight Operation(s) / NRV = Non-revenue, Private Flight / TRN =Training Flight /  TST = Test & Certification Flight / VMC = Visual Meteorological (flying) Conditions