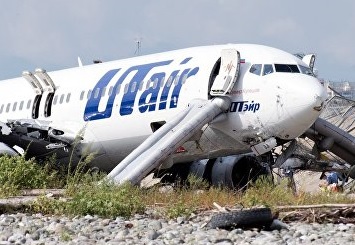 2018-09-01 UTair B737-800 overran runway at Sochi
UTair flight went beyond the end of the runway at Sochi-Adler Intl Airport and fell into a drainage ditch. There were a number of injuries among the 170 on board. The aircraft was damaged beyond repair.
UPDATE 2018-11-06
Download: PRELIMINARY REPORT (pdf)
UTair flight UT579 took-off at Moscow-Vnukovo Airport and was descending to Sochi-Adler Airport (URSS). Landing runway in use was 06 requiring an approach over the Black Sea. It was dark at the tme (about 02:30) and local weather consisted of rain showers, associated with thunderstorm activity and a wind shear alert was issued for all runways.
Air Baltic flight BTI456 (a Boeing 737-300, YL-BBR) from Riga was flying 3 minutes ahead of UT579 but forced to abandon the landing on short final approach. UTair 579 also discontinued the approach about 5 miles out and both proceeded to a holding area over the sea.
At 02:49, Utair579 attempted a 2nd approach to runway 06 but had to go-around over Sochi Airport apparently because of the inclement weather situation.
At 02:54, BTI456 attempted a 2nd approach to runway 06 but had to perform another go-around.
At 02:57, UTair579 attempted a 3rd landing approach to runway 06, this time the aircraft touched down but the pilots were unable to stop the aircraft before the end of the runway. At the end of the runway, the pilots pulled to the left and the 737 slid sideways.
The aircraft crossed the airport perimeter fence and fell about 2 meters down an embankment into the bed of Reka Mzymta river. The river runs immediately to the east of the aerodrome. Luckily the area where the 737 came to rest was not flooded at the time. The right outer wing broke and fuel tanks were ruptured resulting in a fire. The nosegear and left maingear were torn away. Foreward fuselage, the entire left wing, and both engines also received severe damage. The extent of damage is beyond repair.
The airport was closed.
All 170 managed to evacuate safety via the L1, L2 and R1, R2 slide exits as well as via the left + right overwing emergency exits. Local authorities reported 18 injuries but none of them was in critical condition. The following day it was reported that a rescue worker has died because of a heart attack.
AirBaltic flight BTI456 safety diverted to Krasnodar Airport.
Runway 06/24 is 2890 meters (9,485 ft) in lengh. Runway 06 is lacking any overrun capabilities.
NOTE: An extension to runway 06/24 was planned in 2007 to accommodate larger traffic for the upcoming Winter Olympics in 2014. Therefore the runway was to get extended by 600 m to 3.500 meters comprising a bridge over the river and a widened turning area at the. But this project never came to fruition.
METAR: Sochi-Adler Intl Airport (URSS):
01/09/2018 02:30->

METAR URSS 312330Z 10010G22MPS 030V140 0500 0250NW R02/1200U
           +TSRA VV013 19/19 Q1014 WS ALL RWY R02/250350
           R06/250350 TEMPO VRB10G22MPS 0500 +TSRA BKN006
           BKN020CB RMK R06/11015G24MPS MT OBSC QFE759=

01/09/2018 03:00->

METAR URSS 010000Z 23004MPS 5000 1800E R02/P3000N TSRA BKN006
           OVC030CB 21/21 Q1014 WS ALL RWY R02/250350 R06/250350
           NOSIG RMK R06/19004MPS QBB200 MT OBSC QFE759=
---
IMAGES & VIDEO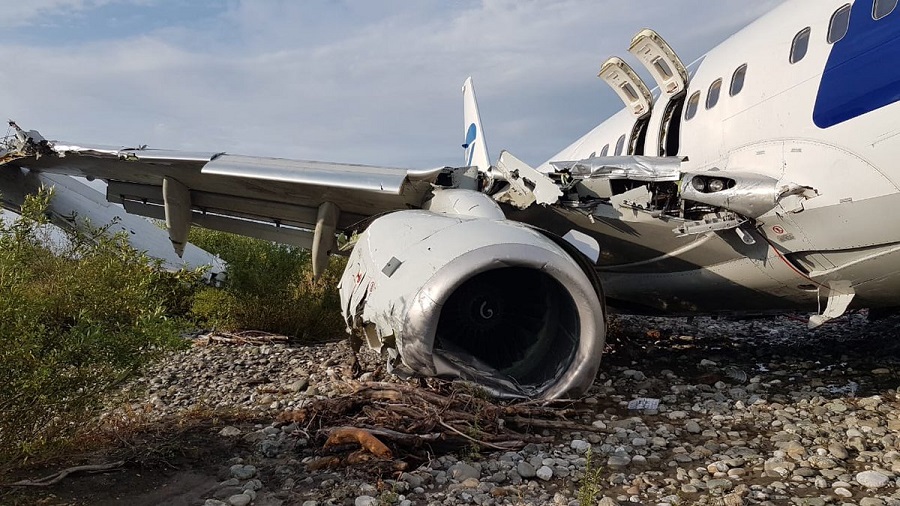 © RG.ru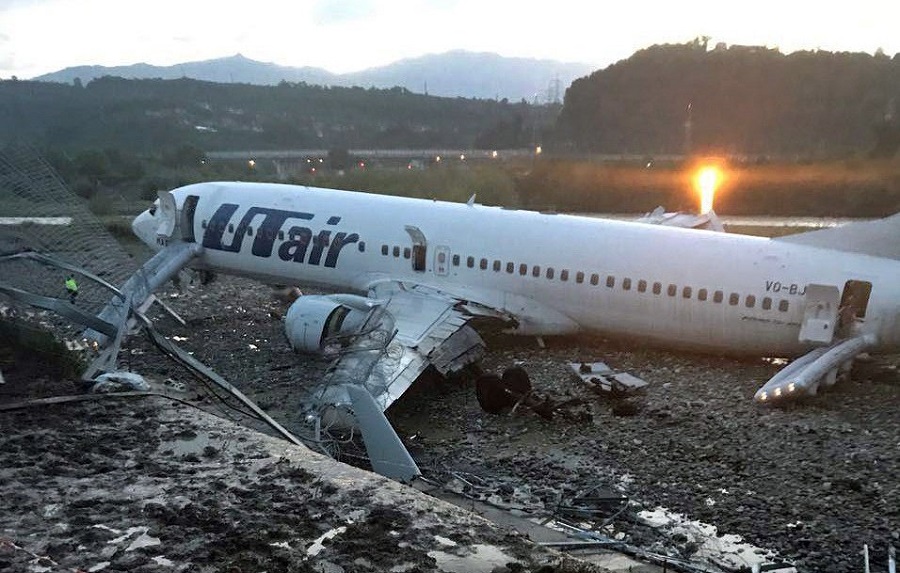 © RG.ru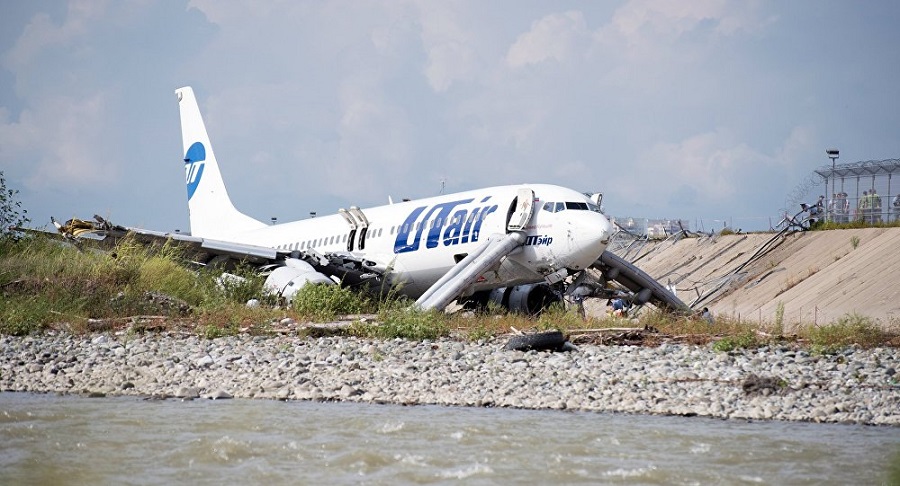 © RG.ru
---
---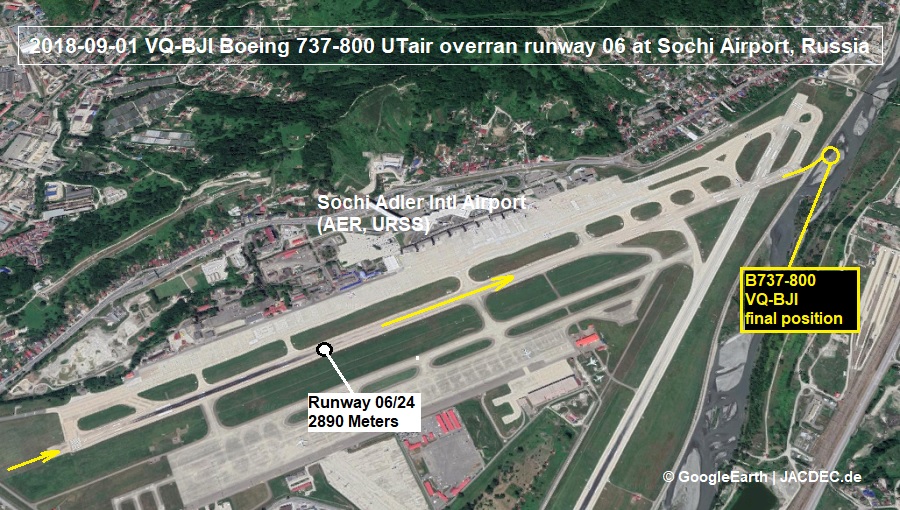 © JACDEC.de
Tweet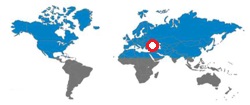 Aircraft
Type: Boeing 737-800
Registration: VQ-BJI
Age a/c: 15.8 years
Constr. No.: 29937
Previous owners: Ryanair 2002-2010, Atlant-Soyuz AL 2010-2011, Moscow Airlines 2011-2011
| | | | | |
| --- | --- | --- | --- | --- |
| | Crew | Pax | Other | Total |
| Occupants |  6 | 164 | 0 | 170 |
| Fatalities | 0 | 0 | 1 | 1 |
| Injuries | | | | 18 |
OCCURENCE DATASET
Date: 2018-09-01 Time: 02:57
Location: URSS AER Sochi
Country: Russia
Flight phase: LDG – Flare, Landing Roll, Aborted Landing after Touchdown
Damage to a/c: hull loss
Flight
Flight no.: UT 579
From: UUWW /VKO : Moscow Vnukovo To: URSS /AER : Sochi
Type: Passenger
Operator: UTAir
Leased from: Cubana
JACDEC 25-year Statistics :
29th safety occurence for the operator
671th safety occurence of type (B737-800)
– 15th hull loss of type (B737-800)
5th safety occurence at Sochi Airport
1st safety occurence for aircraft in question
Image & Information Sources
Copyright - Terms of Usage
All written and shown content on JACDEC.de is provided in the most accurate way. All information may be subject to changes because JACDEC.de cannot always ensure a full support of information updates to each news story.
No publication (or part of) provided by at JACDEC.de may be reproduced or transmitted in any form or by any means or by any information retrieval system without written permission from JACDEC. The below information includes unofficial information and should be treated as this. Editors cannot be held responsible for any errors or omissions caused by any information source mentioned herein. The nature of the following information should be regarded as preliminary.
Furthermore, the author cannot be held accountable for correctness, completeness or quality of the information provided herein. Liability claims regarding damage caused by the use of any information provided, including any kind of information which is incomplete or incorrect, will therefore be rejected.
For further terms and conditions, check our legal disclaimer section:
AP = Airport / AL = Airlines / Avn = Aviation / AW = Airways / C/N: Construction Number / DSP = Domestic Scheduled Passenger / DNP = Domestic Non-Scheduled Passenger / DSC = Domestic Scheduled Cargo / DNC= Domestic Non-Scheduled Cargo / GND = On the ground / parked, stored / FMN= Flying Mission, Air Work / FRY = Ferry-, Positioning Flight / IMC = Intrument Meteorological (flying) Conditions / ISP = International Scheduled Passenger / ISC=International Scheduled Cargo / INP = International Non-Scheduled Passenger / INC =International Non-Scheduled Cargo/ OPS = Flight Operation(s) / NRV = Non-revenue, Private Flight / TRN =Training Flight /  TST = Test & Certification Flight / VMC = Visual Meteorological (flying) Conditions