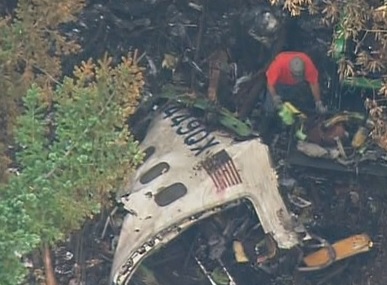 2018-08-10 Alaska Horizon DHC-8 stolen and crashed at Ketron Island
The DHC-8-400 was seized by a single person took-off without authorization from Seattle SeaTac Airport before it crashed at Ketron Island. The sole occupant lost his life.
UPDATE 2018-08-13
The Alaska Horizon DHC-8-Q400 was stolen by a ground-service agent from Seattle-Tacoma (SeaTac) International Airport (SEA, KSEA), WA, USA. The aircraft was scheduled for routine maintenance and not supposed to fly on any passenger flight.
At 19:32L the aircraft taxied and took off from runway 16C(center) without clearance. It began to proceed on a southerly heading in the vicinity of Mount Rainier. From there the flight proceeded westbound toward the Puget Sound. All the time the man in the control was in contact with air traffic control (ATC). At this time a pair of F-15 fighter jets scrambled from Portland, OR and pursued the aircraft. However, according to a report by the airline, they did have any involvement in the accident.
Ground observers saw it performed a full barrel roll, losing altitude quickly but recovered close to the ground. It was about 20:47L, approximately an hour after take-off when the aircraft crashed into the wooded southern tip of Ketron Island, about 40 km to the southwest of SeaTac Airport, exploding on impact. A forest fire ensued which was extinguished the following day.
The single occupant did not survive.
The individual on board the aircraft was identified 29-year-old Richard Russel, a ramp agent employed by Horizon Air in Feb. 2015. He was granted access clearance to the airside and to all aircraft as part of his job responsibilities. Before entering the aircraft on CARGO1 ramp (to the very north of SeaTac Airport), it is understood he was using a pushback tractor to turn the aircraft around heading west before he started the engines and began to roll.
This accident marks Alaska Horizon's first fatal accident in its 37-year history.
The US Federal Bureau of Investigation (FBI) is leading the inquiry into how the Horizon Air ground service agent—apparently with no flying experience—was able to take control of a Dash 8 aircraft, taxi, performed a successful take-off and fly for more than an hour before crashing.
On 2018-08-2 NTSB and FBI, experts were able to locate and recover both the fight data recorder (DFDR) and the cockpit voice recorder (CVR) from the wreckage.
---
Listen to ATC transmissions when the DHC-8-400 took-off unauthorized: 

 [LINK](mp3)
Excerpts from this conversation between pilots who witnessed the take-off and the tower air traffic controller. No timestamp was given.
AS322: "Tower, Alaska 322, that aircraft that was taxiing behind the Horizon, he was taking off."
Tower: "Who's the aircraft on runway 16 center ?"
AS322: "His wheels where smoking left and right. Now he's rolling down the runway."
Tower: "Allright, I'm not even talking to him."
AS322: "He came flying out of the , ah..out of the cargo area."
Tower: "Which cargo area, one or two ?"
AS322″: "The one that's most to the north."
Tower: "Aye, thank you."
---
Listen to the full conversation between ATC controller and the pilot [LINK] (mp3)
Some relevant excerpts out of a 25 min audio between Russel and Seattle radar controller (ATC) recording by Broadcastify.
Again no timestamp was given.
ATC: "It would be a better option, I think it would be a better Option if you tried to land it or even landed it on the water"
Russel: "Yeah"
..
Russel: "Hey is there a pilot on? I  wonder what this weather gonna be like in the Olympics (mountains)?
ATC: "Ah..if you could see the Olympics, the weather is good. I can see the Olympics from my window. Looks pretty good over there."
Russel: "I hit some turbulence around Rainier but there were no clouds there"
ATC: "Oh, that's the wind blown over bumpy surfaces there."
Russel: "Oh, copy that."
ATC: "Hey but Rich if you could, ah maybe start a left-hand turn start turning back around because if you too close the Olympics, you won't be able to hear us anymore."
.. (ATC gave instructions to other aircraft )
ATC: "…turn back around here, like I said it. I just want to keep talking to you. And if you keep going towards the Olympic Mountains we won't be able to hear each other."
Russel: [warning chime in background] "I got a lot of people that care about me and ah..it's going to disappoint them to hear about this. I would like to apologize to each and every one of them. Ah..just a broken guy. Got a few screws loose, I guess. Never really knew it..til now. Just you know.."
.. (ATC gave instructions to other aircraft )
Russel: "Man, have you been to the Olympics ?  These (guys) are gorgeous, holy smoke."
ATC: "Yeah I've been out there. It's always a nice drive."
Russel: "(unintelligible)"
ATC: "That is…true."
Russel: "(unintelligible)"
ATC: "Yeah, yeah…I bet you do. I haven't done much hiking over there. And ah, but if you could you could start a left turn and ah, turn back to it's certainly a good view there but if you go much further in that direction, we won't hear you anymore."
Russel: "Hey pilot guy, can this thing do a…a back-flipping thing ?"
.. (ATC gave instructions to other aircraft )
Russel: "I wanna land it in a ah..safe kind of manner. Think I'm doing a barrel roll..and if that goes good, I'm going to nose-down and call it a night."
ATC: "Ahh, Rich, before you do that let's rethink that. I got another pilot coming up here, pilot Joe here in just a minute or two I hope…and, we're able to give you some advice what to do next."
.. (ATC gave instructions to other aircraft )
ATC: "…we call it a bug, its a little bit of rectangle somewhere around the cockpit, do you see that ?"
.. (ATC gave instructions to other aircraft )
Russel: 'I'm just kind of light headed. (unintelligible) so fast, I was thinking like. I'm gonna have this moment of serenity, you know (unintelligible)"
ATC (Joe): "..the right-hand side. Above you on the right-hand side air conditioning panel. You'll see it. It's a big panel. There is three switches along the top. Make sure that all three switches are in the "down" position, facing towards the nose of the airplane."
.. (ATC gave instructions to other aircraft )
ATC: "Okay Rich, thank you."
Russel: "2,500 feet exact."
ATC: "Okay, thank you. And do you have an idea how much fuel you have left ?"
Russel: "Aw man, not enough. Not enough to get by, like ah 760 (unintelligible)."
…
Russel: "(…) a barrel roll thing."
ATC: "No need to do that if you could do just a turn to the right. And then I will tell you when you can stop turning and then you can keep it level (the wings) from there."
Russel: "If you like we need to bee (anything) about 5,000 (feet) the least, to be able to pull this barrel roll off ?"
Rich apparently puts the plane into a barrel roll
ATC: "Alright, Rich. This is captain Bill. Congratulations. You did that. Now let's turn and land that airplane safely and not hurt anybody on the ground."
Russel: "Aaaw right..I'cant I DON'T KNOW MAN, I DON'T KNOW! I don't want to."
.. (ATC gave instructions to other aircraft )
Russel: "..feeling my engines is going out or something."
ATC: "Okay Rich. If you could, you just want to keep that plane right over the water. Maybe keep the aircraft nice and low. "
There were no further transmissions between Russel and air traffic control on the audio tape.
---
IMAGES & VIDEO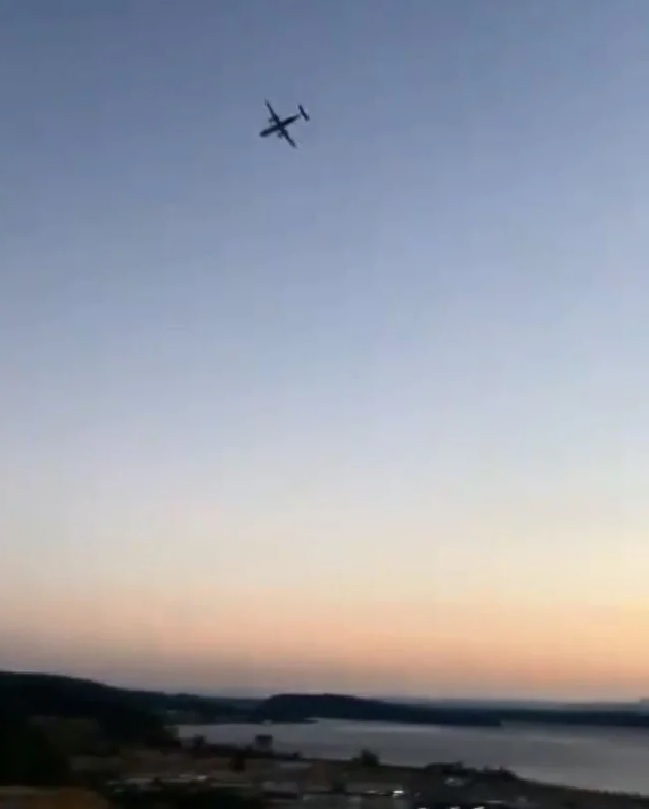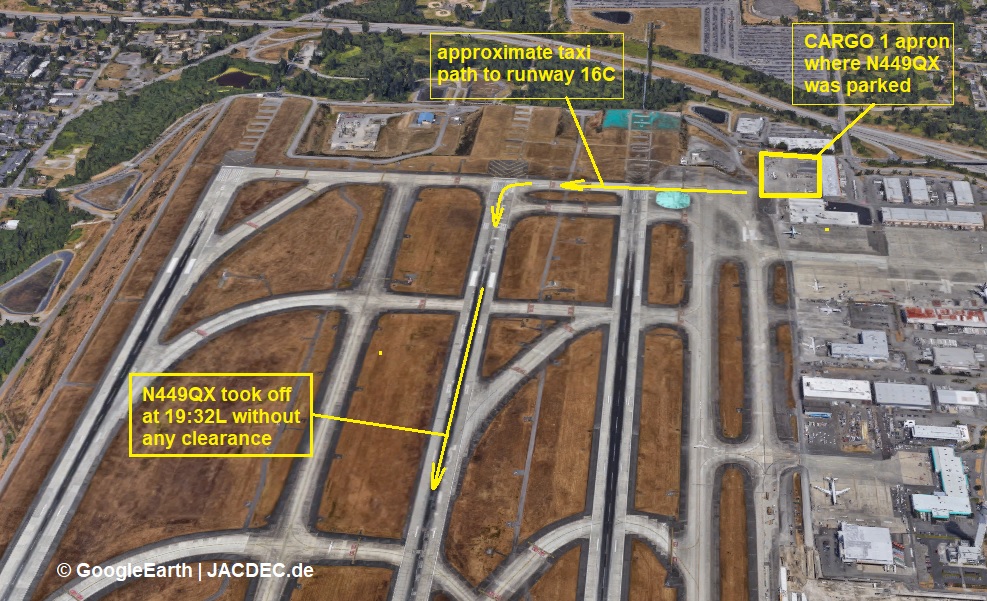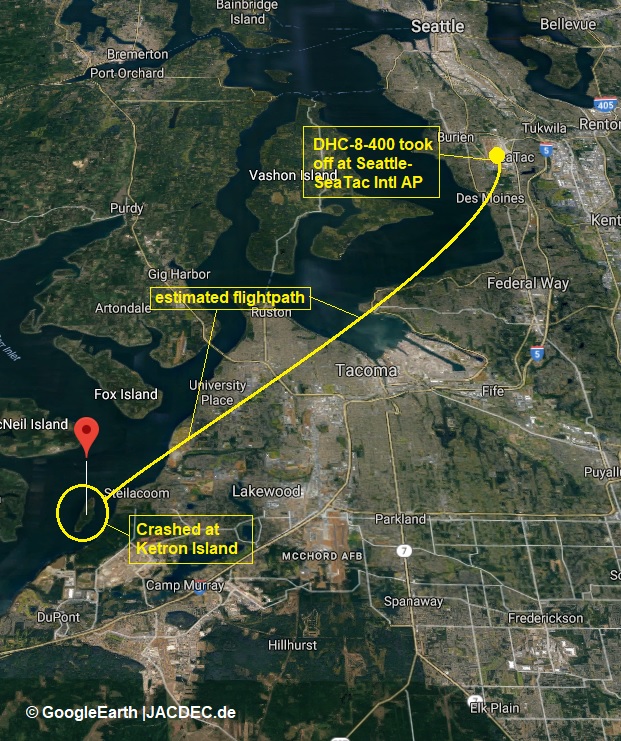 ---
---
© JACDEC.de
Tweet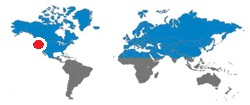 Aircraft
Type: Bombardier DHC-8-400
Registration: N449QX
Age a/c: 6.2 years
Constr. No.: 4410
| | | | | |
| --- | --- | --- | --- | --- |
| | Crew | Pax | Other | Total |
| Occupants | 1 | 0 | 0 | 1 |
| Fatalities | 1 |  0 | 0 | 1 |
| Survivors |  0 | 0 | 0 | 0 |
OCCURENCE DATASET
Date: 2018-08-10 Time: 20:47L
Location: Ketron Island, Seattle area, WA
Country: United States of America
Flight phase: MNV – Aerobatics, Intentional Low Flying, Low Alt Airwork
Damage to a/c: hull loss
Flight
Flight no.: 
From: KSEA /SEA : Seattle Tacoma Intl To: 0000 / : NONE
Type: Illegal Flight
Operator: Alaska Horizon 
JACDEC 25-year Statistics :
16th safety occurence for the operator (Alaska Horizon)
1st fatal occurence for Alaska Horizon (Horizon Air)
161th safety occurence of type (DHC-8-400)
2nd safety occurence for aircraft in question
Image & Information Sources
Copyright - Terms of Usage
All written and shown content on JACDEC.de is provided in the most accurate way. All information may be subject to changes because JACDEC.de cannot always ensure a full support of information updates to each news story.
No publication (or part of) provided by at JACDEC.de may be reproduced or transmitted in any form or by any means or by any information retrieval system without written permission from JACDEC. The below information includes unofficial information and should be treated as this. Editors cannot be held responsible for any errors or omissions caused by any information source mentioned herein. The nature of the following information should be regarded as preliminary.
Furthermore, the author cannot be held accountable for correctness, completeness or quality of the information provided herein. Liability claims regarding damage caused by the use of any information provided, including any kind of information which is incomplete or incorrect, will therefore be rejected.
For further terms and conditions, check our legal disclaimer section:
AP = Airport / AL = Airlines / Avn = Aviation / AW = Airways / C/N: Construction Number / DSP = Domestic Scheduled Passenger / DNP = Domestic Non-Scheduled Passenger / DSC = Domestic Scheduled Cargo / DNC= Domestic Non-Scheduled Cargo / GND = On the ground / parked, stored / FMN= Flying Mission, Air Work / FRY = Ferry-, Positioning Flight / IMC = Intrument Meteorological (flying) Conditions / ISP = International Scheduled Passenger / ISC=International Scheduled Cargo / INP = International Non-Scheduled Passenger / INC =International Non-Scheduled Cargo/ OPS = Flight Operation(s) / NRV = Non-revenue, Private Flight / TRN =Training Flight /  TST = Test & Certification Flight / VMC = Visual Meteorological (flying) Conditions