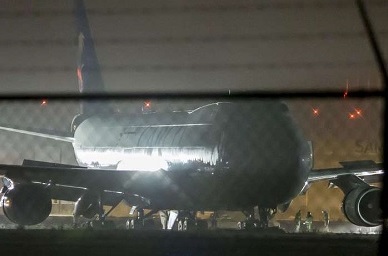 2017-11-11 MyCargo – Saudia B744F runway excursion at Maastricht
The Boeing 747 freighter experienced a runway excursion in a take-off abort at Maastricht Airport. All on board remained unhurt.
UPDATE 2017-11-13
At about 23:30L the Boeing 747-400F was about to begin its scheduled cargo flight from Maastricht Aachen Airport (EHBK) to Jeddah, Saudi Arabia with two pilots on board.
The aircraft commenced its take-off run on runway 21 (lengh: 2,751 meters) but due to circumstances yet unknown the pilots aborted the take-off at low speed.
The Boeing 747 then veered to the right where it departed the runway coming to rest on soft ground about 500-600 meters .
Both crewmembers remained unhurt.
The airport is closed for all traffic for at least 24 hours. It re-opened for traffic on Nov 13 12:00L.
METAR: Maastricht Airport (EHBK):
11/11/2017 22:25->

METAR EHBK 112225Z AUTO 25003KT 210V300 8000 BKN040 OVC044
           05/05 Q1011=

11/11/2017 23:55->

METAR EHBK 112255Z AUTO 22004KT 200V260 3600 -DZ FEW029 SCT033
           OVC038 05/05 Q1010=
---
IMAGES & VIDEO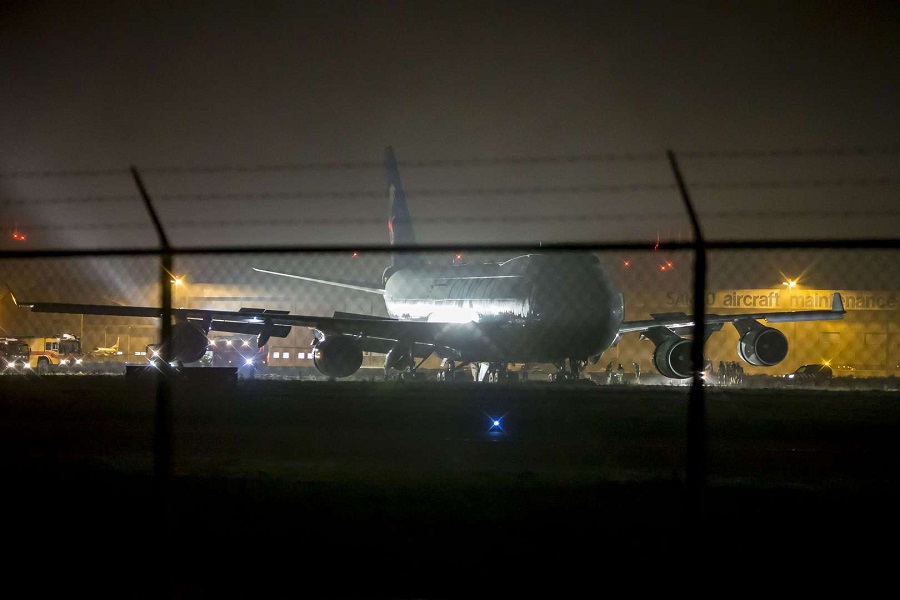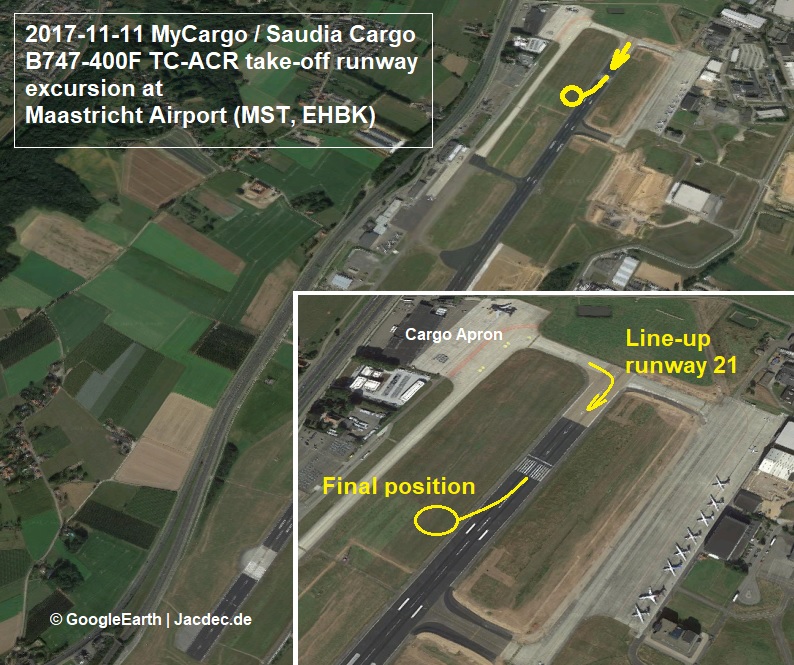 Tweet
Aircraft
Type: Boeing 747-400F
Registration: TC-ACR
Age a/c: 15.1 years
Constr. No.: 32866
| | | | | |
| --- | --- | --- | --- | --- |
| | Crew | Pax | Other | Total |
| Occupants | 2 | 0 | 0 | 2 |
| Fatalities | 0 | 0 | 0 | 0 |
| Injuries |  0 | 0 | 0 | 0 |
OCCURENCE DATASET
Date: 2017-11-11 Time: 23:36
Location: EHBK MST Maastricht
Country: Netherlands
Flight phase: TOF – Take-off, Rejected Take-off
Damage to a/c: minor / none
Flight
Flight no.: SV 916
From: EHBK/MST: Maastricht To: OEJN/JED: Jeddah
Type: Cargo
Operator: MyCargo Airlines
Leased from: Saudia – Saudi Arabian Airlines
JACDEC 25-year Statistics :
3rd safety occurence for the operator
56th safety occurence of type (B744F)
4th safety occurence at Maastricht Airport
1st safety occurence for aircraft in question
Image & Information Sources
Copyright - Terms of Usage
All written and shown content on JACDEC.de is provided in the most accurate way. All information may be subject to changes because JACDEC.de cannot always ensure a full support of information updates to each news story.
No publication (or part of) provided by at JACDEC.de may be reproduced or transmitted in any form or by any means or by any information retrieval system without written permission from JACDEC. The below information includes unofficial information and should be treated as this. Editors cannot be held responsible for any errors or omissions caused by any information source mentioned herein. The nature of the following information should be regarded as preliminary.
Furthermore, the author cannot be held accountable for correctness, completeness or quality of the information provided herein. Liability claims regarding damage caused by the use of any information provided, including any kind of information which is incomplete or incorrect,will therefore be rejected.
For further terms and conditions, check our legal disclaimer section:
http://www.jacdec.de/imprint-legal-disclaimer/ 
AP = Airport / AL = Airlines / Avn = Aviation / AW = Airways / C/N: Construction Number / DSP = Domestic Scheduled Passenger / DNP = Domestic Non-Scheduled Passenger / DSC = Domestic Scheduled Cargo / DNC= Domestic Non-Scheduled Cargo / GND = On the ground / parked, stored / FMN= Flying Mission, Air Work / FRY = Ferry-, Positioning Flight / IMC = Intrument Meteorological (flying) Conditions / ISP = International Scheduled Passenger / ISC=International Scheduled Cargo / INP = International Non-Scheduled Passenger / INC =International Non-Scheduled Cargo/ OPS = Flight Operation(s) / NRV = Non-revenue, Private Flight / TRN =Training Flight /  TST = Test & Certification Flight / VMC = Visual Meteorological (flying) Conditions