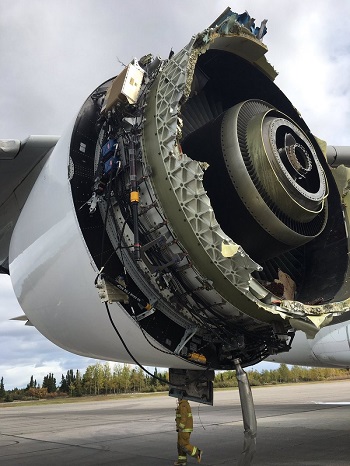 2017-09-30 Air France Airbus A380 engine cowl separation over Canada
During cruiseflight over NE-Canada, the A380 experienced severe damage to its engine #4 forcing the pilots to make a emergency landing at Goose Bay.
UPDATE 2017-12-06
Air France flight AF66 was flying en-route over Southern Greenland at 37,000 ft. (FL 370) between Paris-Charles de Gaulle Intl Airport, France and Los Angeles-Intl Airport, CA, USA when the inlet cowling and intake fan of engine no.4 (outer right) disintegrated and separated from the engine.
In the cabin, a loud thud was heard followed by vibrations throughout the remainder of the flight.
The pilots descended to a lower flight level of 31,000 ft (FL 310) and diverted to Goose Bay, Newfoundland & Labrador, Canada where the aircraft made a safe daylight landing about 2 hours later.
There were no injuries among passengers or crewmembers.
After landing Passengers were kept on board until backup aircraft arrived because the Goose Bay Airport terminal was unable to accommodate such passenger numbers.
Post landing visual inspection showed substantial damage to the forward part of the number 4 engine (GP7270). Additional damage occurred when debris struck the wing flap fairing canoe.
On 2017-10-05  the Danish Aviation Authority announced the debris of engine #4 was found halfway buried in snow approximately 150 km southeast of Paamiut village in Greenland.
There were no injuries among passengers or crewmembers.
A first damage analysis fueled speculation the fan had detached from its shaft and took the air inlet with it.
Further Investigations are carried out by multinational authorities among them the Canadian TSB, Danish HCL, French BEA and the US NTSB.
On Wed. Dec 06th 2017 after 9 weeks of repairs and engine replacement, the aircraft was flown out of Goose Bay back to Paris-CDG. 
---
IMAGES & VIDEO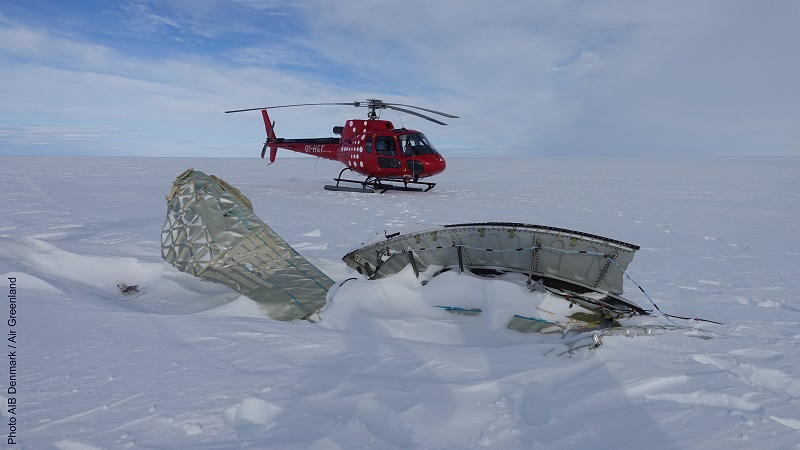 © HCL Denmark | BEA.aero
---
Flightpath (provided by Flightradar24)
Tweet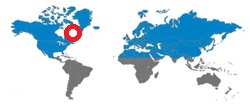 Aircraft
Aircraft
Type: Airbus A380-800
Registration: F-HPJE
Age a/c: 7.3 years
Constr. No.: 52
| | | | | |
| --- | --- | --- | --- | --- |
| | Crew | Pax | Other | Total |
| Occupants |  24 | 497 | 0 | 521 |
| Fatalities | 0 | 0 | 0 | 0 |
| Injuries |  0 | 0 | 0 | 0 |
OCCURENCE DATASET
Date: 2017-09-30 Time: ~11:00
Location: over Labrador
Country: Canada
Flight phase: ENR – Cruise, Descent, Holding
Damage to a/c: substantial
Flight
Flight no.: AF 66
From: LFPG/CDG: Paris-Charles-De-Gaulle To: KLAX/LAX: Los Angeles
Type: Passenger
Operator: Air France
JACDEC 30-year Statistics :
124th safety occurence for the operator
45th safety occurence of type (A380)
4th safety occurence at Goose Bay Airport
1st safety occurence for aircraft in question
Image & Information Sources
Copyright - Terms of Usage
All written and shown content on JACDEC.de is provided in the most accurate way. All information may be subject to changes because JACDEC.de cannot always ensure a full support of information updates to each news story.
No publication (or part of) provided by at JACDEC.de may be reproduced or transmitted in any form or by any means or by any information retrieval system without written permission from JACDEC. The below information includes unofficial information and should be treated as this. Editors cannot be held responsible for any errors or omissions caused by any information source mentioned herein. The nature of the following information should be regarded as preliminary.
Furthermore, the author cannot be held accountable for correctness, completeness or quality of the information provided herein. Liability claims regarding damage caused by the use of any information provided, including any kind of information which is incomplete or incorrect,will therefore be rejected.
For further terms and conditions, check our legal disclaimer section:
http://www.jacdec.de/imprint-legal-disclaimer/ 
AP = Airport / AL = Airlines / Avn = Aviation / AW = Airways / C/N: Construction Number / DSP = Domestic Scheduled Passenger / DNP = Domestic Non-Scheduled Passenger / DSC = Domestic Scheduled Cargo / DNC= Domestic Non-Scheduled Cargo / GND = On the ground / parked, stored / FMN= Flying Mission, Air Work / FRY = Ferry-, Positioning Flight / IMC = Intrument Meteorological (flying) Conditions / ISP = International Scheduled Passenger / ISC=International Scheduled Cargo / INP = International Non-Scheduled Passenger / INC =International Non-Scheduled Cargo/ OPS = Flight Operation(s) / NRV = Non-revenue, Private Flight / TRN =Training Flight /  TST = Test & Certification Flight / VMC = Visual Meteorological (flying) Conditions