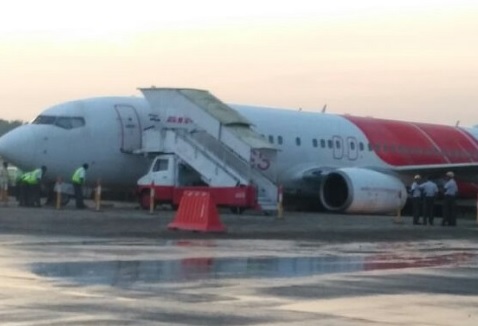 2017-09-05 Air India Express Boeing 737-800 taxied into trench at Cochin
During taxi the 737 rolled into a drainage canal resulting in heavy damage. All 108 on board remained unhurt.
Air India Express flight IX 452 from Abu Dhabi had landed normally on runway 27 at Cochin-International Airport, India and taxied to the main ramp via the taxiway "Charlie" for its assigned parking position on the new developed apron 2. Darkness prevailed at the time.
Whilst turning towards the ramp the aircraft – for still unknown reasons – deviated from the taxi line and rolled over a concrete but unlit area between taxiway "Charlie" and the next entry to the main apron.
Seconds later its nosegear dug into a drainage canal immediately followed by both maingear wheels and came to an abrupt halt. The 737 came to rest on its lower fuselage and engines resulting in substantial damage.
It is understood that no passengers or crewmembers were injured.
Due to intense precipitation, visibility at the airport was somewhat reduced.
Cochin Airport harbors a number of drainage canals measuring about 3 m wide and 2 meters deep to accomodate rainwater during monsoon rainfall seasons.
These canals ran close to taxiways but do not have any barrier protection nor do they are fitted with lights for keeping pilots from inadvertently falling into them.
METAR: Cochin Airport (VOCI):
05/09/2017 02:30->

METAR VOCI 042100Z 00000KT 4000 RA SCT008 SCT012 FEW025CB
           OVC080 27/25 Q1009 BECMG 3000 RA=

05/09/2017 03:00->

METAR VOCI 042100Z 00000KT 4000 RA SCT008 SCT012 FEW025CB
           OVC080 27/25 Q1009 BECMG 3000 RA=
More to come..
---
IMAGES & VIDEO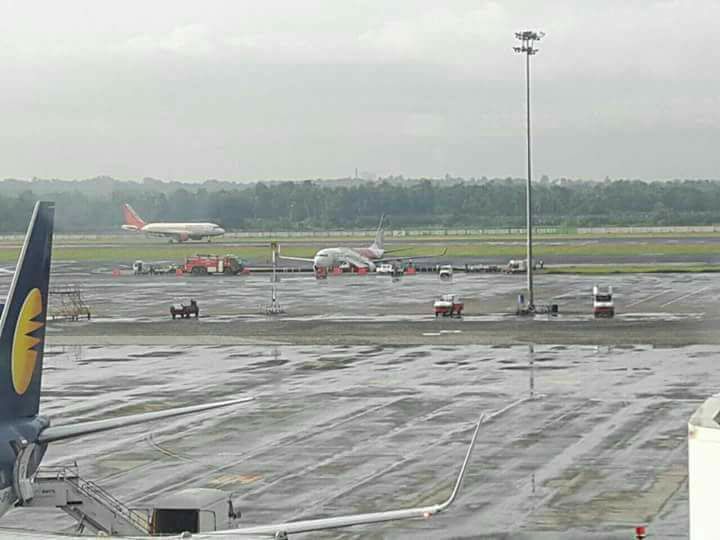 © Shabeer DQ | NDTV | Skyscrapercity
---
Tweet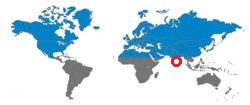 Type: Boeing 737-800
Registration: VT-AYB
Age a/c: 8.2 years
Constr. No.: 36338
| | | | | |
| --- | --- | --- | --- | --- |
| | Crew | Pax | Other | Total |
| Occupants |  6 |  102 | 0 | 108 |
| Fatalities | 0 | 0 | 0 | 0 |
| Injuries |  0 | 0 | 0 | 0 |
OCCURENCE DATASET
Date: 2017-09-05 Time: 02:40
Location: VOCI COK Cochin
Country: India
Flight phase: TXI – Taxi, Power Back
Damage to a/c: substantial
Flight
Flight no.: IX 452
From: OMAA/AUH: Abu Dhabi To: VOCI/COK: Cochin
Type: Passenger
Operator: Air India Express
JACDEC 30-year Statistics :
9th safety occurence for the operator
507th safety occurence of type (B737-800)
8th safety occurence at Cochin Airport
1st safety occurence for aircraft in question
Image & Information Sources
Copyright - Terms of Usage
All written and shown content on JACDEC.de is provided in the most accurate way. All information may be subject to changes because JACDEC.de cannot always ensure a full support of information updates to each news story.
No publication (or part of) provided by at JACDEC.de may be reproduced or transmitted in any form or by any means or by any information retrieval system without written permission from JACDEC. The below information includes unofficial information and should be treated as this. Editors cannot be held responsible for any errors or omissions caused by any information source mentioned herein. The nature of the following information should be regarded as preliminary.
Furthermore, the author cannot be held accountable for correctness, completeness or quality of the information provided herein. Liability claims regarding damage caused by the use of any information provided, including any kind of information which is incomplete or incorrect,will therefore be rejected.
For further terms and conditions, check our legal disclaimer section:
http://www.jacdec.de/imprint-legal-disclaimer/ 
AP = Airport / AL = Airlines / Avn = Aviation / AW = Airways / C/N: Construction Number / DSP = Domestic Scheduled Passenger / DNP = Domestic Non-Scheduled Passenger / DSC = Domestic Scheduled Cargo / DNC= Domestic Non-Scheduled Cargo / GND = On the ground / parked, stored / FMN= Flying Mission, Air Work / FRY = Ferry-, Positioning Flight / IMC = Intrument Meteorological (flying) Conditions / ISP = International Scheduled Passenger / ISC=International Scheduled Cargo / INP = International Non-Scheduled Passenger / INC =International Non-Scheduled Cargo/ OPS = Flight Operation(s) / NRV = Non-revenue, Private Flight / TRN =Training Flight /  TST = Test & Certification Flight / VMC = Visual Meteorological (flying) Conditions