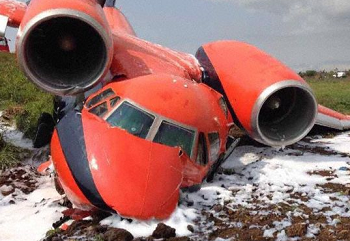 2017-07-29 CAVOK Antonov AN-74 overran runway at Sao Tome
Whilst doing an aborted take-off, the aircraft ran beyond the end of the runway where it fell down an embankment and was damaged beyond repair. All six crewmembers survived with injuries.
UPDATE
Carrying six crewmembers the An-74 was performing its takeoff run in favorable weather on runway 29 at Sao Tome when at some point one or multiple birds collided with the aircraft.
At least on of it was ingested in the right hand engine #2. Apparently this prompted the pilots to abort the take-off, but the remaining runway was not long enough for the jet to come to a stop.
The aircraft went beyond the end of the runway and across downsloping terrain when its nose impacted an earth mound short of the airport perimeter road. The AN-74 finally cme to rest about 30 meters behind the end of the runway. Only one crewmember was able to escape the aircraft without injury.
The aircraft was badly damaged and is likely to be considered a hull loss.
The accident aircraft was on a return flight to Europe after it arrived at Sao Tome from Stavanger (Norway), Luxemburg and Ghardaia (Algeria).
The only runway at Sao Tome is 2,160 meters (7,087 ft) in lengh and has only limited overrun capabilities.
METAR: Sao Tome Airport (FPST):
| | | |
| --- | --- | --- |
| | 03/01/2017 10:00-> | FPST 291000Z 14013KT 9999 FEW025 SCT040 27/21 Q1015 NOSIG= |
| | 03/01/2017 12:00-> | FPST 291200Z 23004KT 9999 FEW020 OVC040 28/21 Q1014 NOSIG= |
IMAGES & VIDEO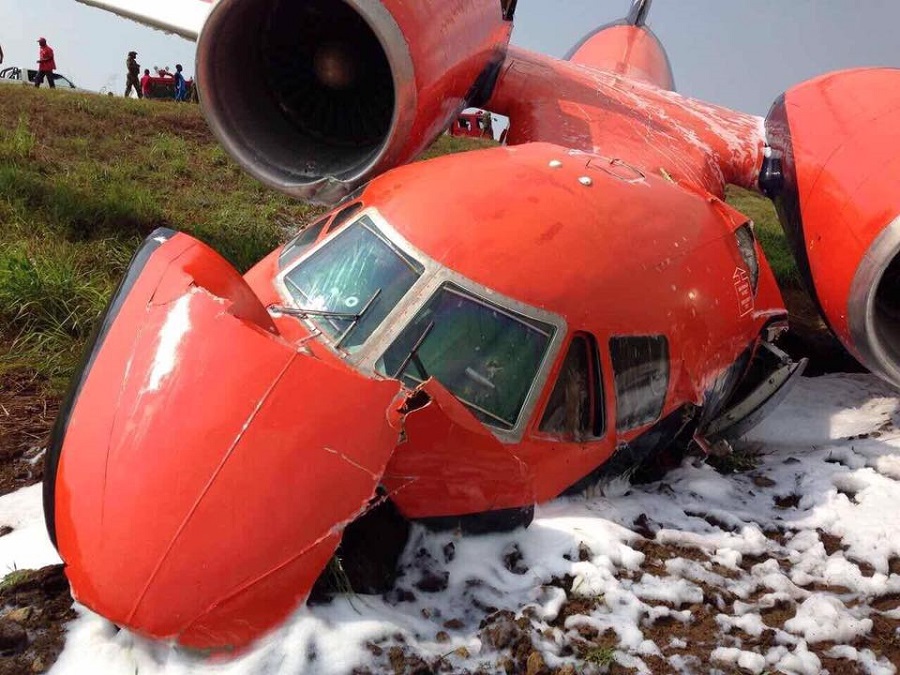 © Telanon.info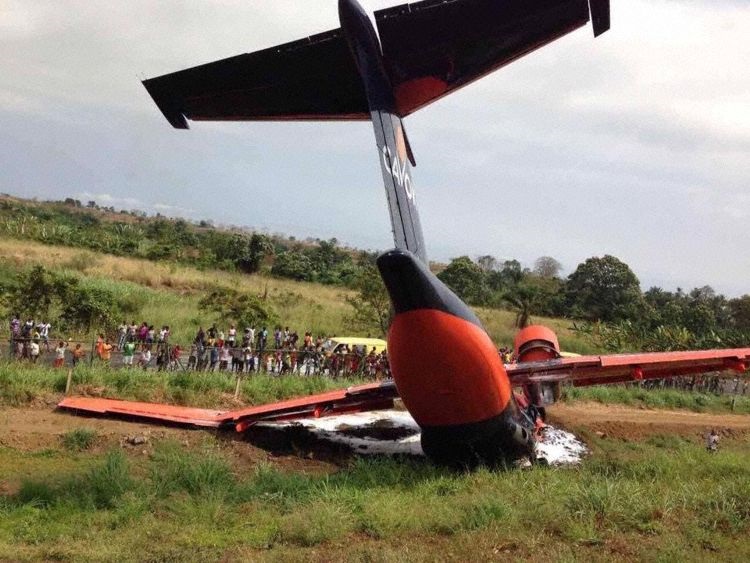 © Fakty.ua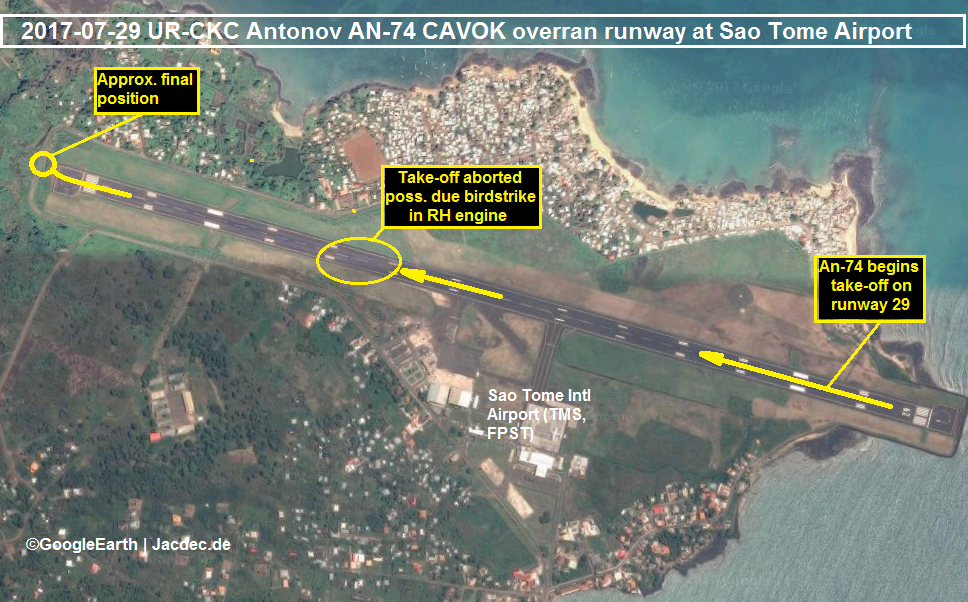 Tweet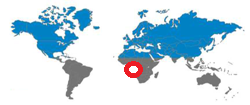 Aircraft
Type: Antonov An-74
Registration: UR-CKC
Age a/c: 25.2 years
Constr. No.: 36547095905
| | | | | |
| --- | --- | --- | --- | --- |
| | Crew | Pax | Other | Total |
| Occupants |  6 | 0 | 0 |  6 |
| Fatalities | 0 | 0 | 0 | 0 |
| Injuries |  5 | 0 | 0 | 5 |
OCCURENCE DATASET
Date: 2017-07-29 Time: 09:30
Location: FPST TMS Sao Tome
Country: Sao Tomé
Flight phase: TOF – Take-off, Rejected Take-off
Damage to a/c: hull los
Flight
Flight no.: 
From: FPST/TMS: Sao Tome To: 0000/: NONE
Type: Cargo
Operator: Cavok Air
JACDEC 30-year Statistics :
3rdh safety occurence for the operator
12th safety occurence of type (AN74)
1st safety occurence at Sao Tome Airport
1st safety occurence for aircraft in question
Image & Information Sources
Copyright - Terms of Usage
All written and shown content on JACDEC.de is provided in the most accurate way. All information may be subject to changes because JACDEC.de cannot always ensure a full support of information updates to each news story.
No publication (or part of) provided by at JACDEC.de may be reproduced or transmitted in any form or by any means or by any information retrieval system without written permission from JACDEC. The below information includes unofficial information and should be treated as this. Editors cannot be held responsible for any errors or omissions caused by any information source mentioned herein. The nature of the following information should be regarded as preliminary.
Furthermore, the author cannot be held accountable for correctness, completeness or quality of the information provided herein. Liability claims regarding damage caused by the use of any information provided, including any kind of information which is incomplete or incorrect,will therefore be rejected.
For further terms and conditions, check our legal disclaimer section:
http://www.jacdec.de/imprint-legal-disclaimer/ 
AP = Airport / AL = Airlines / Avn = Aviation / AW = Airways / C/N: Construction Number / DSP = Domestic Scheduled Passenger / DNP = Domestic Non-Scheduled Passenger / DSC = Domestic Scheduled Cargo / DNC= Domestic Non-Scheduled Cargo / GND = On the ground / parked, stored / FMN= Flying Mission, Air Work / FRY = Ferry-, Positioning Flight / IMC = Intrument Meteorological (flying) Conditions / ISP = International Scheduled Passenger / ISC=International Scheduled Cargo / INP = International Non-Scheduled Passenger / INC =International Non-Scheduled Cargo/ OPS = Flight Operation(s) / NRV = Non-revenue, Private Flight / TRN =Training Flight /  TST = Test & Certification Flight / VMC = Visual Meteorological (flying) Conditions