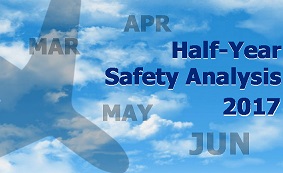 Half-Year Safety Analysis 2017

JACDEC Half -Year Safety Analysis 2017
For the first time, we launched a half-year survey about global flight safety this year. Although the significance of safety data analytics based on a 6 month period is reduced compared to a full-year survey, we do believe one can take meaningful statements out of it as well. So in terms of global aviation safety, one can justifiably call this first interim stock of 2017 as excellent, if not sensational.
Well, there are statistics. Thus everyone has the possibility to underline his personal truth with scientific support. However, the area of flight safety is no longer suitable for lengthy discussions. Too long and undisputed, all global institutions report almost unanimously that flying is becoming safer. Much safer as air-travel has ever been before.
Although fatality figures were above average in 2014, the general trend towards an ever-lower rate of death in combination with an unbridled passenger growth has been unbroken for more than three decades.
Surely one should never praise the day before the evening, but even the records of the last years fade, against the accident figures of the months January to June 2017.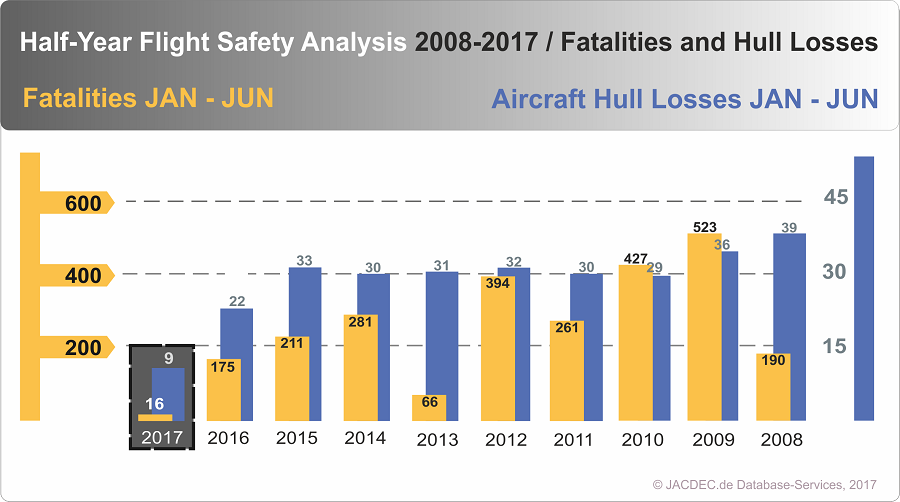 The full infographic content will be published in Aero International Magazine and will made available here after JUL 19th.
All numbers are analysed by JACDEC Database. Only civilian aircraft above 5,7 tons MTOW or 19 seats or greater.
---
A quick reference to all the basic safety indicators as far as the 1st half of 2017 is concerned:
| | | |
| --- | --- | --- |
| | 2017 | 2016 |
| No. of all cases (Accidents and serious incidents) | 102 |  133 |
| No. of SERIOUS INCIDENTS | 93 |  111 |
| No. of HULL LOSSES | 9 | 22 |
| No. of FATAL HULL LOSSES | 5 | 9 |
| No. of FATALITIES | 16 | 175 |
| No. of 3rd PARTY FATALITIES | 35 | 0 |
| NO. of INJURIES | 38 | 135 |
| | | |
On average, 286 people died in the first half-year of the past ten years. In the last five years still 113. The absolute low was reached in 2013 with a record value of "only" 66 death victims.
This year, as you read correctly, we counted a total of sixteen people who had been killed in aircraft accidents aboard civilian airliners.
This incredibly good interim outcome is all the more impressive when you look at the distribution of victims by type of traffic. All the dead occurred outside the dominating branch of aviation: Scheduled passenger services shows an unmatched zero fatality rate.  However, there were fatalities within on demand (air-taxi) flights, cargo services or other non-commercial flights.
Same all time low when it comes to the number of serious incidents: "only" 93 of such occurrences reported marks a new low for the last 10 years. Nine aircraft were destroyed by accidents. In 2016 it was still 22.
| | | |
| --- | --- | --- |
| Distribution of Fatalities 1st Half | 2017 | 2016 |
| COMMERCIAL FLTS PASS | 0 | 128 |
| REGIONAL FLTS PASS | 0 | 35 |
| AIR-TAXI FLIGHTS | 6 |  0 |
| CARGO FLIGHTS | 8 | 12 |
| NON-REVENUE FLIGHTS | 2 |  0 |
| OTHER FLIGHTS | 0 |  0 |
|  TOTAL |  16 | 175  |
The first half year 2017 reflects sharply a long-lasting trend, which goes increasingly in the direction "more passengers with fewer dead". Certainly, there is always some luck or misfortune in the game whether an accident turned out to be fatal or not, so that you can make informed statements only if you consult a long time axis. Nevertheless, one assertion becomes ever more accurate. Now more than ever, flying remains the safest method to travel longer distances.
In most countries commercial aviation as reached a sophisticated and professional level thanks to the implementation of global safety standards for flight operations and government oversight. A joint effort that harvests new safety records and an environment where the likelihood of terrible accidents is shrinking year by year.
Of course it is still too early to make any forecasts for the entire year, but even if the rest of 2017 should be halfway as good as the first half suggests it would be another reason for joy.
NOTE: The entire Half-Year Safety Review 2017will be published in German language in the next issue of Aero International Magazine.
---
The Worst Accidents in 2017 (Months Jan – Jun)
DATUM
ORT
TYP
OPERATOR
TOTE
2017-01-16
near Bishkek Airport, Kyrgyzstan
Boeing 747-400F
MyCargo
4 (+35)
Crashed on go-around manoeuvree in fog. 4 crewmembers and 35 residents were killed.
2017-03-27
near Mutare, Zimbabwe
BN-2A Islander
ETA Air Charter
6
Crashed against mountainside on approach.
2017-05-05
Charleston Airport, USA
Shorts 330
Air Cargo Carriers
2
Wing broke off on hard landing. Aircraft fell down steep embankment ended in trees.
2017-05-27
near  Lukla Airport, Nepal
LET 410
Summit Air
2
Flew too low on approach and crashed against terrain short of runway. Cargo flight.
2017-01-26
Swan River, Melbourne, Australia
Grumman Mallard
private
2
Lost control in a steep turn and crashed into water on a non-revenue flight.
© JACDEC 2017
Tweet
Copyright - Terms of Usage
[/vc_row]
All written and shown content on JACDEC.de is provided in the most accurate way. All information may be subject to changes because JACDEC.de cannot always ensure a full support of information updates to each news story.
No publication (or part of) provided by at JACDEC.de may be reproduced or transmitted in any form or by any means or by any information retrieval system without written permission from JACDEC. The below information includes unofficial information and should be treated as this. Editors cannot be held responsible for any errors or omissions caused by any information source mentioned herein. The nature of the following information should be regarded as preliminary.
Furthermore, the author cannot be held accountable for correctness, completeness or quality of the information provided herein. Liability claims regarding damage caused by the use of any information provided, including any kind of information which is incomplete or incorrect, will therefore be rejected.
For further terms and conditions, check our legal disclaimer section:
http://www.jacdec.de/imprint-legal-disclaimer/ 
AP = Airport / AL = Airlines / Avn = Aviation / AW = Airways / C/N: Construction Number / DSP = Domestic Scheduled Passenger / DNP = Domestic Non-Scheduled Passenger / DSC = Domestic Scheduled Cargo / DNC= Domestic Non-Scheduled Cargo / GND = On the ground / parked, stored / FMN= Flying Mission, Air Work / FRY = Ferry-, Positioning Flight / IMC = Intrument Meteorological (flying) Conditions / ISP = International Scheduled Passenger / ISC=International Scheduled Cargo / INP = International Non-Scheduled Passenger / INC =International Non-Scheduled Cargo/ OPS = Flight Operation(s) / NRV = Non-revenue, Private Flight / TRN =Training Flight /  TST = Test & Certification Flight / VMC = Visual Meteorological (flying) Conditions