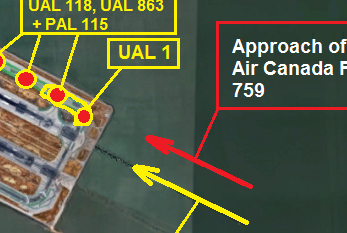 2017-07-07 Air Canada A320 lined-up on taxiway on approach to San Francicso
The Airbus A320 was forced to make a late go-around on final approach to San Francisco Intl Airport after it lined-up on a parallel taxiway occupied by other aircraft at the time.
UPDATE 2017-08-02
Air Canada flight AC 759 from Toronto carrying 135 passengers and 5 crew members was on an FMS Quiet Bridge visual approach for landing on runway 28R at San Francisco International Airport, CA (Chart) in darkness but good visibility conditions. The flight was cleared to land behind a Delta Air Lines Boeing 737-900 (DL 521) and the landing clearance correctly acknowledged.
On final approach, the aircraft began deviating to the right of the proper approach track aiming to the parallel taxiway "charlie".
The pilots questioned the tower about disturbing lights that appeared to be on the runway but the tower controller responded there is no other aircraft on the runway.
At the time several other departing aircraft queued on taxiway "Charlie" awaiting departure from runway 28R after the landing of AC 759. The first in the line was United Airlines flight 1 (UAL 1) from San Francisco to Singapore, a Boeing 787-900 (N29961). It was only after the pilot of this aircraft expressed his concerns about the misdirected approach when tower controller instructed AC 759 to do a go-around.
The pilots immediately responded and abandoned the landing. According to flight tracking websites, the A320 was put into a climb at about 100 feet after already overflying a portion of taxiway Charlie as well as two widebody passenger aircraft and the flight returned for a safe landing on runway 28R about 15 minutes later. 
---
On 2017-08-01 NTSB published an interim Investigation update:
The following facts are provided as an investigative update:
Airport
o    Runway 28L was closed to accommodate construction; its approach and runway lights were turned off, and a 20.5-ft-wide lighted flashing X (runway closure marker) was placed at the threshold. Construction on runway 28L was part of a project that started on February 21, 2017, and notices to airmen were issued to alert operators of its operational status.
o    Automatic Terminal Information Service Q was current and included an advisory that runway 28L was closed and that its approach lighting system was out of service.
o    Runway and approach lighting for runway 28R were on and set to default settings, which included a 2,400-ft approach lighting system, a precision approach path indicator, touchdown zone lights (white), runway centerline lights (white at the approach end), runway threshold lights (green), and runway edge lights (white at the approach end).
o    Lights for taxiway C were also on and set to default settings that included centerline lights (green) along its length. Default settings also included edge lights (blue) and centerline lights (green) illuminating the transition or stub taxiways from the runway to the taxiway.
Pilots
o    The captain was the pilot flying ACA759, and the first officer was the pilot monitoring. Both pilots held Canadian airline transport pilot certificates.
o    The captain had over 20,000 total flight hours, of which about 4,797 hours were as captain in Airbus A320‑series airplanes. The first officer had about 10,000 total flight hours, of which over 2,300 hours were in Airbus A320-series airplanes.
Air Traffic Control (ATC)
o    There were no known ATC equipment discrepancies.
o    Normal air traffic staffing for the ATC tower midnight shift included two controllers. On the evening of the incident, one controller was in the tower cab.
o    At 2349 PDT (7 minutes before the incident), all positions in the ATC tower (controller-in-charge local control, local control assist, ground control, flight data, and clearance delivery) were combined at the local control position.
The Incident
o    At 2346:30 PDT, Northern California TRACON cleared ACA759 for the FMS bridge visual runway 28R approach.
o    FDR data indicate that, during the final 3 nautical miles of the approach, the airplane's flightpath was lined up with the taxiway and maintained the runway heading.
o    At 2355:46 PDT, when ACA759 was about 0.7 mile from the landing threshold and about 300 ft above ground level (agl), the flight crew contacted the ATC tower, mentioned seeing lights on the runway, and requested confirmation that the flight was cleared to land.
o    As ACA759 approached SFO, at 2355:52 PDT, the airplane flew too far right of course to be observed by the local controller's ASDE-X/ASSC and was not visible on the ASDE-X/ASSC display for about 12 seconds.
o    At 2355:56 PDT, when ACA759 was about 0.3 mile from the landing threshold, the local controller confirmed and recleared ACA759 to land on runway 28R.
o    The flight crew of the first airplane in queue on taxiway C (UAL1) transmitted statements regarding ACA759, one of which mentioned the alignment of ACA759 with the taxiway while ACA759 was on short final (see figures 2 and 3). The flight crew of the second airplane in queue on taxiway C switched on their airplane's landing lights as the incident airplane approached.
This serious incident is under further investigation.
METAR: San Francisco Intl Airport (SFO, KSFO) :
07/07/2017 23:56->

METAR KSFO 080656Z 29009KT 10SM CLR 16/09 A2992 RMK AO2 SLP132
           T01610089=

07/07/2017 22:56->

METAR KSFO 080556Z 29012KT 10SM CLR 17/09 A2993 RMK AO2 SLP135
           T01720094 10244 20172 51010=
Soundfile provided by LiveATC.net

---
ATC Radio Transcript SFO-Tower:
(Note: this transcript is inofficial and can contain inadequate data)
AC 759: "Tower, Good evening,  Air Canada 759 with you … visual runway 28Right."
SFO-Tower: "Air Canada 759 you're cleared to land runway 28Right, wind 270 (degrees) at eight (knots)."
AC 759: "Cleared to land runway 28R, Air Canada 759."

AC 759: "And Tower just to confirm, its Air Canada 759 we see some lights on the runway there, crossing runway, confirm we're cleared to land ?"
SFO-Tower: "Air Canada 759 confirm cleared to land runway 28R, there is no one on 28R but you."
AC 759: "Okay Air Canada 759."
UNK Pilot: "[unintelligible]..is this guy doing ? He's on the taxiway !"
SFO-Tower: "Air Canada go-around."
AC 759: "In the go-around Air Canada 759."
SFO-Tower: "759 looks like you're lined up for Charlie there. Fly heading 280. Climb and maintain 3000."
AC 759: "Heading 280, 3000, Air Canada 759."
UAL 1: "Ah United 1, Air Canada flew directly over us..squawk 7591 Air Canada flew directly over us."
SFO-Tower: "Yeah I saw that, guys."
…
Live ATC Traffic provided by


2017-07-17 NTSB issued a preliminary statement on their website about the case:
"On July 7, 2017, about 2356 Pacific daylight time, Air Canada flight 759, an Airbus A-320, C-FKCK, was cleared to land on runway 28R at San Francisco International Airport (SFO), San Francisco, California, but instead lined up on parallel taxiway C, which had four air carrier airplanes on it awaiting takeoff clearance (a Boeing 787 that was first in line followed by an Airbus A340, another Boeing 787, and a Boeing 737). The flight descended below 100 feet above the ground and initiated a go-around after overflying the first airplane on the taxiway. The flight was operating under 14 Code of Federal Regulations Part 129 as an international scheduled passenger flight from Toronto/Lester B. Pearson International Airport, (YYZ), Toronto, Canada. Night visual meteorological conditions prevailed at the time of the incident."


NTSB Prelim Report
---
IMAGES & VIDEO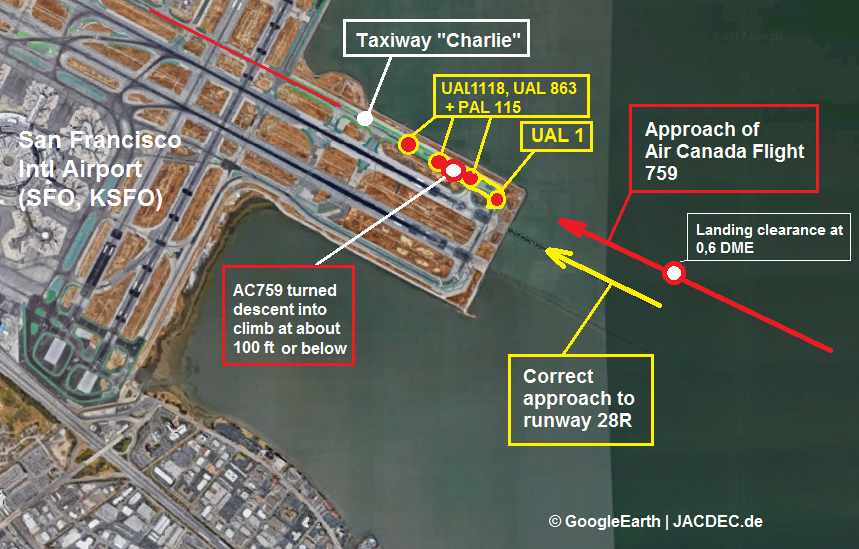 SFO WebTrak screencap of AC759:

Flightpath (provided by FlightAware)

© FlightAware
To optimize arriving traffic flow and assure the required minimum spacing between arriving aircraft, San Francisco Air Traffic Control (ATC) utilizes the Simultaneous Offset Instrument Approach (SOIA) where aircraft heading for runway 28R must follow a course offset to the localizer to allow spacing requirements when both runways 28L and 28R are active simultaneously.
Air Canada 759 was flying the Flight Management System (FMS) Quiet Bridge Visual approach to runway 28R flying a converging angle of 275 degrees to close-in to the localizer (ILS) heading of 284 degrees only when on short final (roughly when overflying San Mateo Bridge).
Tweet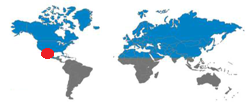 | | | | | |
| --- | --- | --- | --- | --- |
| | Crew | Pax | Other | Total |
| Occupants | 5 | 135 | 0 | 140 |
| Fatalities | 0 | 0 | 0 | 0 |
| Injuries |  0 | 0 | 0 | 0 |
OCCURENCE DATASET
Date: 2017-07-07 Time: 23:55
Location: KSFO SFO San Francisco Intl
Country: United States of America
Flight phase: APR – Initial Approach (IFR), Final Approach, all Circuit Patterns, Missed Approach/Go-Around
Damage to a/c: none
Flight
Flight no.: AC 759
From: CYYZ/YYZ: Toronto Lester B. Pearson Intl Airport To: KSFO/SFO: San Francisco Intl
Type: Passenger
Operator: Air Canada
JACDEC 30-year Statistics :
72nd safety occurence for the operator
599th safety occurence of type (A320)
33rd safety occurence at San Francisco Airport
2nd safety occurence for aircraft in question
– 2014-01-20 wake turbulence event over Thunder Bay (Ref)
Image & Information Sources
Copyright - Terms of Usage
All written and shown content on JACDEC.de is provided in the most accurate way. All information may be subject to changes because JACDEC.de cannot always ensure a full support of information updates to each news story.
No publication (or part of) provided by at JACDEC.de may be reproduced or transmitted in any form or by any means or by any information retrieval system without written permission from JACDEC. The below information includes unofficial information and should be treated as this. Editors cannot be held responsible for any errors or omissions caused by any information source mentioned herein. The nature of the following information should be regarded as preliminary.
Furthermore, the author cannot be held accountable for correctness, completeness or quality of the information provided herein. Liability claims regarding damage caused by the use of any information provided, including any kind of information which is incomplete or incorrect, will therefore be rejected.
For further terms and conditions, check our legal disclaimer section:
http://www.jacdec.de/imprint-legal-disclaimer/ 
AP = Airport / AL = Airlines / Avn = Aviation / AW = Airways / C/N: Construction Number / DSP = Domestic Scheduled Passenger / DNP = Domestic Non-Scheduled Passenger / DSC = Domestic Scheduled Cargo / DNC= Domestic Non-Scheduled Cargo / GND = On the ground / parked, stored / FMN= Flying Mission, Air Work / FRY = Ferry-, Positioning Flight / IMC = Intrument Meteorological (flying) Conditions / ISP = International Scheduled Passenger / ISC=International Scheduled Cargo / INP = International Non-Scheduled Passenger / INC =International Non-Scheduled Cargo/ OPS = Flight Operation(s) / NRV = Non-revenue, Private Flight / TRN =Training Flight /  TST = Test & Certification Flight / VMC = Visual Meteorological (flying) Conditions