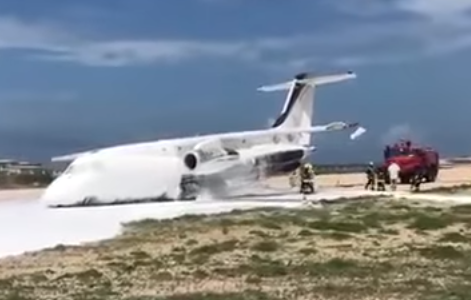 2017-05-30 Heidi Avn Dornier 328 belly landing at Mogadishu
The Do-328JET aircraft made a gear-up landing at Mogadishu with 4 people on board of whom all remained unscathed.
UPDATE 2017-06-03
According to local media sites, the Dornier Do328 was on a charter flight from Entebbe, approaching the city when pilots reported mechanical troubles and entered a holding pattern to work out the relevant checklists.
After a number of minutes, the pilots were unsuccessful in lowering the undercarriage. Then an emergency landing with all gear-up became inevitable.
The aircraft landed on runway 05 and skidded on its belly after it came to a halt more than 1 km further. Its left wingtip hit the side of a small house located close to the runway. Airport fire trucks foamed the plane after it came to a standstill on the left side of the runway.
All crewmembers were able to disembark normally and without injury.
Damage to the aircraft is considerably serious. According to images, the left wingtip suffered damage as well.
The aircraft was operated by Heidi Aviation flying security personnel of US private security company Bancroft on behalf of UN (AMISOM) troops to and from Somalia.
METAR: Mogadishu  Airport (HCMM):
| | | |
| --- | --- | --- |
| | 30/05/2017 -> | METAR UMKK HCMM unavailable |
| | 30/05/2017 -> | METAR UMKK HCMM unavailable |
---
IMAGES & VIDEO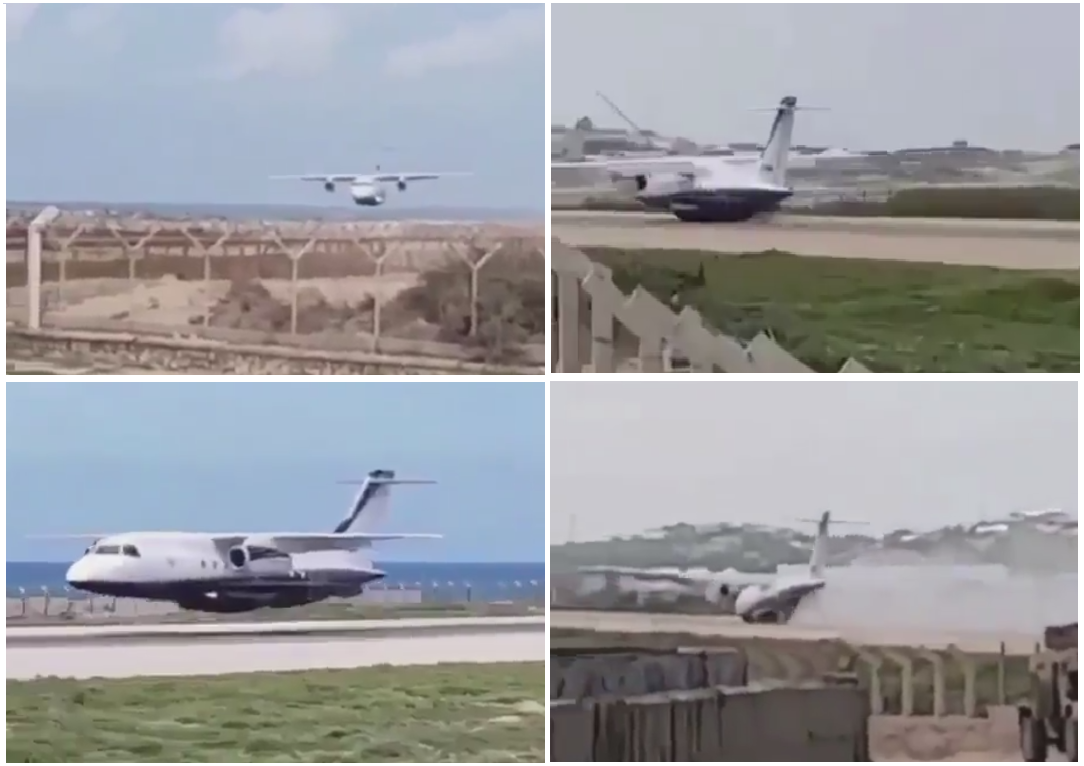 #Somalia #UN plane crashed in #Garbaharey in the southwestern Gedo region pic.twitter.com/rZ6QVP1w6l

— Saji Assi (@assi_saji) June 3, 2017
---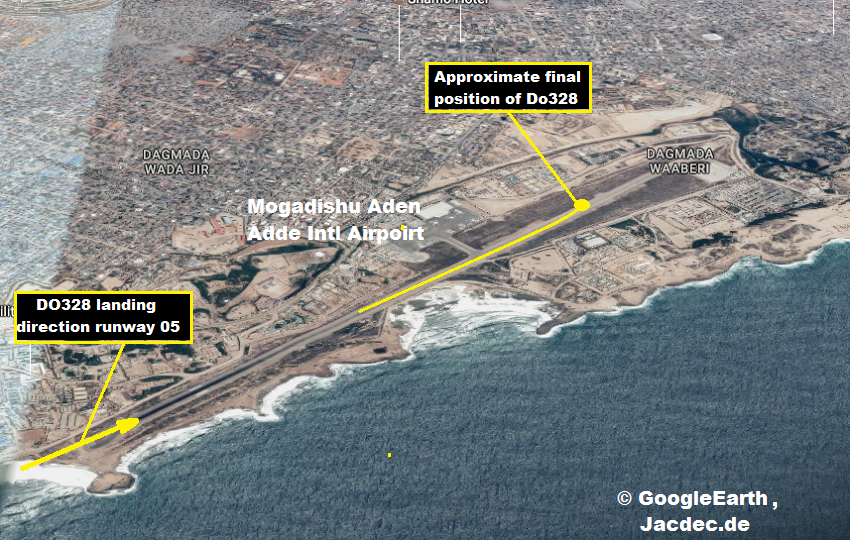 Tweet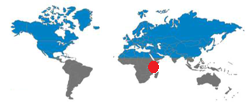 Aircraft
Type: Dornier Do 328Jet
Registration: N330BG
Age a/c: 16.2 years
Constr. No.: 3184
| | | | | |
| --- | --- | --- | --- | --- |
| | Crew | Pax | Other | Total |
| Occupants |  4 |  0 | 0 | 4 |
| Fatalities | 0 | 0 | 0 | 0 |
| Injuries |  0 | 0 | 0 | 0 |
OCCURENCE DATASET
Date: 2017-05-30 Time: – (morning)
Location: HCMM MGQ Mogadishu
Country: Somalia
Flight phase: LDG – Flare, Landing Roll, Aborted Landing after Touchdown
Damage to a/c: substantial
Flight
Flight no.: –
From: HUEN/EBB: Entebbe To: HCMM/MGQ: Mogadishu
Type: non revenue
Operator: Heidi Aviation
Leased from: Bancroft Security (US)
JACDEC 25-year Statistics :
1st safety occurence for the operator
34th safety occurence of type (Do328)
15th safety occurence at Mogadishu Airport
1st safety occurence for aircraft in question
Image & Information Sources
Copyright - Terms of Usage
All written and shown content on JACDEC.de is provided in the most accurate way. All information may be subject to changes because JACDEC.de cannot always ensure a full support of information updates to each news story.
No publication (or part of) provided by at JACDEC.de may be reproduced or transmitted in any form or by any means or by any information retrieval system without written permission from JACDEC. The below information includes unofficial information and should be treated as this. Editors cannot be held responsible for any errors or omissions caused by any information source mentioned herein. The nature of the following information should be regarded as preliminary.
Furthermore, the author cannot be held accountable for correctness, completeness or quality of the information provided herein. Liability claims regarding damage caused by the use of any information provided, including any kind of information which is incomplete or incorrect,will therefore be rejected.
For further terms and conditions, check our legal disclaimer section:
http://www.jacdec.de/imprint-legal-disclaimer/ 
AP = Airport / AL = Airlines / Avn = Aviation / AW = Airways / C/N: Construction Number / DSP = Domestic Scheduled Passenger / DNP = Domestic Non-Scheduled Passenger / DSC = Domestic Scheduled Cargo / DNC= Domestic Non-Scheduled Cargo / GND = On the ground / parked, stored / FMN= Flying Mission, Air Work / FRY = Ferry-, Positioning Flight / IMC = Intrument Meteorological (flying) Conditions / ISP = International Scheduled Passenger / ISC=International Scheduled Cargo / INP = International Non-Scheduled Passenger / INC =International Non-Scheduled Cargo/ OPS = Flight Operation(s) / NRV = Non-revenue, Private Flight / TRN =Training Flight /  TST = Test & Certification Flight / VMC = Visual Meteorological (flying) Conditions