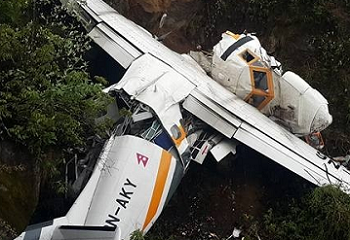 2017-05-27 Summit Air (Nepal) crashed short of runway at Lukla
Two people died when the Let 410 aircraft smashed into trees immediately before landing at Lukla. The other crewmember survived with minor injuries.
UPDATE
The Let 410 Turboprop aircraft was on approach to Lukla to the standard (and only available) landing runway 06 in low visibility conditions, when the pilots descended below the proper approach track until it impacted trees and steep terrain where it broke apart.
Both pilots died while the 3rd crewmember survived with non life-threatening injuries.
The aircraft was on a cargo flight from Kathmandu without passengers.
At the time of the accident, local visibility was substantially reduced by ground fog. The upsloping runway 06 is an all visual runway with without any instrument approach guidance.
Summit Air was doing business under the name Goma Air until Mar 2017.
In APR 2018, the Nepal's Accident Investigation Commission (NAIC) published the final investigation report.
The Commission concludes that the probable cause of this accident was aircraft stall as a result of excessive drag created by sudden increase in angle of attack of the aircraft supplemented by low speed (below Vref) in an attempt to initiate immediate climb on a landing configuration (full flap and landing gear down) warranted by the critical situation of the final phase of flight.
The contributing factors for the accident are:
– Critical terrain and rapidly deteriorating weather condition.
– Pilot's loss of situational awareness
– Improper pilot response to stall warning including failure to advance power lever to maximum at appropriate time.
– Voilation of SOP by the ATS and Pilot as well.
---
IMAGES & VIDEO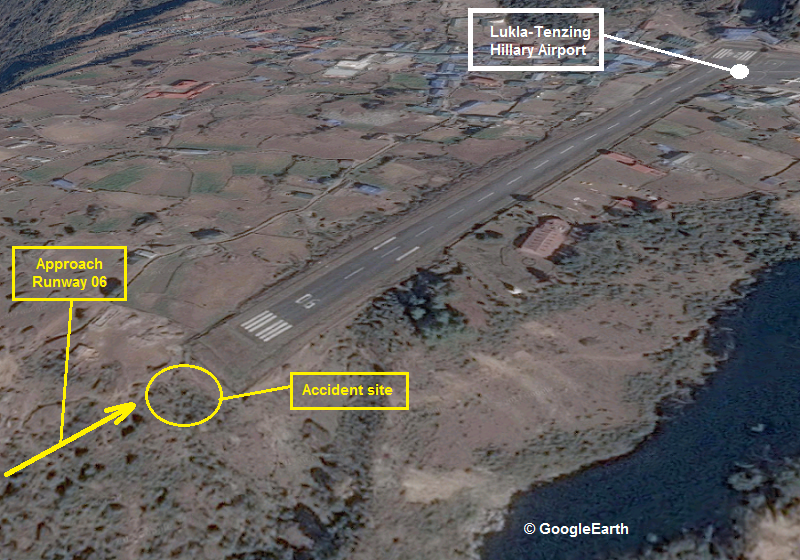 Tweet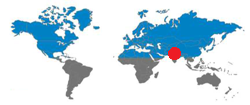 Aircraft
Type: Let 410 / 420 Turbolet
Registration: 9N-AKY
Age a/c: 3.2 years
Constr. No.: 2917
| | | | | |
| --- | --- | --- | --- | --- |
| | Crew | Pax | Other | Total |
| Occupants | 3 | 0 | 0 | 3 |
| Fatalities | 2 | 0 | 0 | 2 |
| Injuries |  1 | 0 | 0 | 1 |
OCCURENCE DATASET
Date: 2017-05-27 Time: 14:04
Location: VNLK LUA Lukla
Country: Nepal
Flight phase: APR – Initial Approach (IFR), Final Approach, all Circuit Patterns, Missed Approach/Go-Around
Damage to a/c: hull loss
Flight
Flight no.: 409
From: VNKT/KTM: Kathmandu To: VNLK/LUA: Lukla
Type: Passenger
Operator: Summit Air (Nepal)
JACDEC 25-year Statistics :
4th safety occurence for the operator
– 1st fatal accident
132nd safety occurence of type (LET410)
7th safety occurence at Lukla Airport
– 3rd fatal accident
2nd safety occurence for aircraft in question
– 2015-06-02 nosegear-up landing at Pokhara
Image & Information Sources
Copyright - Terms of Usage
All written and shown content on JACDEC.de is provided in the most accurate way. All information may be subject to changes because JACDEC.de cannot always ensure a full support of information updates to each news story.
No publication (or part of) provided by at JACDEC.de may be reproduced or transmitted in any form or by any means or by any information retrieval system without written permission from JACDEC. The below information includes unofficial information and should be treated as this. Editors cannot be held responsible for any errors or omissions caused by any information source mentioned herein. The nature of the following information should be regarded as preliminary.
Furthermore, the author cannot be held accountable for correctness, completeness or quality of the information provided herein. Liability claims regarding damage caused by the use of any information provided, including any kind of information which is incomplete or incorrect,will therefore be rejected.
For further terms and conditions, check our legal disclaimer section:
http://www.jacdec.de/imprint-legal-disclaimer/ 
AP = Airport / AL = Airlines / Avn = Aviation / AW = Airways / C/N: Construction Number / DSP = Domestic Scheduled Passenger / DNP = Domestic Non-Scheduled Passenger / DSC = Domestic Scheduled Cargo / DNC= Domestic Non-Scheduled Cargo / GND = On the ground / parked, stored / FMN= Flying Mission, Air Work / FRY = Ferry-, Positioning Flight / IMC = Intrument Meteorological (flying) Conditions / ISP = International Scheduled Passenger / ISC=International Scheduled Cargo / INP = International Non-Scheduled Passenger / INC =International Non-Scheduled Cargo/ OPS = Flight Operation(s) / NRV = Non-revenue, Private Flight / TRN =Training Flight /  TST = Test & Certification Flight / VMC = Visual Meteorological (flying) Conditions