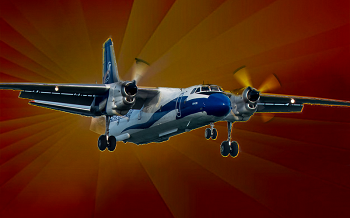 2017-04-29 Aerogaviota AN-26 crashed into mountains near San Cristobal
The aircraft crashed in mountaineous area north of San Cristobal. None of the eight persons on board survived the accident.
UPDATE 2017-05-09
The aircraft departed Playa Baracoa at 06:38L on a military support flight carrying eight crewmembers on behalf of the Cuban Air Force (Fuerza Aérea Revolucionaria).
Due to yet unknown circumstances, the aircraft is known to have crashed northeast of the city of San Cristobal in the Loma de la Pimienta Mountain Range in the area near Las Terrezas.
The accident site is located in a difficult to access area. Rescue operations are underway but there is no hope to find any survivors.
At the time there were no adverse weather conditions prevailing.
The aircraft involved was not identified yet. Aerogaviota possesses four AN-26's that have an average age of over 38 years.
The aircraft was identified as a 1985 built An-26, registration CU-T1406 previously operated on behalf of Cuban Air Force.
---
IMAGES & VIDEO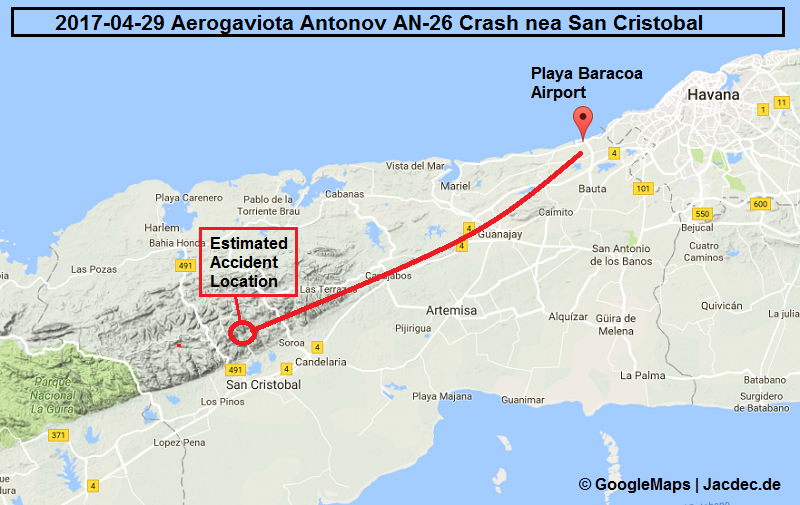 Tweet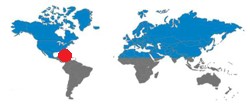 © T. Marimon | Airliners.net
Aircraft
Type:Antonov An-26
Registration:CU-T1406
Age a/c:31.8 years
Constr. No.:13502
| | | | | |
| --- | --- | --- | --- | --- |
| | Crew | Pax | Other | Total |
| Occupants |  8 | 0 | 0 | 8 |
| Fatalities | 8 | 0 | 0 | 8 |
| Injuries |  0 | 0 | 0 | 0 |
OCCURENCE DATASET
Date: 2017-04-29 Time: 07:00
Location: Las Terrazas area, Loma de la Pimienta
Country: Cuba
Flight phase: ENR – Cruise, Descent, Holding
Damage to a/c: hull loss
Flight
Flight no.:
From: MUBA/BCA: Baracoa To: 0000/: NONE
Type: Military
Operator: Aerogaviota
Leased from: Cuban Air Force
JACDEC 25-year Statistics :
1st safety occurence for the operator
99th safety occurence of type (AN26)
13th safety occurence in Cuba
XX safety occurence for aircraft in question
Image & Information Sources
Copyright - Terms of Usage
All written and shown content on JACDEC.de is provided in the most accurate way. All information may be subject to changes because JACDEC.de cannot always ensure a full support of information updates to each news story.
No publication (or part of) provided by at JACDEC.de may be reproduced or transmitted in any form or by any means or by any information retrieval system without written permission from JACDEC. The below information includes unofficial information and should be treated as this. Editors cannot be held responsible for any errors or omissions caused by any information source mentioned herein. The nature of the following information should be regarded as preliminary.
Furthermore, the author cannot be held accountable for correctness, completeness or quality of the information provided herein. Liability claims regarding damage caused by the use of any information provided, including any kind of information which is incomplete or incorrect, will therefore be rejected.
For further terms and conditions, check our legal disclaimer section:
http://www.jacdec.de/imprint-legal-disclaimer/ 
AP = Airport / AL = Airlines / Avn = Aviation / AW = Airways / C/N: Construction Number / DSP = Domestic Scheduled Passenger / DNP = Domestic Non-Scheduled Passenger / DSC = Domestic Scheduled Cargo / DNC= Domestic Non-Scheduled Cargo / GND = On the ground / parked, stored / FMN= Flying Mission, Air Work / FRY = Ferry-, Positioning Flight / IMC = Intrument Meteorological (flying) Conditions / ISP = International Scheduled Passenger / ISC=International Scheduled Cargo / INP = International Non-Scheduled Passenger / INC =International Non-Scheduled Cargo/ OPS = Flight Operation(s) / NRV = Non-revenue, Private Flight / TRN =Training Flight /  TST = Test & Certification Flight / VMC = Visual Meteorological (flying) Conditions