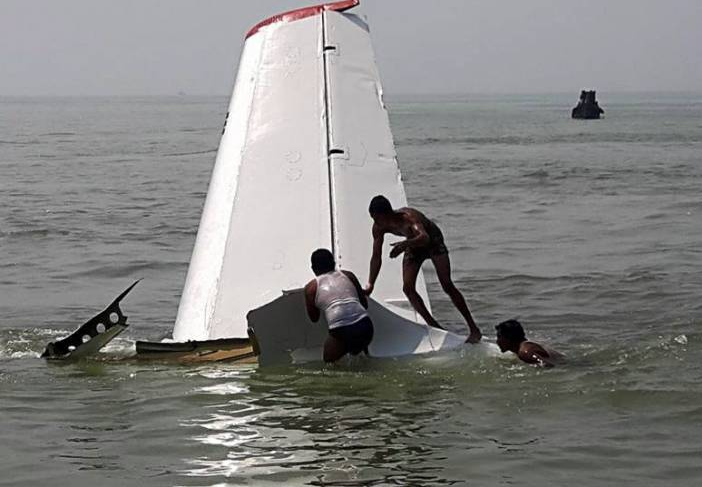 2016-03-09 True Aviation Antonov An-26 crashed into sea off Cox's Bazar
Three of four crewmembers lost their lives when an Antonov An-26 cargo aircraft crashed into sea after take-off from Cox's Bazar. Three of four crewmembers died.
Loaded with a cargo of 972 boxes containing shrimps, the Antonov An-26 took off from Cox's Bazar to Jessore.
According to local aviation sources, immediately after getting airborne on runway 35, the AN-26 suffered left engine failure. The pilots (all Ukrainian nationals) elected to return to runway 35 by making a right turn to join a downwind approach.
At the time local visibility was reduced by fog to less than half a mile. The pilots were unable to establish themselves for a visual approach to runway 35 and initiated a go-around at low altitude.
The Antonov crew continued flying at very low altitude apparently circling the airport, standing-by for weather improvement. Sometime thereafter the aircraft began a gradual descent until it impacted the water.
On water impact, the Antonov An-26 flipped upside-down, broke apart and sank in the shallow waters of the Gulf of Bengal, about 1 km offshore.
The AN-26 almost fully submerged in the waters between Sonadia Island (3 km west of the Cox's Bazar Airport) close to the beaches of Nazirar Tak Point.
Lacking sophisticated emergency equipment, access to the aircraft and the cockpit turned out to be difficult. It is understood that the pilot-in-command (38) and the flight engineer (47+40) died in the accident. Only the co-pilot (44) survived with serious injuries.
By ebb tide the wreckage became accessible and it was towed ashore.
In April 2017, the CAAB released the final investigation report. Summarizing, the probable causes have been pointed out as follows:
CAUSES
a) Failure to initiate a rejected take off during take off roll following the indication of engine failure.
b) Failure to adhere to the company SOP following the detection of the engine failure during take off.
c) Considering the poor visibility at Cox's Bazar Airport, diverting to the alternate airfield Chittagong Airport located only 50 nm away that has the provision for full ILS approach facility. This could have helped the crew in carrying out a proper one engine out precision approach landing.
d) The aircraft flew at a speed much lower than the clean configuration speed. The aircraft flew at 225 km/h in clean configuration whereas the minimum clean configuration speed is 290 km/hr.
e) As per the FDR data the aircraft stalled while making a turn towards the side of the failed engine at a very low altitude.
SAFETY RECOMMENDATIONS
a) All relevant flight crews of AN-26 aircraft need to be properly trained to coup up with engine failure procedure during and immediately after take off.
b) Emphasis should be given during CRM Courses for decision making process.
c) Maintenance status of all AN-26 aircraft shall be enhanced to ensure prevention of engine failure occurrences at any stage of flight.
Download Final Investigation Report (pdf document) [LINK]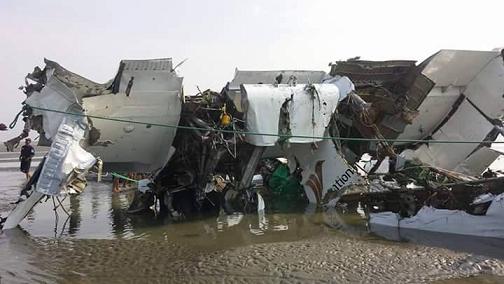 © Dainandincox [Warning ! graphic images)
2016-04-18:  (by NBAAI/Aviation Herald)
Ukrainian investigation authority NBAAI reported the left hand engine failed shortly after departure from Coxs Bazar. The crew attempted to return to Coxs Bazar, however, the final approach failed for unknown reasons, the crew decided to go around. During the go-around the aircraft collided with the water surface about 3nm from the runway. The navigator received serious injuries, the other members of the crew were killed in the impact. The NBAAI is assisting the investigation by Bangladesh's authorities.
---
METAR Cox's Bazar Airport (VGCB):
OCCURENCE DATASET
Date: 2016-03-09 Time: 09:20
Location: off Cox's Bazar Airport
Country: Bangladesh
Flight phase: ENR2 – Climb above 1000 ft. AGL to Cruise; Climb from end of ICL to intended cruise level
Damage to a/c: hull loss
Flight
Flight no.:
From: VGCB/CXB: Cox's Bazaar To: VGJR/JSR: Jessore
Type: Cargo
Operator: True Aviation (Bangladesh)
Tweet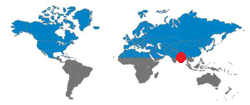 Aircraft
Type: Antonov An-26
Registration: S2-AGZ
Age a/c: 32.1 years
Constr. No.: 13408
| | | | | |
| --- | --- | --- | --- | --- |
| | Crew | Pax | Other | Total |
| Occupants | 4 |  0 | 0 |  4 |
| Fatalities | 3 | 0 | 0 | 3 |
| Injuries |  1 | 0 | 0 | 1 |
JACDEC 25-year Statistics :
1st safety occurence for the operator
96th safety occurence of type (An-26)
2nd safety occurence at Cox's Bazar Airport
1st safety occurence for aircraft in question
Image & Information Sources
Copyright - Terms of Usage
All written and shown content on JACDEC.de is provided in the most accurate way. All information may be subject to changes because JACDEC.de cannot always ensure a full support of information updates to each news story.
No publication (or part of) provided by at JACDEC.de may be reproduced or transmitted in any form or by any means or by any information retrieval system without written permission from JACDEC. The below information includes unofficial information and should be treated as this. Editors cannot be held responsible for any errors or omissions caused by any information source mentioned herein. The nature of the following information should be regarded as preliminary.
Furthermore, the author cannot be held accountable for correctness, completeness or quality of the information provided herein. Liability claims regarding damage caused by the use of any information provided, including any kind of information which is incomplete or incorrect,will therefore be rejected.
For further terms and conditions, check our legal disclaimer section:
http://www.jacdec.de/imprint-legal-disclaimer/ 
AP = Airport / AL = Airlines / Avn = Aviation / AW = Airways / C/N: Construction Number / DSP = Domestic Scheduled Passenger / DNP = Domestic Non-Scheduled Passenger / DSC = Domestic Scheduled Cargo / DNC= Domestic Non-Scheduled Cargo / GND = On the ground / parked, stored / FMN= Flying Mission, Air Work / FRY = Ferry-, Positioning Flight / IMC = Intrument Meteorological (flying) Conditions / ISP = International Scheduled Passenger / ISC=International Scheduled Cargo / INP = International Non-Scheduled Passenger / INC =International Non-Scheduled Cargo/ OPS = Flight Operation(s) / NRV = Non-revenue, Private Flight / TRN =Training Flight /  TST = Test & Certification Flight / VMC = Visual Meteorological (flying) Conditions