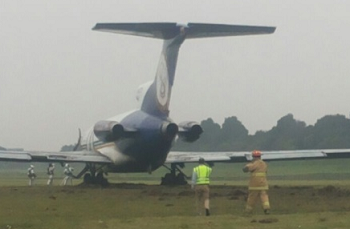 2017-04-10 LA Suramericanas Boeing 727 overran runway at Bogota
After a rejected take-off the aircraft ran beyond the end of the runway coming to a stop on the grass. All four people on board remained unhurt.
UPDATE
The 49 year-old Boeing 727-100F was operating on a cargo flight to Pesco and into its take-off run of runway 13R(ight) when the pilots were forced to abort the take-off, highly probable this occurred at a higher speed.
The pilots were unable to stop the tri-jet before the end of the runway (lengh 3800 m / 12467 ft.) resulting in an overrun.
With considerable speed, the aircraft passed the end of the runway and came to a halt on unpaved, but even ground.
The undercarriage did not fold as it dug into the earth only about 25 cm (10 inches).
The crew of four disembarked without injury.
The reason for the decision to abort the take-off was not disclosed immediately.
METAR: Kaliningrad Airport (UMKK):
| | | |
| --- | --- | --- |
| | 10/04/2017 13:00-> | SKBO 101700Z 26004KT 9999 SCT020 SCT025TCU 20/11 A3030 RMK TCU/S/NW= |
| | 10/04/2017 12:00-> | SKBO 101800Z 24013KT 5000 HZ BKN020TCU 18/13 A3027 RMK TCU/N/S= |
More to come..
---
IMAGES & VIDEO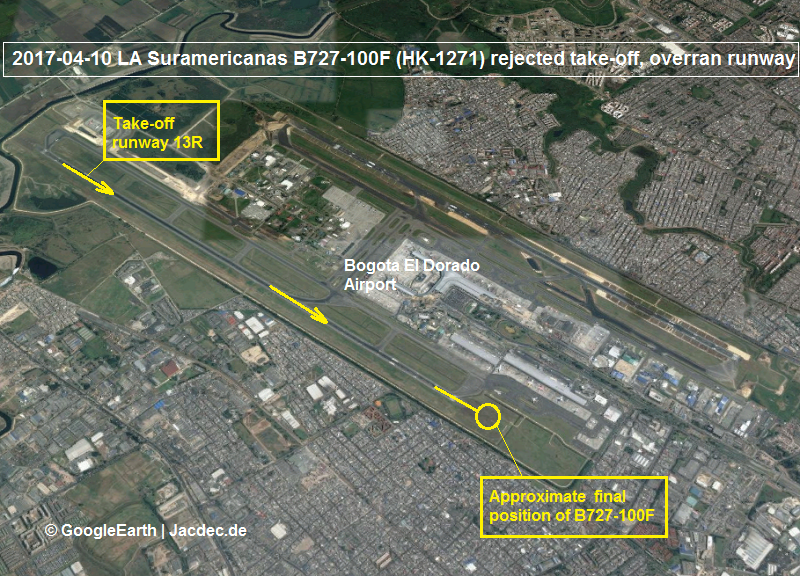 Flightpath (provided by Flightradar24)
Tweet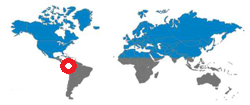 Aircraft
Type: Boeing 727-100F
Registration: HK-1271
Age a/c: 49.8 years
Constr. No.: 19524
| | | | | |
| --- | --- | --- | --- | --- |
| | Crew | Pax | Other | Total |
| Occupants | 4 | 0 | 0 | 4 |
| Fatalities | 0 | 0 | 0 | 0 |
| Injuries |  0 | 0 | 0 | 0 |
OCCURENCE DATASET
Date: 2017-04-10 Time: 12:50
Location: SKBO BOG Bogota-El Dorado Intl Airport
Country: Colombia
Flight phase: TOF – Take-off, Rejected Take-off
Damage to a/c: minor
Flight
Flight no.: –
From: SKBO/BOG: Bogota-El Dorado Intl Airport To: SKPS/PSO: Pasto
Type: Cargo
Operator: Lineas Aereas Suramericanas
JACDEC 25-year Statistics :
5th safety occurence for the operator
42nd safety occurence of type (B721)
33rd safety occurence at Bogota Airport
1st safety occurence for aircraft in question
Image & Information Sources
Copyright - Terms of Usage
All written and shown content on JACDEC.de is provided in the most accurate way. All information may be subject to changes because JACDEC.de cannot always ensure a full support of information updates to each news story.
No publication (or part of) provided by at JACDEC.de may be reproduced or transmitted in any form or by any means or by any information retrieval system without written permission from JACDEC. The below information includes unofficial information and should be treated as this. Editors cannot be held responsible for any errors or omissions caused by any information source mentioned herein. The nature of the following information should be regarded as preliminary.
Furthermore, the author cannot be held accountable for correctness, completeness or quality of the information provided herein. Liability claims regarding damage caused by the use of any information provided, including any kind of information which is incomplete or incorrect,will therefore be rejected.
For further terms and conditions, check our legal disclaimer section:
http://www.jacdec.de/imprint-legal-disclaimer/ 
AP = Airport / AL = Airlines / Avn = Aviation / AW = Airways / C/N: Construction Number / DSP = Domestic Scheduled Passenger / DNP = Domestic Non-Scheduled Passenger / DSC = Domestic Scheduled Cargo / DNC= Domestic Non-Scheduled Cargo / GND = On the ground / parked, stored / FMN= Flying Mission, Air Work / FRY = Ferry-, Positioning Flight / IMC = Intrument Meteorological (flying) Conditions / ISP = International Scheduled Passenger / ISC=International Scheduled Cargo / INP = International Non-Scheduled Passenger / INC =International Non-Scheduled Cargo/ OPS = Flight Operation(s) / NRV = Non-revenue, Private Flight / TRN =Training Flight /  TST = Test & Certification Flight / VMC = Visual Meteorological (flying) Conditions