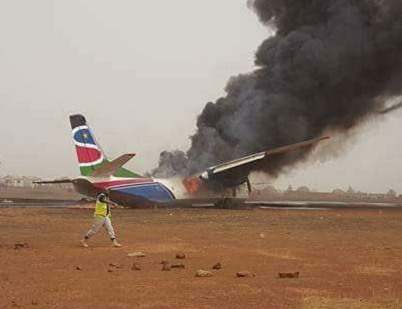 2017-03-20 South Supreme Antonov An-26 crashed on landing at Wau
On landing Wau Airport, South Sudan, the aircraft caught fire and burnt to destruction on the runway. All 45 on board reportedly survived, 18 needed medical treatment.
UPDATE 2017-03-21
Due to still unclear circumstances, the aircraft caught fire after touchdown on runway 27 at Wau Airport after an apparent collapse of its left maingear. The Antonov An-26 came to a standstill within the runway with its left wing on fire.
Evacuation ensued immediately. It appears that all 40 passengers and five crewmembers managed to evacuate to safety.
Local UNMISS (United Nations mission in South Sudan) units as well as airport employees help to evacuate rescuers 
The fire spread and eventually destroyed the aircraft before airport fire services could intervene effectively.
The Wau Governor Andrea Mayar Achor told the press the aircraft collided with a fire truck immediately after  touchdown resulting in the aircraft to catch fire. He was quoted by saying: "There was a fog and the visibility was very poor. So he approached the airport from the direction of the Jur River and shifted to the left to land. During his landing he struck a fire truck." 
According to information by Upper Nile Times and AviationHerald, the accident aircraft was identified as S9-TLZ.
METAR: Wau Airport (WUU, HSWW):
---
IMAGES & VIDEO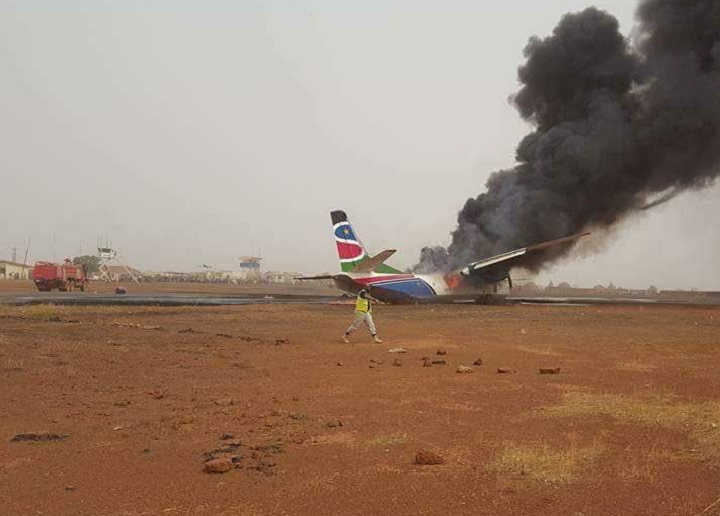 © TheNationalCourier | Twitter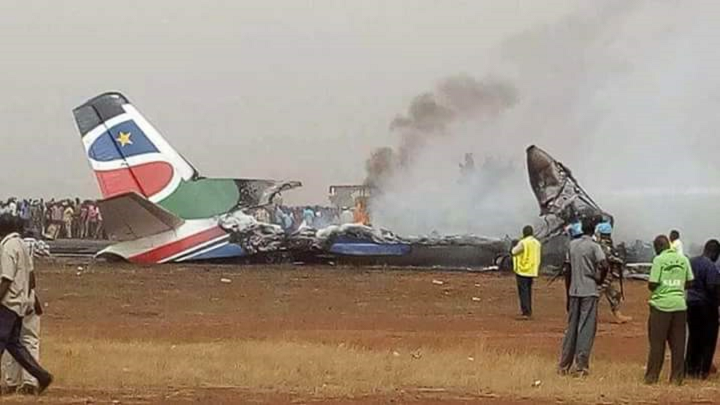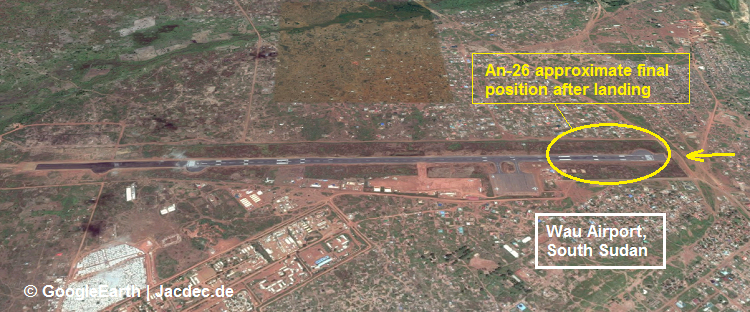 Tweet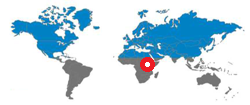 ©
Aircraft
Type: Antonov An-26
Registration: S9-TLZ
Age a/c: 48 years
Constr. No.:
| | | | | |
| --- | --- | --- | --- | --- |
| | Crew | Pax | Other | Total |
| Occupants |  5 | 40 | 0 | 45 |
| Fatalities | 0 | 0 | 0 | 0 |
| Injuries | 0 | 18 | 0 | 18 |
OCCURENCE DATASET
Date: 2017-03-20 Time: 15:40
Location: HSWW WUU Wau
Country: South Sudan
Google Maps: (Insert Link to Google here)
Flight phase: LDG – Flare, Landing Roll, Aborted Landing after Touchdown
Damage to a/c: hull loss
Flight
Flight no.:
From: HSSJ/JUB: Juba Airport To: HSWW/WUU: Wau
Type: Passenger
Operator: South Supreme Airliness
JACDEC 25-year Statistics :
2nd safety occurence for the operator
98th safety occurence of type (AN-26)
5th safety occurence at Wau Airport
XX safety occurence for aircraft in question
Image & Information Sources
Copyright - Terms of Usage
All written and shown content on JACDEC.de is provided in the most accurate way. All information may be subject to changes because JACDEC.de cannot always ensure a full support of information updates to each news story.
No publication (or part of) provided by at JACDEC.de may be reproduced or transmitted in any form or by any means or by any information retrieval system without written permission from JACDEC. The below information includes unofficial information and should be treated as this. Editors cannot be held responsible for any errors or omissions caused by any information source mentioned herein. The nature of the following information should be regarded as preliminary.
Furthermore, the author cannot be held accountable for correctness, completeness or quality of the information provided herein. Liability claims regarding damage caused by the use of any information provided, including any kind of information which is incomplete or incorrect,will therefore be rejected.
For further terms and conditions, check our legal disclaimer section:
http://www.jacdec.de/imprint-legal-disclaimer/ 
AP = Airport / AL = Airlines / Avn = Aviation / AW = Airways / C/N: Construction Number / DSP = Domestic Scheduled Passenger / DNP = Domestic Non-Scheduled Passenger / DSC = Domestic Scheduled Cargo / DNC= Domestic Non-Scheduled Cargo / GND = On the ground / parked, stored / FMN= Flying Mission, Air Work / FRY = Ferry-, Positioning Flight / IMC = Intrument Meteorological (flying) Conditions / ISP = International Scheduled Passenger / ISC=International Scheduled Cargo / INP = International Non-Scheduled Passenger / INC =International Non-Scheduled Cargo/ OPS = Flight Operation(s) / NRV = Non-revenue, Private Flight / TRN =Training Flight /  TST = Test & Certification Flight / VMC = Visual Meteorological (flying) Conditions