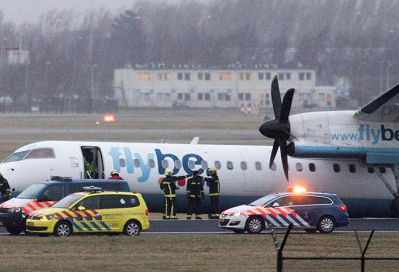 2017-02-23 FlyBe DHC-8-400 gear collapse at Amsterdam
On landing in strong winds, the right maingear collapsed resulting in substantial damage. All 59 on board remained unhurt.
UPDATE 2017-02-23
FlyBe flight BE 1284 from Edinburgh, Scotland, UK was approaching runway 22 at Amsterdam Schiphol Airport in very windy conditions. At the time a frontal system was crossing the UK towards mainland Europe and winds were blowing in the direction of 240 degrees with a velocity of 31 knots in gusts up to 46 knots.
After a firm but apparently normal touchdown, the right maingear suddenly gave way until the right propeller blades contacted the asphalt and the right wing and engine nacelle settled on the runway.
Despite a drift to the right, the pilots managed to remain on the runway.
After declaring Mayday, the passengers were evacuated onto the runway.
All passengers and crewmembers escaped with no more than scare, the aircraft received substantial damage.
Runway 22 was closed for a longer time.
---
METAR: Amsterdam Schiphol Airport (EHAM):
23/02/2017 15:55->

METAR EHAM 231555Z 24031G46KT 210V270 9999 -RA FEW020 SCT028
           BKN037 08/04 Q0985 TEMPO 7000 BKN020=

23/02/2017 16:25->

METAR EHAM 231625Z 24032G45KT 210V270 9999 -RA FEW020 BKN045
           08/04 Q0985 NOSIG=
---
IMAGES & VIDEO
Post Accident ATC Recording: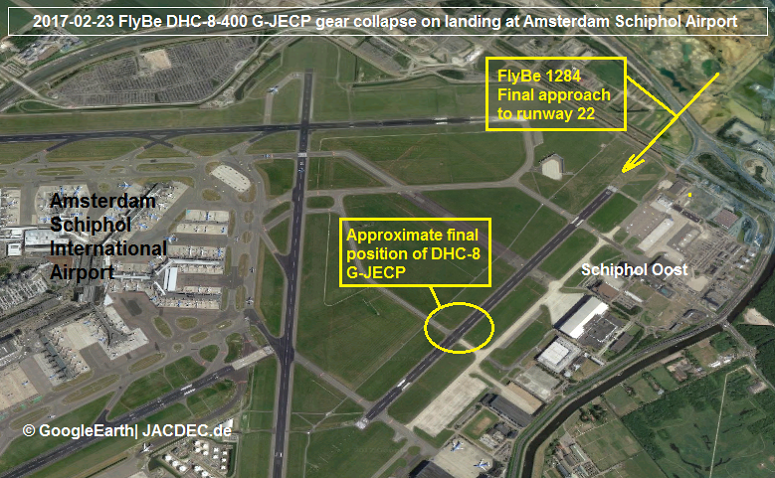 Flightpath (provided by Flightradar24)
Tweet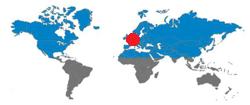 Aircraft
Type: Bombardier DHC-8-400
Registration: G-JECP
Age a/c: 10.5 years
Constr. No.: 4136
| | | | | |
| --- | --- | --- | --- | --- |
| | Crew | Pax | Other | Total |
| Occupants | | | 0 | 59 |
| Fatalities | 0 | 0 | 0 | 0 |
| Injuries |  0 | 0 | 0 | 0 |
OCCURENCE DATASET
Date: 2017-02-23 Time: 16:55
Location: EHAM AMS Amsterdam-Schiphol Intl Airport
Country: Netherlands
Flight phase: LDG – Flare, Landing Roll, Aborted Landing after Touchdown
Damage to a/c: substantial
Flight
Flight no.: BE 1284
From: EGPH/EDI: Edinburgh To: EHAM/AMS: Amsterdam-Schiphol Intl Airport
Type: Passenger
Operator: Flybe
JACDEC 25-year Statistics :
24th safety occurence for the operator
110th safety occurence of type (DHC84)
72nd safety occurence at Amsterdam Airport
1st safety occurence for aircraft in question
Image & Information Sources
Copyright - Terms of Usage
All written and shown content on JACDEC.de is provided in the most accurate way. All information may be subject to changes because JACDEC.de cannot always ensure a full support of information updates to each news story.
No publication (or part of) provided by at JACDEC.de may be reproduced or transmitted in any form or by any means or by any information retrieval system without written permission from JACDEC. The below information includes unofficial information and should be treated as this. Editors cannot be held responsible for any errors or omissions caused by any information source mentioned herein. The nature of the following information should be regarded as preliminary.
Furthermore, the author cannot be held accountable for correctness, completeness or quality of the information provided herein. Liability claims regarding damage caused by the use of any information provided, including any kind of information which is incomplete or incorrect,will therefore be rejected.
For further terms and conditions, check our legal disclaimer section:
http://www.jacdec.de/imprint-legal-disclaimer/ 
AP = Airport / AL = Airlines / Avn = Aviation / AW = Airways / C/N: Construction Number / DSP = Domestic Scheduled Passenger / DNP = Domestic Non-Scheduled Passenger / DSC = Domestic Scheduled Cargo / DNC= Domestic Non-Scheduled Cargo / GND = On the ground / parked, stored / FMN= Flying Mission, Air Work / FRY = Ferry-, Positioning Flight / IMC = Intrument Meteorological (flying) Conditions / ISP = International Scheduled Passenger / ISC=International Scheduled Cargo / INP = International Non-Scheduled Passenger / INC =International Non-Scheduled Cargo/ OPS = Flight Operation(s) / NRV = Non-revenue, Private Flight / TRN =Training Flight /  TST = Test & Certification Flight / VMC = Visual Meteorological (flying) Conditions