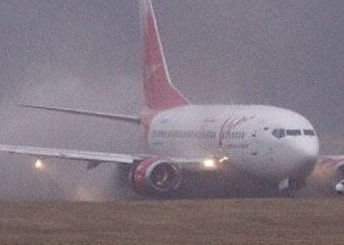 VIM Airlines Boeing 737-500 ran off runway at Riga Airport
After an aborted take-off at Riga, the Boeing 737 failed to stop within the length of the runway. It ended in mud. No one was injured.
UPDATE
VIM Airlines charter flight NN 9945 was about to bring the russian ice hockey team of Lada Tolyatti to its next game, and was cleared for take-off from runway 18.
At a point very early in the take-off run, when engines where about to spool-up, the aircraft began to drift sideways, yawing to the right side. The pilots eventually lost directional control until the 737 departed paved surface and rolled over soft ground. Its engines in reverse, it collided with a number of runway signs a lot of earth was blown away until the pilots were able to steer back onto the runway where it came to a safe stop.
None of the 47 on board was hurt.
The aircraft received visible damage to its left engine nacelle and took large dent to its left wing leading edge.
An eyewitness suggested the right hand engine experienced a technical failure.
At the time it was raining with low ceiling and visibility was reduced to about 5 km.
Riga Airport closed for all traffic for about 2 hours.
METAR: Riga Airport (EVRA):
17/02/2017 11:50->

METAR EVRA 171050Z 24007KT 210V270 7000 -RA OVC004 04/04
           Q1011 R18/290195 NOSIG=

17/02/2017 12:20->

METAR EVRA 171120Z 24006KT 210V280 9000 -RA OVC004 04/04
           Q1011 R18/290195 NOSIG=
More to come..
---
IMAGES & VIDEO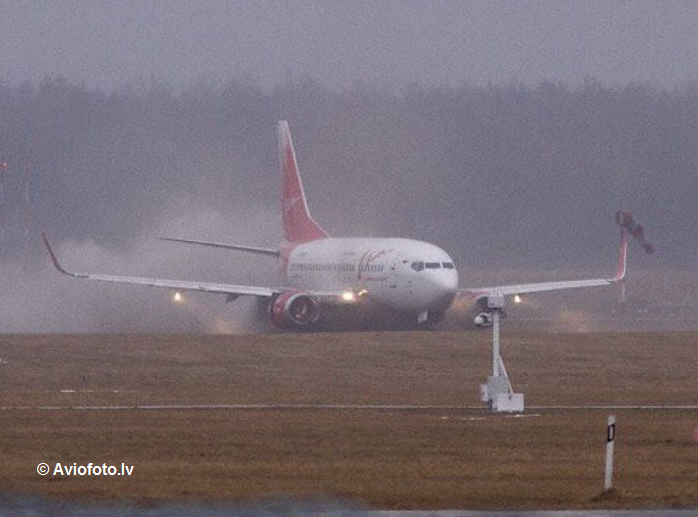 The minute after the incident @ Riga Airport.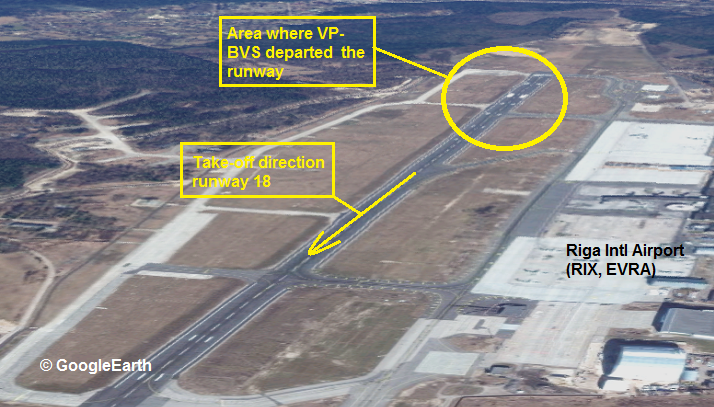 Tweet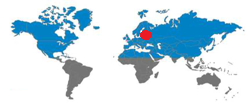 Aircraft
Type: Boeing 737-500
Registration: VP-BVS
Age a/c: 19.1 years
Constr. No.: 28915
| | | | | |
| --- | --- | --- | --- | --- |
| | Crew | Pax | Other | Total |
| Occupants |  7 | 40 | 0 | 47 |
| Fatalities | 0 | 0 | 0 | 0 |
| Injuries |  0 | 0 | 0 | 0 |
OCCURENCE DATASET
Date: 2017-02-17 Time: 12:00
Location: EVRA RIX Riga Airport
Country: Latvia
Flight phase: TOF – Take-off, Rejected Take-off
Damage to a/c: minor
Flight
Flight no.: NN 9945
From: EVRA/RIX: Riga Airport To: UWUU/UFA: Ufa
Type: Passenger
Operator: VIM Airlines
JACDEC 25-year Statistics :
2nd safety occurence for the operator
73rd safety occurence of type (B735)
11th safety occurence at Riga Airport
1st safety occurence for aircraft in question
Image & Information Sources
Copyright - Terms of Usage
All written and shown content on JACDEC.de is provided in the most accurate way. All information may be subject to changes because JACDEC.de cannot always ensure a full support of information updates to each news story.
No publication (or part of) provided by at JACDEC.de may be reproduced or transmitted in any form or by any means or by any information retrieval system without written permission from JACDEC. The below information includes unofficial information and should be treated as this. Editors cannot be held responsible for any errors or omissions caused by any information source mentioned herein. The nature of the following information should be regarded as preliminary.
Furthermore, the author cannot be held accountable for correctness, completeness or quality of the information provided herein. Liability claims regarding damage caused by the use of any information provided, including any kind of information which is incomplete or incorrect,will therefore be rejected.
For further terms and conditions, check our legal disclaimer section:
http://www.jacdec.de/imprint-legal-disclaimer/ 
AP = Airport / AL = Airlines / Avn = Aviation / AW = Airways / C/N: Construction Number / DSP = Domestic Scheduled Passenger / DNP = Domestic Non-Scheduled Passenger / DSC = Domestic Scheduled Cargo / DNC= Domestic Non-Scheduled Cargo / GND = On the ground / parked, stored / FMN= Flying Mission, Air Work / FRY = Ferry-, Positioning Flight / IMC = Intrument Meteorological (flying) Conditions / ISP = International Scheduled Passenger / ISC=International Scheduled Cargo / INP = International Non-Scheduled Passenger / INC =International Non-Scheduled Cargo/ OPS = Flight Operation(s) / NRV = Non-revenue, Private Flight / TRN =Training Flight /  TST = Test & Certification Flight / VMC = Visual Meteorological (flying) Conditions