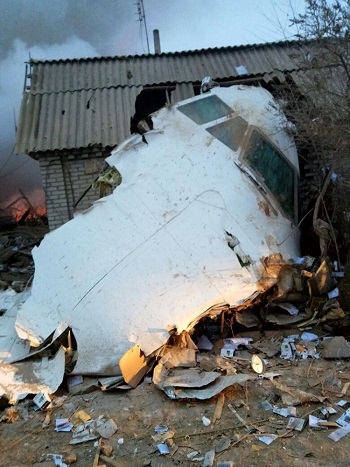 2017-01-16 MyCargo / THY Boeing 747-400F crashed near Bishkek
On landing to Bishkek in reduced visibility conditions, the aircraft  impacted ground outside the airport where it crashed killing all four occupants and at least 34 persons in a nearby village.
UPDATE 2017-03-24
Preliminary Report Released by Russian MAK [Download Report (pdf)]
The Boeing 747 cargo aircraft took off from Hong Kong Chek Lap Kok Intl Airport at 04:11L for a scheduled cargo flight on behalf of Turkish Airlines Cargo. The payload consisted of 85,6 tons of general cargo. (Total cargo capacity of the aircraft in question was 116,4 tons). Flight TK 6491 was due to fly to Bishkek, Kyrgyzstan to make a scheduled en-route stop before continue its journey to the ultimate destination at Istanbul Atatuerk Intl Airport, Turkey.
When the Boeing 747 approach runway 26 at Bishkek-Manas Intl Airport in dawning conditions, but local visibility was reduced to less than half a mile in freezing for with temperatures at minus 9 degrees ° C (dewpoint minus 10 °C). CAT II ILS operations were in effect at the time.
According to unconfirmed media reports the cargo jet ran off the end of the runway until it ran into the village of Dacha-Suu (Chui district) where it demolished a number of homes breaking apart on impact. A total of 17 houses are known to have been destroyed another 43 were damaged. The remains of the 747 came to rest about 1,5 Km from he end of the runway.
According to a release by the Ministry of Transport, the pilots initiated a go-around maneuver at low level but failed to gain sufficient height until it impacted the airport fence about 900 meters beyond the end of the runway where it broke apart and crashed in flames.
All four crewmembers perished, additionally there were 31 fatalities on the ground as well.
The pilot-in-command logged a total of 10,821 flying hours, 833 of them on the Boeing 747. The first officer (co-pilot) logged a total of 5,910 hours, 1,771 hours on the 747. 
It was the 3rd landing of both pilots at Bishkek. One of the data recorders has been found and was retrieved.
The Kyrgyz Interstate Aviation Committee has commenced an investigation into the accident.
Leaked information from inside an investigating party showed the aircraft was 650 feet above the glideslope when passing the initial approach fix. The 747 kept flying well above the glideslope without capturing the it. At about 0.8 DME short of the runway threshold the 747 flew into a "false" glideslope indication of 9 degrees. (normally 3 degrees). The glideslope was captured momentarily and the descend was continued but the aircraft remained above the glidepath, while the pilots failed to realize their situation until at an altitude (above ground) of 100 ft. the captain ordered a go-around, but eventually concated ground 900 meters behind the runway and broke apart.
Kyrgyz Aviation Committee (CAA): Preliminary Statement
On Jan 16th the turkish air-operator ACT Airlines (brand name: MyCargo) informed the press as follows:
The TC-MCL registered, BOEING 747-400 typed aircraft owned by our company, was on her route from HONG KONG to BISHKEK when it crashed over Kyrgyz airspace approaching BISHKEK-Manas Airport on January 16, 2017 at 1:20 GMT time (4:20 am Turkish time)
We are very sorry to announce that Captain Pilot Ibrahim Gürcan DIRANCI, Co-Pilot Kazim ÖNDÜL, Load Master Melih ASLAN and Flight Technician Ihsan KOCA passed away in this sad incident. Due to the fact that the aircraft crashed into the edge of a residential area, 33 civil people passed away along our 4 crew members, according to the first information we received. We want to express our deepest thoughts and condolences to the families of our crew members and the Kyrgyz people.
There is no clear and confirmed information about the reasons for the incident yet. Our Company has commissioned two captain pilots at Manas Airport to investigate the accident together with authorities. Furthermore, our technic staff is on their way to the site. Also the investigation has started by both, Kyrgyz and Turkish Ministries of Transport and Communication and the General Directorate of Civil Aviation.
We are in constant contact with the Ministry of Transport and General Directorate of Civil Aviation, Turkish Embassy in Bishkek-Kyrgyzstan, Airport Authority and Kyrgyzstan Civil Aviation Authority. Clear and confirmed information about the accident will be shared with the public when available.
The flight with the cargo from Hong Kong to Bishkek-Istanbul was airborne as planned, after all the checks were carried out, and was on her way approaching Bishkek Airport without encountering any setback or problems during the flight.
The crew rested for 69 hours in Hong Kong before the related flight and checked out for the flight to complete the 6-hour flight from Hong Kong to Bishkek. The airplane was lifted with a planned total of 85,618 kg "general cargo" load safely. There are no faults recorded in the technical log book of the aircraft.
The crashed aircraft is a B747-400 freighter, manufactured in 2003 and with a cargo capacity of 116.462 kg. As of December 10, 2015, she was in the fleet of ACT Airlines. Maintenance of the related aircraft was carried on in timely manner and according to the aviation standards like the other aircrafts in our fleet.
Our team which we lost were experienced and specialised flight crew that has carried out their professions with great success for many years. Captain İbrahim Gürcan DİRANCI and First Officer Kazım ÖNDÜL are ex-military pilots who have represented Turkish Air Force for many years abroad. Our Captain has a total of 10,821 flight hours of which 833 hours are on B744. Our First Officer has a total of 5910 flight hours of which 1771 hours are on B744.
Our Load Master Melih ASLAN from the flight crew has been working in our Company since 2007 with vocational training and competence of total of 14 years of Load Master experience. Our Flight Technician Ihsan KOCA has served as a technician in the Turkish Air Forces for many years and has been serving in our Company since 2006.
According to the first findings, it is understood that the reason of the related accident is not caused by technical reasons or loading related factors. The actual reason of the accident will be shared with the public after the inspection of aircraft and the place where the accident happened.
All losses including life and property occurred in the accident is under coverage of insurance.
Because of the accident, as ACT Airlines, once again we condole with the mourning people that lost their relatives, Kyrgyz people and Turkish Civil Aviation; and we sincerely share their grief.
A review of the ADS-B (transponder based real-time telemetry of the flight) data suggests the assumption that the aiccident aircraft was way above glidepath. It overflew the entire runway in a shallow descent until the pilots initiated a go-around when realizing they were not properly positioned for a safe landing. At this time the 747 had passed the end of the runway. About 10 seconds before the crash data showed the 747 in a steep climb when simultaneously its speed dropped sharply until it plummeted to the ground again. 
Full press statement ACT Airlines –> [LINK1] [LINK2]
---
METAR: Bishkek-Manas Intl Airport (UCFM):
16/01/2017 07:00->

METAR UCFM 160100Z VRB01MPS 0050 R26/0300N FZFG VV001 M09/M10
           Q1023 R26/19//60 NOSIG=

16/01/2017 07:30->

METAR UCFM 160130Z VRB01MPS 0150 R26/0550 FZFG VV001 M09/M10
           Q1024 R26/19//60 NOSIG=
---
IMAGES & VIDEO

© Caa.kg | MAK Interstate Aviation Committee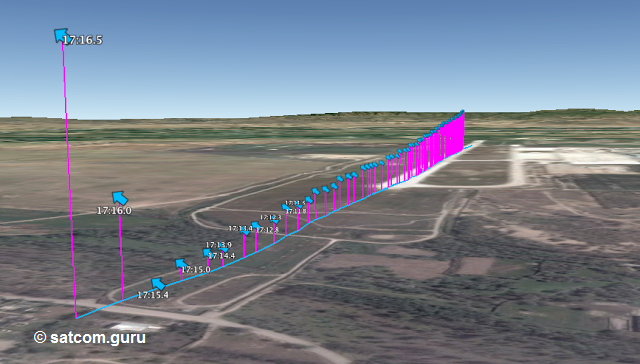 Plotted flightpath according to ADS-B data © Satcom.guru

The affected area are shown in pink where TC-MCL has hit homes, masts and trees causing massive destruction.

© M Ameen

© ZANOZA KG
Flightpath (provided by Flightradar24)
Tweet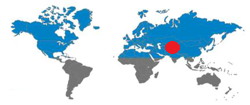 Aircraft
Type: Boeing 747-400F
Registration: TC-MCL
Age a/c: 14.0 years
Constr. No.: 32897
Former Operators: FEB 2003 Singapore Airlines Cargo, DEC 2015 ACT Cargo | MyCargo
| | | | | |
| --- | --- | --- | --- | --- |
| | Crew | Pax | Other | Total |
| Occupants | 4 | 0 | 0 | 4 |
| Fatalities | 4 | 0 | 31 | 35 |
| Injuries |  0 | 0 | 10 | 10 |
OCCURENCE DATASET
Date: 2017-01-16 Time: 07:17
Location: UCFM FRU Bishkek Manas area
Country: Kyrgyzstan
Flight phase: APR – Initial Approach (IFR), Final Approach, all Circuit Patterns, Missed Approach/Go-Around
Damage to a/c: hull loss
Flight
Flight no.: TK 6491
From: VHHH/HKG: Hong Kong-Chek Lap Kok Intl Airport To: UCFM/FRU: Bishkek Manas
Type: Cargo
Operator: THY Turkish Airlines Cargo
Leased from: MyCargo Airlines
JACDEC 25-year Statistics :
2nd safety occurence (hull loss) for the operator
– 2010-03-01 A300F TC-ACB lost in landing accident at Bagram, Afgh.
244th safety occurence of type (B744)
6th safety occurence at Bishkek Airport
1st safety occurence for aircraft in question
Image & Information Sources
Copyright - Terms of Usage
All written and shown content on JACDEC.de is provided in the most accurate way. All information may be subject to changes because JACDEC.de cannot always ensure a full support of information updates to each news story.
No publication (or part of) provided by at JACDEC.de may be reproduced or transmitted in any form or by any means or by any information retrieval system without written permission from JACDEC. The below information includes unofficial information and should be treated as this. Editors cannot be held responsible for any errors or omissions caused by any information source mentioned herein. The nature of the following information should be regarded as preliminary.
Furthermore, the author cannot be held accountable for correctness, completeness or quality of the information provided herein. Liability claims regarding damage caused by the use of any information provided, including any kind of information which is incomplete or incorrect,will therefore be rejected.
For further terms and conditions, check our legal disclaimer section:
http://www.jacdec.de/imprint-legal-disclaimer/ 
AP = Airport / AL = Airlines / Avn = Aviation / AW = Airways / C/N: Construction Number / DSP = Domestic Scheduled Passenger / DNP = Domestic Non-Scheduled Passenger / DSC = Domestic Scheduled Cargo / DNC= Domestic Non-Scheduled Cargo / GND = On the ground / parked, stored / FMN= Flying Mission, Air Work / FRY = Ferry-, Positioning Flight / IMC = Intrument Meteorological (flying) Conditions / ISP = International Scheduled Passenger / ISC=International Scheduled Cargo / INP = International Non-Scheduled Passenger / INC =International Non-Scheduled Cargo/ OPS = Flight Operation(s) / NRV = Non-revenue, Private Flight / TRN =Training Flight /  TST = Test & Certification Flight / VMC = Visual Meteorological (flying) Conditions