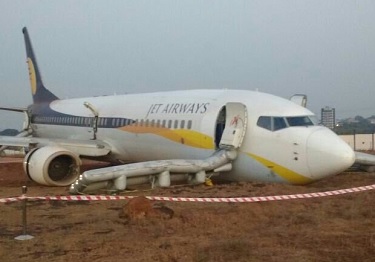 2016-12-27 Jet Airways 737-800 off runway at Goa
The 737 ran off the side of the runway during take-off at Goa Intl Airport, India. 15 passengers sustained minor injuries.
UPDATE
Jet Airways Flight 9W 2374 was doing a backtrack maneuver cleared for take-off from runway 26 at Goa International Airport (GOI, VAGO) at 05:03L in the morning.  Before the pilots can commence their take-off run a 180 degree turn at the end of the runway was necessary to make use of the full length of the runway. (3,430 Meters)
However, after the tune, when engines where spooling up the aircraft drifted sharply to the right departing paved runway after a few meters. Directional control was eventually lost and the 737 ran over soft ground just north of the runway until it came to a stop 200 meters further with all gear apparently collapsed.
Among the 161 occupants, about 15 sustained non life-threatening injuries.
According to images at the accident location, the forward fuselage took massive damage from an unidentified object before it came to rest making it unlikely the aircraft will repaired again.
Unofficial reports indicate that when both engines spooled-up to 74 % thrust and the 737 began to accelerate, the right engine (CFM56-7B26) thrust reverser deployed forcing the aircraft along its vertical axis to the right. The pilots were unable to counteract and they immediately lost directional control.
---
IMAGES & VIDEOS
Tweet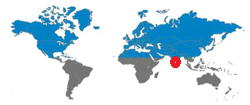 Aircraft
Type: Boeing 737-800
Registration: VT-JBG
Age a/c: 8.8 years
Constr. No.: 35083
| | | | | |
| --- | --- | --- | --- | --- |
| | Crew | Pax | Other | Total |
| Occupants | 7 | 154 | 0 | 161 |
| Fatalities | 0 | 0 | 0 | 0 |
| Injuries | | | 0 | 15 |
OCCURENCE DATASET
Date: 2016-12-27 Time: 05:03
Location: VOGO GOI Goa Dabolim Airport
Country: India
Flight phase: TOF – Take-off, Rejected Take-off
Damage to a/c: substantial
Flight
Flight no.: 9W 2374
From: VAGO/GOI: Goa Navy To: VABB/BOM: Mumbai-Intl Airport
Type: Passenger
Operator: Jet Airways
JACDEC 25-year Statistics :
24th safety occurence for the operator
442nd safety occurence of type (B737-800)
5th safety occurence at Goa Airport
1st safety occurence for aircraft in question
Image & Information Sources
Copyright - Terms of Usage
All written and shown content on JACDEC.de is provided in the most accurate way. All information may be subject to changes because JACDEC.de cannot always ensure a full support of information updates to each news story.
No publication (or part of) provided by at JACDEC.de may be reproduced or transmitted in any form or by any means or by any information retrieval system without written permission from JACDEC. The below information includes unofficial information and should be treated as this. Editors cannot be held responsible for any errors or omissions caused by any information source mentioned herein. The nature of the following information should be regarded as preliminary.
Furthermore, the author cannot be held accountable for correctness, completeness or quality of the information provided herein. Liability claims regarding damage caused by the use of any information provided, including any kind of information which is incomplete or incorrect,will therefore be rejected.
For further terms and conditions, check our legal disclaimer section:
http://www.jacdec.de/imprint-legal-disclaimer/ 
AP = Airport / AL = Airlines / Avn = Aviation / AW = Airways / C/N: Construction Number / DSP = Domestic Scheduled Passenger / DNP = Domestic Non-Scheduled Passenger / DSC = Domestic Scheduled Cargo / DNC= Domestic Non-Scheduled Cargo / GND = On the ground / parked, stored / FMN= Flying Mission, Air Work / FRY = Ferry-, Positioning Flight / IMC = Intrument Meteorological (flying) Conditions / ISP = International Scheduled Passenger / ISC=International Scheduled Cargo / INP = International Non-Scheduled Passenger / INC =International Non-Scheduled Cargo/ OPS = Flight Operation(s) / NRV = Non-revenue, Private Flight / TRN =Training Flight /  TST = Test & Certification Flight / VMC = Visual Meteorological (flying) Conditions