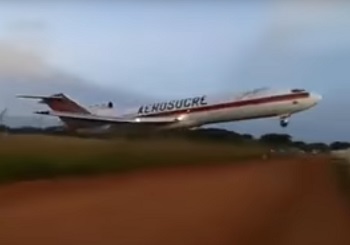 2016-12-20 Aerosucre Boeing 727-200F crashed near Puerto Carreno
After getting airborne past the end of the runway, the 727 failed to gain height until control was lost and the it crashed about minute later leaving 5 crewmembers dead.
UPDATE
Aerosucre cargo flight was taking off from runway 25 at the airport of Puerto Carreno  (PCR, SKPC) in Colombia's Vichada Department at 17:23L. Runway lengh was 1800 meters (5900 Feet). It was dusk at the time and local weather was good. The visibility was more than 10 miles and the winds were calm.
Due to circumstances unknown, the triple-engined aircraft failed to get off the ground within the lengh of the runway. Observers near the airport made-out the aircraft in a nose-high attitude when it crosses the end of paved ground.
The 727 barely lifted off the ground when it ran across a field until it impacted the airport perimeter fence. At this time, the right inner flap detached or ripped off the wing structure resulting in a steady right wing down attitude. The 727 stayed airborne apparently by ground effect literally unable to gain further height.
A few miles south of the airport, another group of people spotted the aircraft when it was entering a right hand turn. According to their video footage, the 727 in a right hand bank was trailing a vapourized fluid coming from the outer ends of its wings. The 727 appeared to perform at low-level 180-degree turn but lost height and impacted flat terrain approximately 8 km away from the airport.
The aircraft exploded on impact in a huge fireball and was blown into many pieces.
Only one of six crewmembers is known to have survived although he is in critical condition.
Offical announcement of Colombian Avation Authority: [LINK]
---
The final moments of HK-4544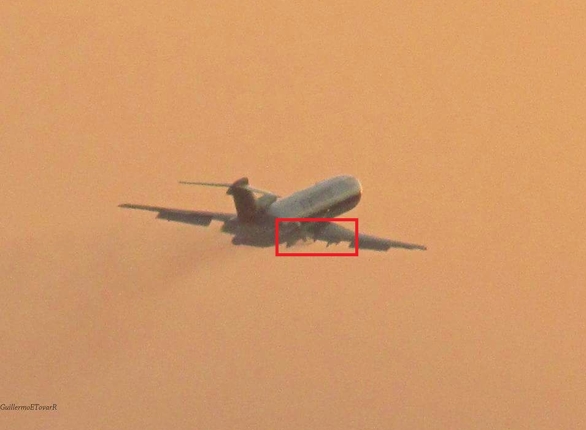 © Guillermo E Tovar R | Rescate  Right inboard flap missing on climb-out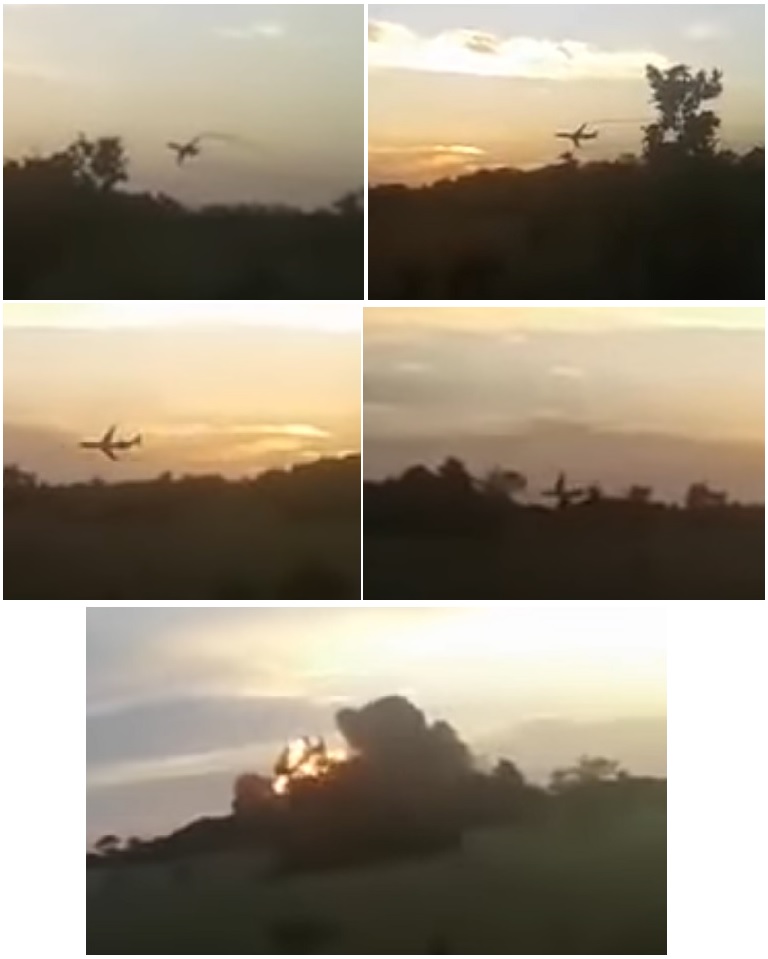 © Caps taken from LaJornada | YouTube
---


© GoogleEarth
---
The accident aircraft (HK-4544, Boeing 727) doing a "normal" last second take-off from Puerto Carreno.
(Note: this not the accident itself).
---
Tweet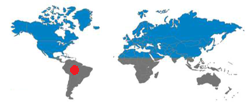 Aircraft
Type: Boeing 727-200F
Registration: HK-4544
Age a/c: 41.3 years
Constr. No.: 21105
Previous Operators: Air Jamaica (1975), Kitty Hawk Cargo (1997), Aerosucre
| | | | | |
| --- | --- | --- | --- | --- |
| | Crew | Pax | Other | Total |
| Occupants | 6 | 0 | 0 | 6 |
| Fatalities | 5 | 0 | 0 | 5 |
| Survivors | 1 | 0 | 0 | 1 |
OCCURENCE DATASET
Date: 2016-12-20 Time: 17:23
Location: SKPC PCR Puerto Carreno area
Country: Colombia
Flight phase: ICL – Airborne – 1.000 ft AGL
Damage to a/c: hull loss
Flight
Flight no.:
From: SKPC/PCR: Puerto Carreno To: SKBO/BOG: Bogota-El Dorado Intl Airport
Type: Cargo
Operator: Aerosucre Colombia
JACDEC 25-year Statistics :
13th safety occurence for the operator
– 3rd Hull Loss accident (last 2006)
63rd Hull Loss of type (B727)
1st safety occurence at P. Carreno Airport
1st safety occurence for aircraft in question
Image & Information Sources
Copyright - Terms of Usage
All written and shown content on JACDEC.de is provided in the most accurate way. All information may be subject to changes because JACDEC.de cannot always ensure a full support of information updates to each news story.
No publication (or part of) provided by at JACDEC.de may be reproduced or transmitted in any form or by any means or by any information retrieval system without written permission from JACDEC. The below information includes unofficial information and should be treated as this. Editors cannot be held responsible for any errors or omissions caused by any information source mentioned herein. The nature of the following information should be regarded as preliminary.
Furthermore, the author cannot be held accountable for correctness, completeness or quality of the information provided herein. Liability claims regarding damage caused by the use of any information provided, including any kind of information which is incomplete or incorrect,will therefore be rejected.
For further terms and conditions, check our legal disclaimer section:
http://www.jacdec.de/imprint-legal-disclaimer/ 
AP = Airport / AL = Airlines / Avn = Aviation / AW = Airways / C/N: Construction Number / DSP = Domestic Scheduled Passenger / DNP = Domestic Non-Scheduled Passenger / DSC = Domestic Scheduled Cargo / DNC= Domestic Non-Scheduled Cargo / GND = On the ground / parked, stored / FMN= Flying Mission, Air Work / FRY = Ferry-, Positioning Flight / IMC = Intrument Meteorological (flying) Conditions / ISP = International Scheduled Passenger / ISC=International Scheduled Cargo / INP = International Non-Scheduled Passenger / INC =International Non-Scheduled Cargo/ OPS = Flight Operation(s) / NRV = Non-revenue, Private Flight / TRN =Training Flight /  TST = Test & Certification Flight / VMC = Visual Meteorological (flying) Conditions