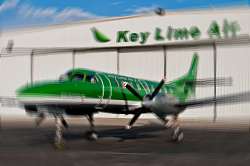 2016-12-05 Key Lime Air Metroliner crashed near Camilla, GA
The cargo aircraft was in its descent to Albany, GA when it disappeared from radar and crashed killing the pilots, its sole occupant.
UPDATE
Key Lime air cargo flight KG 308 took off from Panama City, FL airport (ECP, KECP) at 20:54L on a regular cargo flight to Albany, Georgia (ABY, KABY) with only the pilot on board.
The aircraft flew on a northeasterly heading maintaining its en-route altitude of 7,000 ft and made a normal climb-out to its assigned en-route altitude. Its scheduled time of arrival was 22:37 (Eastern Time, local). 
When descent was initiated at around 22:15L bad weather was in the area with local thunderstorm activity accompanied by intense rainfall and strong wings. It is unclear weather the flight was exposed to any adverse weather conditions. Abeam the town of Camilla, GA the radar track made a sharp turn to until all tracking data was lost when the Metroliner was flying near 3,600 ft indicating a speed of 262 knots. 
It is understood the aircraft went down in an open field near Mt. Zion Road about 3 NM east of Camilla, GA close to a private home but outside any urban area. The pilot did not survive the accident.
The wreckage caught fire and burned completely.  The NTSB has launched an investigation.
METAR: Albany-SW Georgia Airport (ABY, KABY):
| | | |
| --- | --- | --- |
| | 06/12/2016 23:00 -> | KABY 060301Z AUTO 06006KT 1SM +RA BR FEW005 OVC019 16/16 A2984 RMK AO2 LTG DSNT SW AND W P0017 T01560156 |
| | | |
Tweet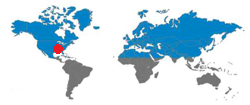 Aircraft
Type: Swearingen Metroliner III
Registration: N765FA
Age a/c: 26.1 years
Constr. No.: 765
| | | | | |
| --- | --- | --- | --- | --- |
| | Crew | Pax | Other | Total |
| Occupants | 1 | 0 | 0 | 1 |
| Fatalities | 1 | 0 | 0 | 1 |
| Injuries |  0 | 0 | 0 | 0 |
OCCURENCE DATASET
Date: 2016-12-05 Time: 22:25
Location: No of Pelham, GA
Country: United States of America
Flight phase: ENR3 – Descent IFR Descent from cruise to Initial Approach Fix (IAF) or VFR pattern entry.
Damage to a/c: hull loss
Flight
Flight no.: KG 308
From: KPFN/: Panama City Bay Co Intl To: KABY/ABY: Southwest Georgia Albany
Type: Cargo
Operator: Key Lime Air
JACDEC 25-year Statistics :
6th safety occurence for the operator
163rd safety occurence of type (Metroliner)
87nd fatal accident in USA
1st safety occurence for aircraft in question
Image & Information Sources
Copyright - Terms of Usage
All written and shown content on JACDEC.de is provided in the most accurate way. All information may be subject to changes because JACDEC.de cannot always ensure a full support of information updates to each news story.
No publication (or part of) provided by at JACDEC.de may be reproduced or transmitted in any form or by any means or by any information retrieval system without written permission from JACDEC. The below information includes unofficial information and should be treated as this. Editors cannot be held responsible for any errors or omissions caused by any information source mentioned herein. The nature of the following information should be regarded as preliminary.
Furthermore, the author cannot be held accountable for correctness, completeness or quality of the information provided herein. Liability claims regarding damage caused by the use of any information provided, including any kind of information which is incomplete or incorrect,will therefore be rejected.
For further terms and conditions, check our legal disclaimer section:
http://www.jacdec.de/imprint-legal-disclaimer/ 
AP = Airport / AL = Airlines / Avn = Aviation / AW = Airways / C/N: Construction Number / DSP = Domestic Scheduled Passenger / DNP = Domestic Non-Scheduled Passenger / DSC = Domestic Scheduled Cargo / DNC= Domestic Non-Scheduled Cargo / GND = On the ground / parked, stored / FMN= Flying Mission, Air Work / FRY = Ferry-, Positioning Flight / IMC = Intrument Meteorological (flying) Conditions / ISP = International Scheduled Passenger / ISC=International Scheduled Cargo / INP = International Non-Scheduled Passenger / INC =International Non-Scheduled Cargo/ OPS = Flight Operation(s) / NRV = Non-revenue, Private Flight / TRN =Training Flight /  TST = Test & Certification Flight / VMC = Visual Meteorological (flying) Conditions