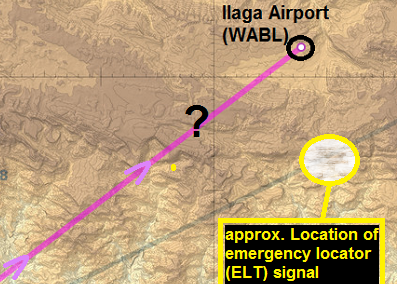 2016-10-31 Trigana DHC-4 Caribou missing in Papua Province
The cargo aircraft went missing with four people aboard a short cargo flight and crashed on the side of a mountain in remote Papua Province, Indonesia. There were no survivors.
UPDATE 2016-12-04
Indonesian Investigation Authority NTSC published the Preliminary Report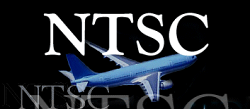 Download NTSB Preliminary Report (pdf)

© NTSC
---
The 1972 built Caribou was operating a cargo flight for the regional government of Puncak, operated by Trigana Air Services. It took off from Timika Airport at 07:57L for Ilaga where it was due to land at 08:22L.
Straight distance between both airports is 56 nautical miles, equivalent to approximately 25 minutes flying time.
The aircraft was laden with contruction materials and a cement mixer carrying a total weight of 3,1 tons.
At 08:23L the pilots of PK-SWW established first contact with Ilaga tower predicting their arrival at 08:27L. 
At 08:30L Ilaga Tower controller contacted PK-SWW but never got an answer. Other aircraft in the area were ask to contact the flight, but also to no avail.
At 09:20L ALERFA alarm was raised and search operations began.
At 09:22L Timika Tower picked up an automated Emergency Locator Transmitter (ELT) signal.
At 09:31L a Susi Air PC-6 Porter (PK-BVM) approaching Timika also reported the  indication of an ELT distress signal at location: S 04° 06′ 027″ / E 137° 38′ 79″. 
Late afternoon that same day, the scattered wreckage of PK-SWW was found on a mountainside at 12,800 ft. about 7 NM south of Ilaga by a search plane. There were no signs of any survivors.

The aircraft in question was ferried to Indonesia from the United States in May 2016 to operate supply flights to challenging Ilaga Airfield (elevation 7500 ft , runway lengh 1600 ft (490 m)). 

Penturbo.com about the ferry flight of N303PT / PK-SWW
---
Tweet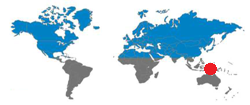 Aircraft
Type: DHC-4 Caribou
Registration: PK-SWW
Age a/c: 44.4 years
Constr. No.: 303
| | | | | |
| --- | --- | --- | --- | --- |
| | Crew | Pax | Other | Total |
| Occupants | 4 | 0 | 0 | 4 |
| Fatalities |  4 | 0 | 0 |  4 |
| Injuries | 0 | 0 | 0 | 0 |
OCCURENCE DATASET
Date: 2016-10-31 Time: 08:15
Location: southeast of Ilaga, Papua
Country: Indonesia
Flight phase: ENR – Cruise, Descent, Holding
Damage to a/c: hull loss
Flight
Flight no.:
From: WABP/TIM: Timika To: WABL/ILA: Ilaga Airport
Type: Cargo
Operator: Trigana Air Service
JACDEC 25-year Statistics :
1st safety occurence for the operator
19th safety occurence of type (DHC-4)
243th safety occurence in Indonesia
1st safety occurence for aircraft in question
Image & Information Sources
Copyright - Terms of Usage
All written and shown content on JACDEC.de is provided in the most accurate way. All information may be subject to changes because JACDEC.de cannot always ensure a full support of information updates to each news story.
No publication (or part of) provided by at JACDEC.de may be reproduced or transmitted in any form or by any means or by any information retrieval system without written permission from JACDEC. The below information includes unofficial information and should be treated as this. Editors cannot be held responsible for any errors or omissions caused by any information source mentioned herein. The nature of the following information should be regarded as preliminary.
Furthermore, the author cannot be held accountable for correctness, completeness or quality of the information provided herein. Liability claims regarding damage caused by the use of any information provided, including any kind of information which is incomplete or incorrect,will therefore be rejected.
For further terms and conditions, check our legal disclaimer section:
http://www.jacdec.de/imprint-legal-disclaimer/ 
AP = Airport / AL = Airlines / Avn = Aviation / AW = Airways / C/N: Construction Number / DSP = Domestic Scheduled Passenger / DNP = Domestic Non-Scheduled Passenger / DSC = Domestic Scheduled Cargo / DNC= Domestic Non-Scheduled Cargo / GND = On the ground / parked, stored / FMN= Flying Mission, Air Work / FRY = Ferry-, Positioning Flight / IMC = Intrument Meteorological (flying) Conditions / ISP = International Scheduled Passenger / ISC=International Scheduled Cargo / INP = International Non-Scheduled Passenger / INC =International Non-Scheduled Cargo/ OPS = Flight Operation(s) / NRV = Non-revenue, Private Flight / TRN =Training Flight /  TST = Test & Certification Flight / VMC = Visual Meteorological (flying) Conditions