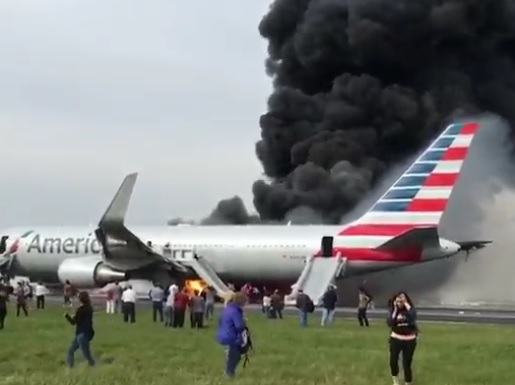 2016-10-28 American AL B763 on fire during take-off at Chicago O'Hare Airport
The Boeing 767 was severely damaged when when a large fire broke out on its right side during take-off at Chiacgo O'Hare Airport. There were about 20 injured occupants during the emergency evacuation.
UPDATE 2016-11-04
American Airlines flight AA 383, was in the early stages of the take-off run on runway 28R(ight) when a large fire erupted on its right wing. The take-off was immediately rejected and the pilots braked into a full stop on the runway. The total rolling distance from brake release point was about 1750 meters.
An emergency evacuation was carried out via chutes. Airport fire services quickly rushed out to the scene and extiguished the flames.
There are about twenty passengers and crewmembers who have received injuries during the evacuation. None of them was in critical condition.
Early news reports indicate that a tire burst may have occured prior the fire.
American Airlines press statement -> LINK
According to pictures the enire outer half of the right wing plus the right horizontal stabilizer is completely charred and burnt. Also the fuselage aft of the right wing is seriously scorched making it unlikely the aircraft will be repaired again.
The airline reported an uncontained failure of the right engine (GE CF6-80) when accelerating down the runway at take-off power. The National Transportation Safety Board (NTSB) reported that stage 2 disk in the high pressure turbine in the right engine had failed. A part of the disk was found in a UPS warehouse 2,920 feet (890 meters) away from the accident aircraft.
---
NTSB Investigation:
A first Investigation Update was issued on 2016-11-04. [LINK]
Preliminary FDR data show that the right engine failure occurred at an airspeed of about 128 knots with the engine operating at takeoff power.
Approximately two seconds after the engine failure, at an airspeed of about 134 knots, the left and right engine throttle lever angles decreased rapidly. Coincident with the throttle movement, brake pressure rose in a manner consistent with maximum autobrake application; the auto speedbrakes were extended.
The aircraft rapidly decelerated, coming to a stop about 25 seconds after the throttle reduction.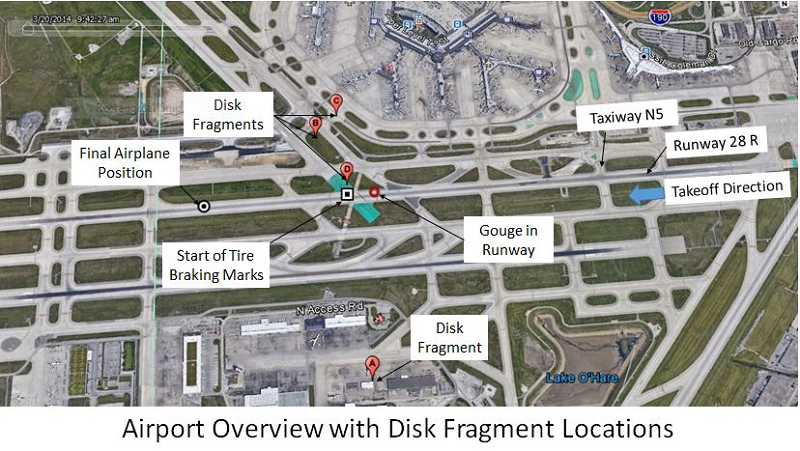 The right engine stage 2 high pressure turbine disk fractured into at least 4 pieces (locations A, B, C, and D on figure). One piece went through the inboard section of the right wing, over the fuselage and into a UPS warehouse facility (location A).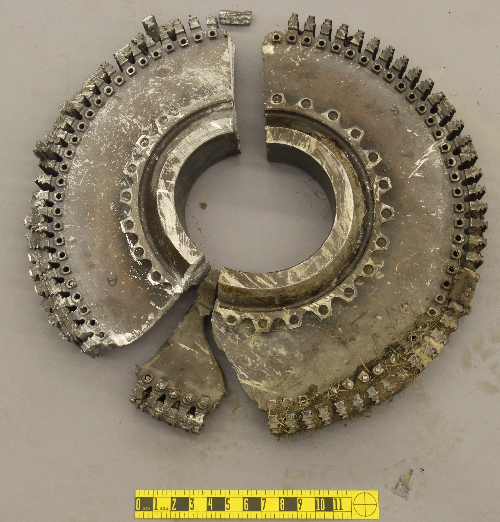 The majority of the stage 2 disk was recovered and sent to the NTSB laboratory in Washington, DC for examination. One of the fractures exhibited features consistent with fatigue cracking initiating at an internal inclusion near the forward side of the hub's inner bore.
The disk had 10,984 cycles and had a life limit of 15,000 cycles.  For more check the NTSB press release
---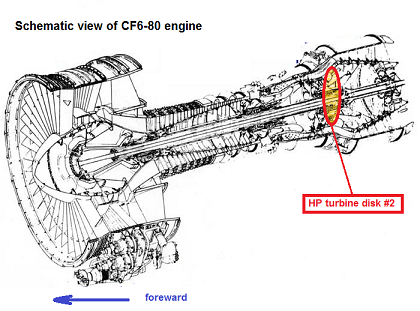 On 2000-09-22 US Airways Boeing 767-200 (N654US) experienced an uncontained failure of high pressure turbine disc #1 during ground test runs at Philadelphia, PHL | KPHL.  NTSB-REPORT

On 2006-06-02 American Airlines Boeing 767-200 (N330AA) experienced an uncontained failure of high pressure turbine disc #1 during ground test runs at Los Angles, LAX|KLAX.  NTSB-REPORT

NTSB: "The HPT stage 1 disk failed from an intergranular fatigue crack because of GE's inadequate design of the CF6-80 series HPT stage 1 disk. The inadequate design of the disk resulted in a high stress area in the blade slot bottom aft corner that was at or nearly at the material's capability so that there was no damage tolerance such that a small dent could cause a crack to initiate and propagate to failure."
---

© GoogleEarth | Jacdec.de
Below images by ORDRampSpotter | Insgy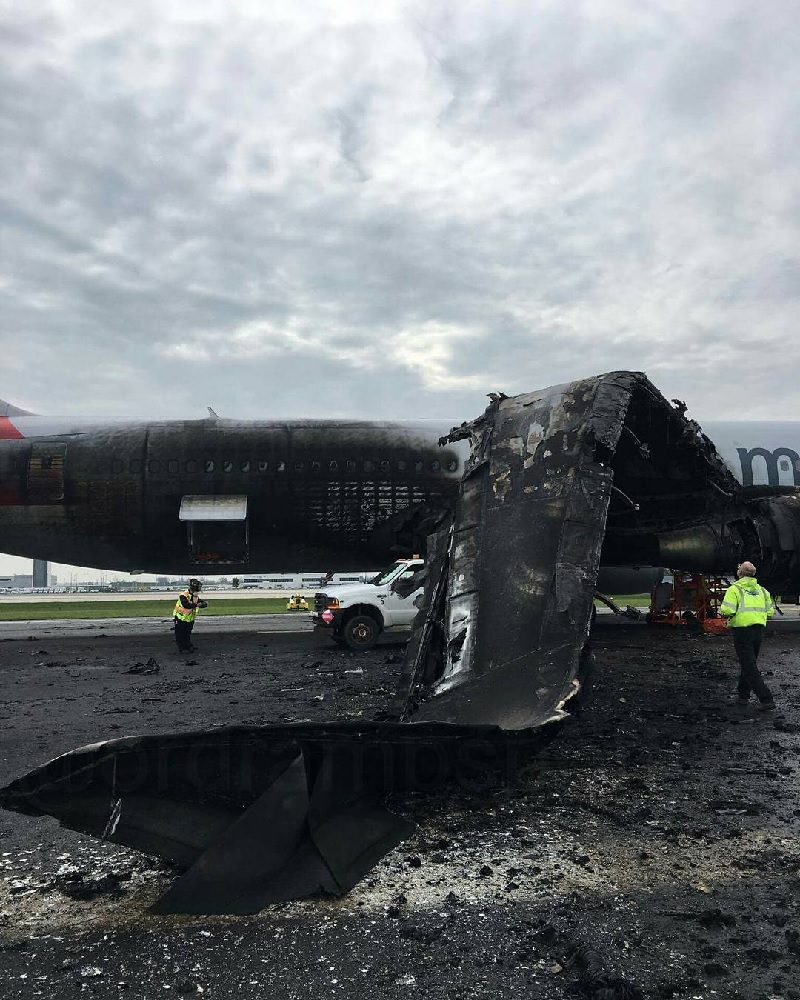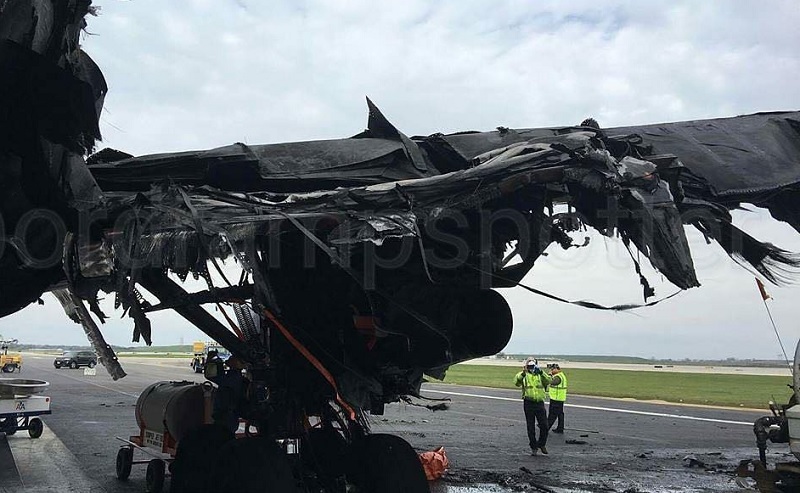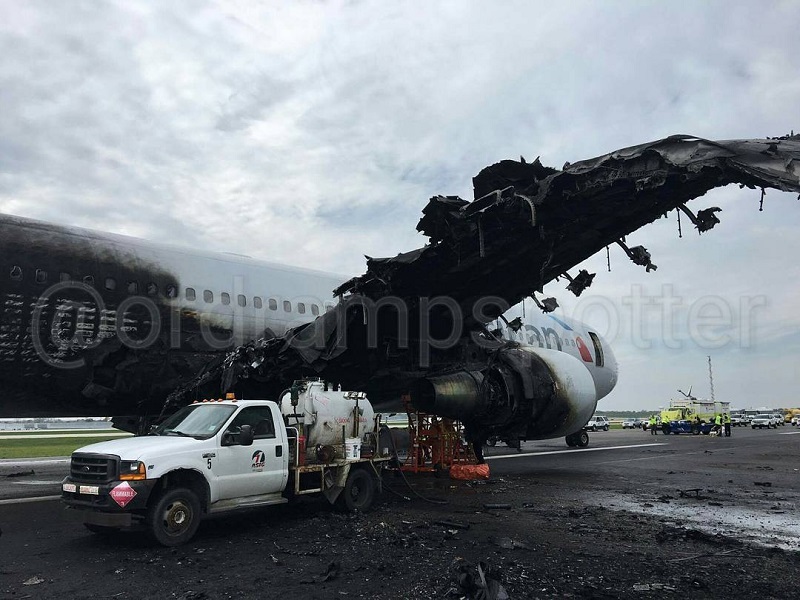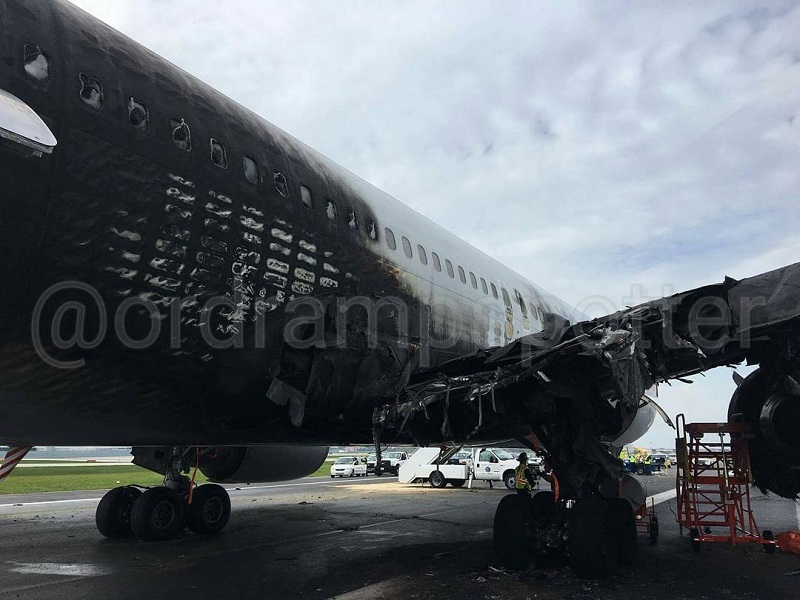 ---
ATC Radio Transcript O Hare Tower :
(Note: this transcript is inofficial and can contain incomplete and inadequate data)
Provided by LiveATC.net
ORD-Tower: "..383 heavy, runway 28R line-up and wait the wind is 200 (at) 14."
AA 383: "Line-up and wait, American 383 heavy."
ORD-Tower: "American 383 heavy, turn left heading 220 runway 28R at November 5 cleared for take-off."
AA 383: "Left turn to 220, cleared for take-off, American 383 heavy."
..
AA 383: "American 383 heavy, stopping on the runway"
ORD-Tower: "Roger, roger, fire.."
AA 383: "You see any smoke or fire ?"
ORD-Tower: "Yeah, fire on the right wing."
AA 383: "Okay,  (unintelligible)."
UNK: "American 383 can you give us any information right now ?"
AA 383: "Ah stand-by."
AA 383: "American 383 we're evacuating."
ORD-Tower: "American 383, Roger trucks are on the way. 28right is closed"

---
Tweet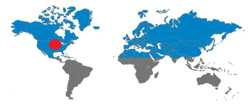 Aircraft
Type: Boeing 767-300
Registration: N345AN
Age a/c: 13.5 years
Constr. No.: 33084
| | | | | |
| --- | --- | --- | --- | --- |
| | Crew | Pax | Other | Total |
| Occupants | 9 | 161 | 0 | 170 |
| Fatalities | 0 | 0 | 0 | 0 |
| Injuries |  7 | 1 | 0 | 8 |
OCCURENCE DATASET
Date: 2016-10-28 Time: 14:35
Location: KORD ORD Chicago O' Hare
Country: United States of America
Flight phase: TOF – Take-off, Rejected Take-off
Damage to a/c: substantial
Flight
Flight no.: AA383
From: KORD/ORD: Chicago O' Hare To: KMIA/MIA: Miami Intl
Type: Passenger
Operator: American Airlines
JACDEC 25-year Statistics :
151th safety occurence for the operator
170th safety occurence of type (B767-300)
83rd safety occurence at Chicago ORD Airport
4th safety occurence for aircraft in question
– 2010-11-10 hydraulic failure in landing gear
– 2011-08-18 deflated tires after rejected take-off
– 2013-02-10 air cond. packs failure
Source: AviationHerald
Image & Information Sources
Copyright - Terms of Usage
All written and shown content on JACDEC.de is provided in the most accurate way. All information may be subject to changes because JACDEC.de cannot always ensure a full support of information updates to each news story.
No publication (or part of) provided by at JACDEC.de may be reproduced or transmitted in any form or by any means or by any information retrieval system without written permission from JACDEC. The below information includes unofficial information and should be treated as this. Editors cannot be held responsible for any errors or omissions caused by any information source mentioned herein. The nature of the following information should be regarded as preliminary.
Furthermore, the author cannot be held accountable for correctness, completeness or quality of the information provided herein. Liability claims regarding damage caused by the use of any information provided, including any kind of information which is incomplete or incorrect,will therefore be rejected.
For further terms and conditions, check our legal disclaimer section:
http://www.jacdec.de/imprint-legal-disclaimer/ 
AP = Airport / AL = Airlines / Avn = Aviation / AW = Airways / C/N: Construction Number / DSP = Domestic Scheduled Passenger / DNP = Domestic Non-Scheduled Passenger / DSC = Domestic Scheduled Cargo / DNC= Domestic Non-Scheduled Cargo / GND = On the ground / parked, stored / FMN= Flying Mission, Air Work / FRY = Ferry-, Positioning Flight / IMC = Intrument Meteorological (flying) Conditions / ISP = International Scheduled Passenger / ISC=International Scheduled Cargo / INP = International Non-Scheduled Passenger / INC =International Non-Scheduled Cargo/ OPS = Flight Operation(s) / NRV = Non-revenue, Private Flight / TRN =Training Flight /  TST = Test & Certification Flight / VMC = Visual Meteorological (flying) Conditions