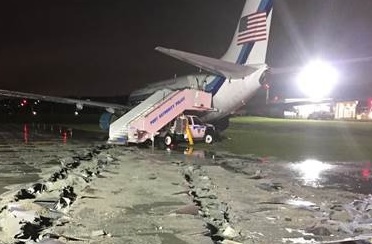 2016-10-27 Eastern B737 with VP nominee Pence ran off runway at La Guardia
On landing at La Guardia Airport, the 737 failed to stop before the end of the runway and came to rest on the grass. There were no injuries among passengers and crew.
UPDATE 2017-08-01 :
2017-08-01 the NTSB published the final report: NTSB Final Report
2017-05-25 NTSB opened public docket information: NTSB Docket
---
On 2016-11-22, the NTSB released an investigation update. 
Initial findings include the following:
The airplane was manufactured in 1998. It had accumulated 48,179 total flight hours with 17,098 total flight cycles at the time of the incident.

Investigators retrieved the flight data and cockpit voice recorders shortly after arriving on scene. The recorders were transported to the NTSB recorders lab for download. Both recorders contained good quality data.

The flight crew reported the landing followed a stable approach.

The flight crew reported sighting the runway when the airplane was about 700 feet above the ground; they said that the airplane "floated" during the landing flare; the main landing gear touched down on the wet runway about 3,000 feet beyond the runway threshold.

The speed brakes were manually engaged about four seconds after touchdown. Thrust reversers were deployed about seven seconds after touchdown.

The flight crew did not report any mechanical irregularities or abnormal braking action, which was corroborated by the flight data recorder.

Investigators interviewed flight crews of the four airplanes that landed immediately prior to the incident airplane; none reported any problems with braking action on the wet runway.
---
Eastern Airlines flight EA 3452 from Ft. Dodge, IA, was operating for the presidential campaign of republican vice president candidate Mike Pence to La Guardia Airport, New York.
It was raining at the time the aircraft was on the ILS approach to landing runway 22.
According to some accounts by passengers the landing was described as "rough".
After touchdown the pilots failed to stop the aircraft before the end of the runway (2134 x 46 m / 7001 x 150 ft.). The pilots avoided running into approach masts by turning to the right, crossing the overrun area where the 737 rolled into the Engineered Materials Arresting System (EMAS), installed behind the end of the runways at La Guardia to slow down aircraft in the case of an overrun.
The aircraft came to a stop on the grass a few meters off the right end of runway 22 with all undercarriage intact.
Nobody on board was hurt. There was no emergency evacuation. Passengers and crew left the aircraft via mobile airstairs.
La Guardia Airport was closed for all traffic until 21:00L when authorities opened runway 13/31 again.
Among the passengers were many journalists covering the presidential race of vice president nominee Mike Pence (R), the running mate of presidential candidate Donald Trump.
The 737's nosegear was later hoisted by a crane to prepare it for removal back onto paved ground.
---
METAR New York – La Guardia Airport (KLGA):
27/10/2016 18:51->

METAR KLGA 272251Z 09009KT 3SM RA BKN009 OVC015 13/11 A3014
           RMK AO2 SFC VIS 4 SLP205 P0014 T01330106 $=

27/10/2016 19:51->

METAR KLGA 272351Z 10010G15KT 3SM RA BR OVC010 13/12 A3010
           RMK AO2 SFC VIS 4 SLP192 P0032 60061 T01330117
           10139 20072 58018 $=
---
ATC Radio Transcript La Guardia Tower :
(Note: this transcript is inofficial and can contain incomplete and inadequate data)
Provided by LiveATC.net
EA 3452: "New York, Eastern 3452 checking in ILS runway 22"
Tower: "Eastern 3452 La Guardia Tower, good evening, number two following a 737, 3,5 miles ahead in sight two miles out."
EA 3452: "Roger"
…
EA 3452: "And confirm Eastern 3452 is cleared to land ?"
Tower: "Eastern 3452.. is cleared to land, wind 110 at 9 (knots) departing (traffic) will be runway 13."
EA 3452: "Cleared to land Eastern 3452 (unintelligible) ?"
…
(Tower gives landing clearance to next arrival runway 22, Jetblue 1640)
…
Tower: "Eastern STOP, STOP Eastern !"
Tower: "Go around, go around, JetBlue 1640… "
JBU 1640: "1640 is on the go."
Tower: "(unintelligible)..climb two thousand, we have an issue on the airport."
Tower: "(to another JetBlue flight) we have an emergency on the airport, JetBlue go around climb an maintain three thousand."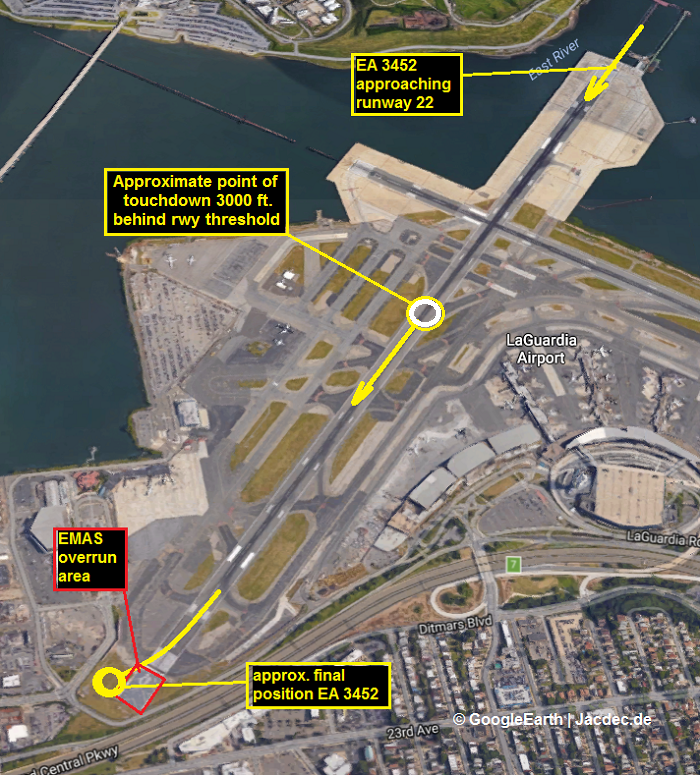 Flightpath (provided by Flightradar24)
Tweet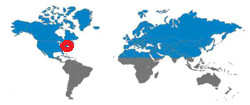 Aircraft
Type: Boeing 737-700
Registration: N278EA
Age a/c: 18.5 years
Constr. No.: 28006
Former operators: Maersk Air (1998), Sterling Airlines (2005), Moskovia Airlines (2009)
| | | | | |
| --- | --- | --- | --- | --- |
| | Crew | Pax | Other | Total |
| Occupants | 11 | 37 | 0 | 48 |
| Fatalities | 0 | 0 | 0 | 0 |
| Injuries |  0 | 0 | 0 | 0 |
OCCURENCE DATASET
Date: 2016-10-27 Time: 19:39
Location: KLGA LGA New York La Guardia
Country: United States of America
Flight phase: LDG – Flare, Landing Roll, Aborted Landing after Touchdown
Damage to a/c: minor
Flight
Flight no.: EA 3452
From: KFOD/FOD: Ft. Dodge To: KLGA/LGA: New York La Guardia
Type: Non Revenue
Operator: Eastern Air Lines (2015)
JACDEC 25-year Statistics :
1st safety occurence for the operator (EAL)
105th safety occurence of type (B737-700)
28th safety occurence at La Guardia Airport
1st safety occurence for aircraft in question
Image & Information Sources
Copyright - Terms of Usage
All written and shown content on JACDEC.de is provided in the most accurate way. All information may be subject to changes because JACDEC.de cannot always ensure a full support of information updates to each news story.
No publication (or part of) provided by at JACDEC.de may be reproduced or transmitted in any form or by any means or by any information retrieval system without written permission from JACDEC. The below information includes unofficial information and should be treated as this. Editors cannot be held responsible for any errors or omissions caused by any information source mentioned herein. The nature of the following information should be regarded as preliminary.
Furthermore, the author cannot be held accountable for correctness, completeness or quality of the information provided herein. Liability claims regarding damage caused by the use of any information provided, including any kind of information which is incomplete or incorrect,will therefore be rejected.
For further terms and conditions, check our legal disclaimer section:
http://www.jacdec.de/imprint-legal-disclaimer/ 
AP = Airport / AL = Airlines / Avn = Aviation / AW = Airways / C/N: Construction Number / DSP = Domestic Scheduled Passenger / DNP = Domestic Non-Scheduled Passenger / DSC = Domestic Scheduled Cargo / DNC= Domestic Non-Scheduled Cargo / GND = On the ground / parked, stored / FMN= Flying Mission, Air Work / FRY = Ferry-, Positioning Flight / IMC = Intrument Meteorological (flying) Conditions / ISP = International Scheduled Passenger / ISC=International Scheduled Cargo / INP = International Non-Scheduled Passenger / INC =International Non-Scheduled Cargo/ OPS = Flight Operation(s) / NRV = Non-revenue, Private Flight / TRN =Training Flight /  TST = Test & Certification Flight / VMC = Visual Meteorological (flying) Conditions