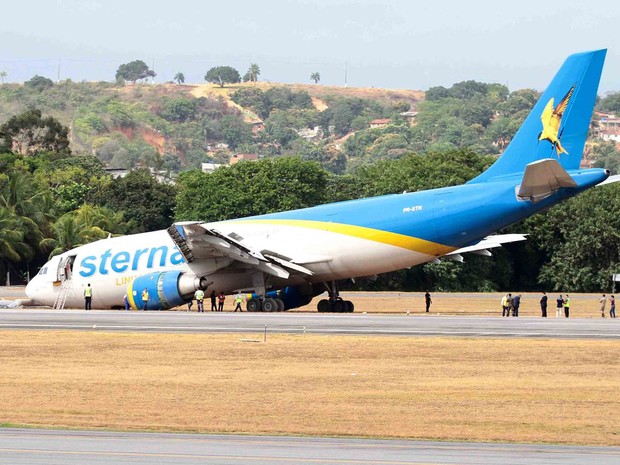 2016-10-21 Sterna Airbus A300BF gear collapse off runway at Recife
On landing the nosegear collapsed resulting in a runway excursion. All three crewmembers remained unhurt.
Sterna Linhas Aereas cargo flight STR 9302 was landing on runway 18 at Recife-Guararapes Intl Airport in good weather conditions, when its nose undecarriage failed immediately after touchdown.
The Airbus A300 fell onto its nose while the pilots were activating the braking systems. During further deceleration process, the aircraft veered off to the right and it exited the runway after passing taxiways "Lima"Echo"  about 2600 meters down the runway (total lengh of runway 18 is 3001 m)
The A300 came to rest on its nose engine nacelles and maingear on flat but unaved ground.
All three crewmembers remained unscathed. The cargo consisted primarily of mail.
The amount of damage is substantial. Giving the age of the aircraft (built 1983) it is unlikely the aircraft will be repaired again.
Brazilian transport safety authority CENIPA has launched and investigation.
Meanwhile the Airbus A300 was recovered and removed on a flatbed truck. It is parked in damaged and bleak condition beside the runway.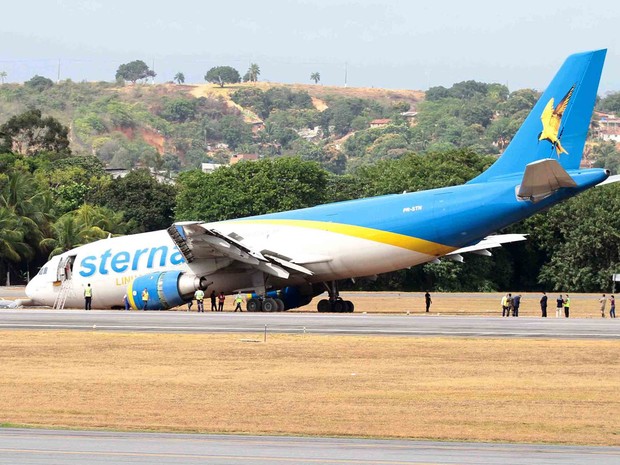 © M Costa | FuturaPress | Globo-G1

© TV Jornal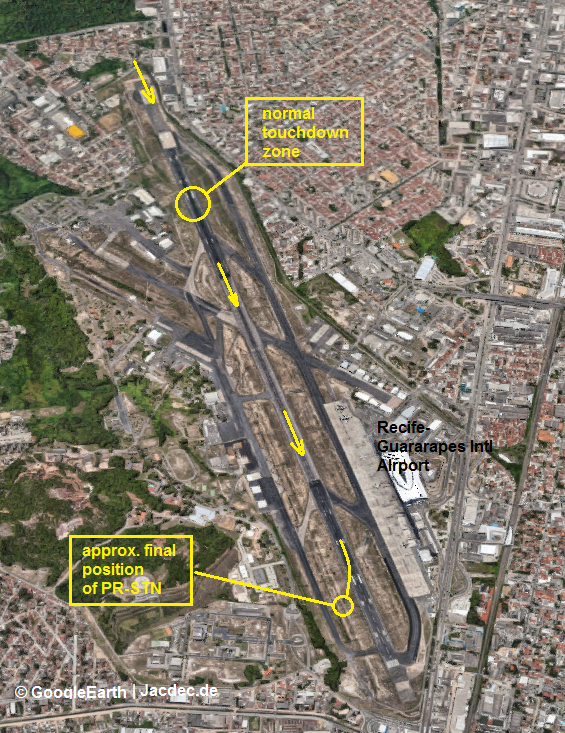 Tweet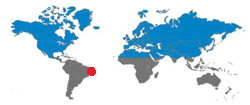 Aircraft
Type: Airbus A300BF
Registration: PR-STN
Age a/c: 33.0 years
Constr. No.: 236
Former Operators: Pan Am (1985), Carnival Airlines (1991), Pan Am (1997), European Air Transport, DHL (1999), Air Contractors (2010), Transcarga (2015)
| | | | | |
| --- | --- | --- | --- | --- |
| | Crew | Pax | Other | Total |
| Occupants | 3 | 0 | 0 | 3 |
| Fatalities | 0 | 0 | 0 | 0 |
| Injuries |  0 | 0 | 0 | 0 |
OCCURENCE DATASET
Date: 2016-10-21 Time: 06:30
Location: SBRF REC Recife Guararapes
Country: Brazil
Flight phase: LDG – Flare, Landing Roll, Aborted Landing after Touchdown
Damage to a/c: substantial
Flight
Flight no.: ST 9302
From: SBGR/GRU: Sao Paulo Guarulhos Intl To: SBRF/REC: Recife Guararapes
Type: Cargo
Operator: Sterna Linhas Aereas
JACDEC 25-year Statistics :
1st safety occurence for the operator
81st safety occurence of type (A300B)
6th safety occurence at Recife Airport
1st safety occurence for aircraft in question
Image & Information Sources
Copyright - Terms of Usage
All written and shown content on JACDEC.de is provided in the most accurate way. All information may be subject to changes because JACDEC.de cannot always ensure a full support of information updates to each news story.
No publication (or part of) provided by at JACDEC.de may be reproduced or transmitted in any form or by any means or by any information retrieval system without written permission from JACDEC. The below information includes unofficial information and should be treated as this. Editors cannot be held responsible for any errors or omissions caused by any information source mentioned herein. The nature of the following information should be regarded as preliminary.
Furthermore, the author cannot be held accountable for correctness, completeness or quality of the information provided herein. Liability claims regarding damage caused by the use of any information provided, including any kind of information which is incomplete or incorrect,will therefore be rejected.
For further terms and conditions, check our legal disclaimer section:
http://www.jacdec.de/imprint-legal-disclaimer/ 
AP = Airport / AL = Airlines / Avn = Aviation / AW = Airways / C/N: Construction Number / DSP = Domestic Scheduled Passenger / DNP = Domestic Non-Scheduled Passenger / DSC = Domestic Scheduled Cargo / DNC= Domestic Non-Scheduled Cargo / GND = On the ground / parked, stored / FMN= Flying Mission, Air Work / FRY = Ferry-, Positioning Flight / IMC = Intrument Meteorological (flying) Conditions / ISP = International Scheduled Passenger / ISC=International Scheduled Cargo / INP = International Non-Scheduled Passenger / INC =International Non-Scheduled Cargo/ OPS = Flight Operation(s) / NRV = Non-revenue, Private Flight / TRN =Training Flight /  TST = Test & Certification Flight / VMC = Visual Meteorological (flying) Conditions