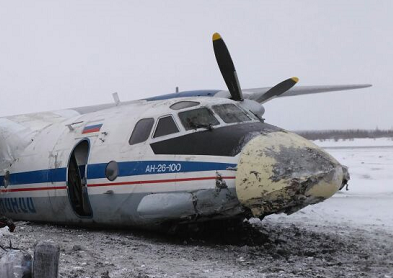 2016-10-11 Polar Airlines Antonov AN-26 off runway accident in Belaya Gora
Whilst approaching Belya Gora in very low visibility conditions, the aircraft made an accidental off-airport landing ending on a frozen river. All 33 perons left the aircraft unhurt.
UPDATE 2017-08-01:
The Russian MAK published the Final Investigation Report of the accident.
Polar Air flight 203 was approaching the small airfield of Belaya Gora, when a snowstorm was closing in. When the Antonov An-26 turned to final the weather detoriated rapidly, the visibility dropped to almost zero and intense snowfall began.
It is likely the pilots lost visual referance to the runway and drifted off the final approach path. The approach was continued until the aircraft hit the ground hard, approximately 400 meters away from the runway.
On impact the right and nose undercarriage collapsed, the nose too severe damage and the aircraft tilted to the right tearing off its right propeller. Additonaly, the foreward fuselage wrinkled just ahead of the wing root. The aircraft skidded over snow covered ground untl it came to a stop on the banks of Indigirka River.
All passengers and crewmembers survived with no or very minor injuries.
Given the age and the condition of the aircraft is appears unlikely that the aircraft will be repaired again.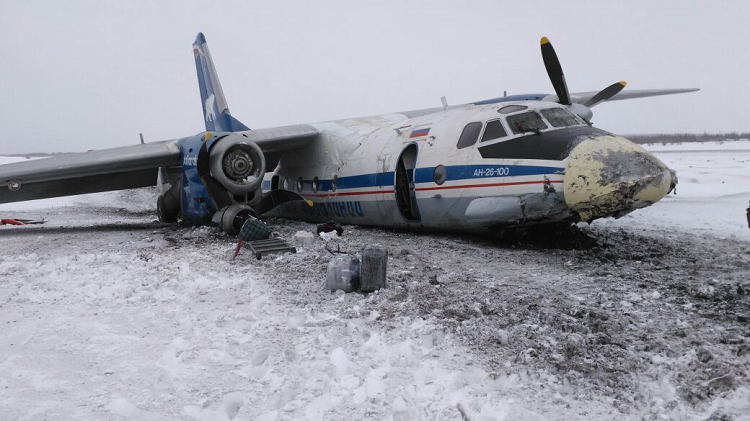 © Aviaforum.ru
Accident Location (provided via GoogleEarth)
Tweet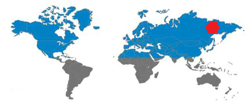 Aircraft
Type: Antonov An-26
Registration: RA-26660
Age a/c: 37.5 years
Constr. No.: 8008
| | | | | |
| --- | --- | --- | --- | --- |
| | Crew | Pax | Other | Total |
| Occupants | 6 | 27 | 0 | 33 |
| Fatalities | 0 | 0 | 0 | 0 |
| Injuries |  0 | 0 | 0 | 0 |
OCCURENCE DATASET
Date: 2016-10-11 Time: 14:38
Location: UESG BGN Belaya Gora Airport
Country: Russia
Flight phase: LDG – Flare, Landing Roll, Aborted Landing after Touchdown
Damage to a/c: hull loss
Flight
Flight no.: PI 203
From: UEEE/YKS: Yakutsk To: UESG/BGN: Belaya Gora Airport
Type: Passenger
Operator: Polar Airlines
JACDEC 25-year Statistics :
4th safety occurence for the operator
99th safety occurence of type (An-26)
1st safety occurence at Belaya Gora
2nd safety occurence for aircraft in question
– 1982-02-07 damaged in ground collision with van at Batagay (UEBB)
Image & Information Sources
Copyright - Terms of Usage
All written and shown content on JACDEC.de is provided in the most accurate way. All information may be subject to changes because JACDEC.de cannot always ensure a full support of information updates to each news story.
No publication (or part of) provided by at JACDEC.de may be reproduced or transmitted in any form or by any means or by any information retrieval system without written permission from JACDEC. The below information includes unofficial information and should be treated as this. Editors cannot be held responsible for any errors or omissions caused by any information source mentioned herein. The nature of the following information should be regarded as preliminary.
Furthermore, the author cannot be held accountable for correctness, completeness or quality of the information provided herein. Liability claims regarding damage caused by the use of any information provided, including any kind of information which is incomplete or incorrect,will therefore be rejected.
For further terms and conditions, check our legal disclaimer section:
http://www.jacdec.de/imprint-legal-disclaimer/ 
AP = Airport / AL = Airlines / Avn = Aviation / AW = Airways / C/N: Construction Number / DSP = Domestic Scheduled Passenger / DNP = Domestic Non-Scheduled Passenger / DSC = Domestic Scheduled Cargo / DNC= Domestic Non-Scheduled Cargo / GND = On the ground / parked, stored / FMN= Flying Mission, Air Work / FRY = Ferry-, Positioning Flight / IMC = Intrument Meteorological (flying) Conditions / ISP = International Scheduled Passenger / ISC=International Scheduled Cargo / INP = International Non-Scheduled Passenger / INC =International Non-Scheduled Cargo/ OPS = Flight Operation(s) / NRV = Non-revenue, Private Flight / TRN =Training Flight /  TST = Test & Certification Flight / VMC = Visual Meteorological (flying) Conditions